TOMODACHI Alumni Regional Impact for Social Empowerment (RISE) Leadership Program
First Alumni Gathering in Boston Commemorating Expansion of TOMODACHI Regional Framework to the United States

On June 30, 2022, TOMODACHI Alumni gathered in Boston for the first time under the TOMODACHI Alumni Regional Framework that expanded to the United States for the first time this year.  Read More>>
First In-Person Event in Two Years, Hosted by the U.S. Consulate in Fukuoka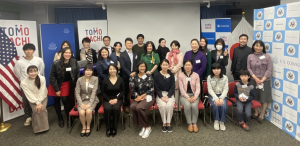 On April 15, 2022, the Kyushu TOMODACHI Alumni Gathering was hosted by TOMODACHI alumni and the U.S. Consulate in Fukuoka. It was the first time an in-person event took place since the beginning of the pandemic. The event was attended by 25 alumni and staff members from the Consulate and U.S.-Japan Council, followed by strict COVID-19 prevention guidelines. The alumni were very excited to see each other once again face-to-face since all the alumni programs and events have been held online since early 2020. Read More>>
Other TOMODACHI Regional Framework Events in 2022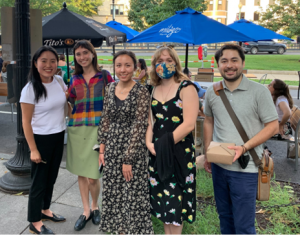 More than ten TOMODACHI Regional Framework Events were organized in the second half of 2022. Click here to see details of the events.
Connecting & Empowering Local Leaders Across Regions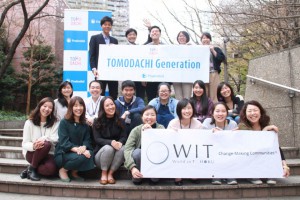 The TOMODACHI Alumni Regional Impact for Social Empowerment (RISE) Leadership Program is a year-long leadership training program focused on social innovation on a local level; with an added mentorship component to connect alumni across regions, industries, interests, and age groups. Leaders and Mentors will gain valuable skills in order to identify and tackle social issues, create events, and bolster their regional alumni community. Six regions have been established to support the over 9,500 alumni who are part of the TOMODACHI Generation. The regions are supported by the six U.S. Consulates and Embassy in Japan as the TOMODACHI Initiative is a private-public partnership with the U.S. Government dedicated to support the next generation of leaders in both the United States and Japan.
Events in 2021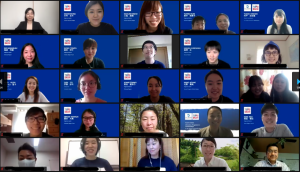 December 12, 2021
TOMODACHI Alumni Regional Framework Theme Event (held on Day 2 of the Next Generation Summit)
June 12, 2021
TOMODACHI Alumni Regional Framework Joint Welcome Event
Dec 16, 2020
TOMODACHI Alumni Regional Framework Kyushu Region Theme Event
Dec 6, 2020
TOMODACHI Alumni Regional Framework Tohoku-Hokkaido Region Team B Theme Event
Nov 22, 2020
TOMODACHI Alumni Regional Framework Tohoku-Hokkaido Region Team A Theme Event
Nov 14, 2020
TOMODACHI Alumni Regional Framework Okinawa Region Theme Event
Oct 31, 2020
TOMODACHI Alumni Regional Framework Kansai-Chugoku-Shikoku Region Theme Event
Oct 18, 2020
TOMODACHI Alumni Regional Framework Kanto Region Team A Theme Event
Sep 19, 2020
TOMODACHI Alumni Regional Framework Chubu-Hokuriku Region Theme Event
Sep 12, 2020
TOMODACHI Alumni Regional Framework Kanto Region Team B Theme Event
Aug 19, 2020
TOMODACHI Alumni Regional Framework Pre-event Leading to the Theme Event in Kyushu Region
Jun 14, 2020
TOMODACHI Alumni Regional Framework Kanto Region Team A Welcome Event
Jun 14, 2020
TOMODACHI Alumni Regional Framework Kanto Region Team B Welcome Event
Jun 13, 2020
TOMODACHI Alumni Regional Framework Tohoku-Hokkaido Region Team B Welcome Event
Jun 13, 2020
TOMODACHI Alumni Regional Framework Kansai-Chugoku-Shikoku Region Welcome Event
Jun 7, 2020
TOMODACHI Alumni Regional Framework Kanto Region Team A Welcome Event
Jun 6, 2020
TOMODACHI Alumni Regional Framework Chubu-Hokuriku Region Welcome Event
Jun 6, 2020
TOMODACHI Alumni Regional Framework Okinawa Region Welcome Event
May17, 2020
TOMODACHI Alumni Regional Framework Kyushu Region Welcome Event
Jan 13, 2020
TOMODACHI Alumni Regional Framework Tohoku-Hokkaido Region Team B Theme Event
Nov 30, 2019
TOMODACHI Alumni Regional Framework Kyushu Region Theme Event
Nov 23, 2019
TOMODACHI Alumni Regional Framework Kanto Region Team B Theme Event
Nov 23, 2019
TOMODACHI Alumni Regional Framework Okinawa Region Theme Event
Nov 17, 2019
TOMODACHI Alumni Regional Framework Kanto Region Team A Theme Event
Nov 17, 2019
TOMODACHI Alumni Regional Framework Kansai-Chugoku-Shikoku Region Theme Event
Nov 16, 2019
TOMODACHI Alumni Regional Framework Chubu-Hokuriku Region Theme Event
Oct 19, 2019
TOMODACHI Alumni Regional Framework Tohoku-Hokkaido Region Team A Theme Event
Aug 3, 2019
TOMODACHI Alumni Regional Framework Tohoku-Hokkaido Region Team A Sub event
Jun 18, 2019
TOMODACHI Alumni Regional Framework Okinawa Region Welcome Event
Jun 6, 2019
TOMODACHI Alumni Regional Framework Kansai-Chugoku-Shikoku Region Welcome Event
Jun 2, 2019
TOMODACHI Alumni Regional Framework Chubu-Hokuriku Region Welcome Event
Jun 1, 2019
TOMODACHI Alumni Regional Framework Tohoku-Hokkaido Region Team A Welcome Event
May 26, 2019
TOMODACHI Alumni Regional Framework Tohoku-Hokkaido Region Team B Welcome Event
May 26, 2019
TOMODACHI Alumni Regional Framework Kanto Region Welcome Event
May 17, 2019
TOMODACHI Alumni Regional Framework Kyushu Region Welcome Event
May 12, 2019
TOMODACHI Alumni Regional Framework Kanto Region Welcome Event
Jan 27, 2019
TOMODACHI Alumni Regional Framework Chubu-Hokuriku Region Theme Event
Nov 24, 2018
TOMODACHI Alumni Regional Framework Tohou-Hokkaido Region Team Fukushima Theme Event "TOMO Tour in Aizu"
Nov 17, 2018
TOMODACHI Alumni Regional Framework Kansai Region Theme Event "The Future of Kansai, The Future of the U.S."
Nov 4, 2018
TOMODACHI Alumni Regional Framework: TOMODACHI Alumni Attend Kyushu Rainbow Pride 2018
Nov 3, 2018
TOMODACHI Alumni Regional Framework Tohoku-Hokkaido Region Team Miyagi Theme Event
Oct 28, 2018
TOMODACHI Alumni Regional Framework Kanto Region Team B Theme Event "TOMODACHI Book Making Event"
Sep 30, 2018
TOMODACHI Alumni Regional Framework Kanto Region Team A Theme Event "TOMOtivated"
May-Jun, 2018
TOMODACHI Alumni Regional Framework Tohoku-Hokkaido Region Welcome Event
Jun 2, 2018
TOMODACHI Alumni Regional Framework Okinawa Region Welcome Event
May 20, 2018
TOMODACHI Alumni Regional Framework Kanto Region Welcome Event
May 18, 2018
TOMODACHI Alumni Regional Framework Kyushu Region Welcome Event
May 13, 2018
TOMODACHI Alumni Regional Framework Kansai Region Welcome Event
May 12, 2018
TOMODACHI Alumni Regional Framework Chubu-Hokuriku Region Welcome Event
Dec 23, 2017
TOMODACHI Alumni Regional Framework Tohoku-Hokkaido Region Team 2 Theme Event "FIND YOUR TOHOKU"
Dec 9, 2017
TOMODACHI Alumni Regional Framework Tohoku-Hokkaido Region Team 3 Theme Event "Xmas Party"
Dec 2, 2017
TOMODACHI Alumni Regional Framework Kansai Region Theme Event "TOMO Café"
Dec 2, 2017
TOMODACHI Alumni Regional Framework Okinawa Region Theme Event "TOMODACHI Okinawa Beach Day"
Oct 24, 2017
TOMODACHI Alumni Regional Framework Kyushu Region Theme Event "Ryugaku (study abroad) Information Event"
Oct 17, 2017
TOMODACHI Alumni Regional Framework Kanto Region Team 1 Theme Events "Enah English"
Sep 18, 2017
TOMODACHI Alumni Regional Framework Tohoku-Hokkaido Region Team 1 Theme Event "TOMODACHI Booth @ the Sendai World Festa"
May 2017 (Various Dates)
TOMODACHI Alumni Regional Framework: Regional Welcome Events Kick Off Across Japan
Mar 9-12, 2017
[Alumni] Regional Leaders Orientation (Tokyo, JAPAN)