Cultural programs in sports, music and the arts provide gateways for Japanese and Americans to learn about and to develop enduring interest in each other's cultures.  The TOMODACHI Initiative collaborates with many long-standing and prestigious cultural exchange programs, as well as with American and Japanese athletes, artists, musicians, and entertainers.
Whether it is teaming up with Major League Baseball to bring the joy and fundamental values of sports to children or helping young performers and artists to share their work, TOMODACHI is devoted to fostering an intercultural conversation between Japan and America.
Featured Programs
Strategic Partner Programs
TOMODACHI Suntory Music Scholarship Fund
The TOMODACHI Suntory Music Scholarship Fund provides Japanese students with the opportunities to obtain the skills and the international perspective necessary to succeed as a global musician in the 21st century. In addition, this music scholarship invests in young Japanese leaders who wish to contribute to a peaceful and prosperous society by appreciating the United States and Japan and each other's cultures through music.
TOMODACHI Goldman Sachs Music Outreach Program 
Supported by Goldman Sachs, an American education organization conducts workshops at schools around Tohoku to have Japanese and American youths communicate with each other through music and deepen self and cultural understanding.
TOMODACHI Partnership with Major League Baseball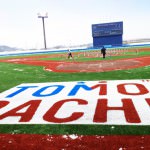 The Japanese people love baseball as much as Americans do. That's why Major League Baseball (MLB) and TOMODACHI teamed up to provide American and Japanese children an opportunity to learn about the importance of communication and teamwork. This includes holding baseball clinics and providing baseball equipment to youth teams in the Tohoku area.
Fund for Exchanges Programs
TOMODACHI Fudai Kagura Performers Program
This program took a Kagura group of student dancers and adult musicians to participate in the 24th Japan America Grassroots Summit in San Diego, CA.

TOMODACHI Fukushima Youth Sinfonietta Program
The Fukushima Youth Sinfonietta (FYS), an orchestra of students from ten Fukushima high schools and middle schools, travel to Boston, Massachusetts for a week of music workshops and exchange programs with American youth orchestras.

New Orleans-Miyagi Jazz Exchange Program
This exchange program sends middle school students from Kesennuma and Ishinomaki in Miyagi prefecture to participate in a jazz music exchange program. The Japanese students perform with student jazz musicians in New Orleans, Louisiana to build a strong connection between Japan and the U.S. through music.
Orpheus Chamber Orchestra Tour Education Engagement
This program brings 45 students from Shukoh Middle School in Miyagi prefecture for a music workshop with the Orpheus Chamber Orchestra.
San Diego/Tijuana-Ofunato Youth Baseball Exchange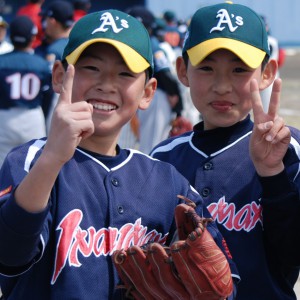 This program sent ten elementary and middle school baseball players from Ofunato, Iwate to San Diego, California for a baseball clinic and exchange from August 2-10, 2013. Additionally, the players got to attend Major League baseball games, visit local tourist attractions, and experience homestays.
TOMODACHI Very Young Composers Fukushima-New York Program
This program deepens relationships between Japanese and American children ages 10‐15 in Fukushima and New York City, all of whom compose music for a performance by musicians of the New York Philharmonic.
General Fund Programs
Global Classmates
Global Classmates is an online language and cultural exchange program organized by Kizuna Across Cultures (KAC) that connects high school students studying Japanese in the U.S. and English in Japan.
Hirono-machi Student Chorus group participation in 2014 Grassroots Summit in San Diego
This program took 15 students from Hirono Town, Fukushima to San Diego, California to participate in the 24th Japan-America Grassroots Summit, to take part in several educational workshops and local cultural exchanges, and experienced a homestay. 

TOMODACHI Northwestern High School Dance Exchange Program
This program is a dance exchange between Northwestern High School in Hyattsville, Maryland and Wakaba High School located in Fukuoka, Japan.  In June 2014, six American students will travel to Japan to dance with their Japanese counterparts.

TOMODACHI "The Power of Music" Program
Six members of the Tokyo Philharmonic Orchestra visited the Special Music School in New York City and coached the students. The program ended with a reception and joint performance of the Tokyo Philharmonic members, music school students, and Fukushima students.
TOMODACHI US-Japan Baseball Exchange
From July 27 to 29, 2013 16 middle school baseball players from Punahou in Hawaii met 32 middle school boys in Ishinomaki, Miyagi and participated in baseball-related events. Additionally, community service projects were planned along with their chaperones.
Sports Camp of America
This program provides young children with an opportunity to experience an American-style summer camp. This camp is unique in that all of the camp counselors are American university students with sports and cheerleading backgrounds.

Young Americans Tohoku Tour
A group of talented young Americans conducted workshops for young people in Tohoku, consisting of singing, dancing, and pantomiming songs to open children's hearts, help them gain confidence, and motivate them to learn different languages and cultures.
TOMODACHI x NIKE Women's Marathon Project
This program is a unique, cross-cultural exchange for marathon runners.  Twelve female collegiate athletes from the U.S. and twelve female collegiate athletes from Japan who were affected by the Great East Japan Earthquake live and train together to deepen their friendship and to inspire each other.  
Japan-America Grassroots Summit
This program helped three groups of high school and middle school students from the disaster-affected cities of Minamisanriku, Kesennuma, and Ishinomaki attend the Japan-American Grassroots Summit in North Texas on Aug. 28- Sep. 3, 2012.  The Japan-America Grassroots Summit is an annual large-scale meeting of Japanese and American citizens, which seeks to strengthen bilateral relations by fostering friendships between people of both countries.
Yamakiya Taiko Group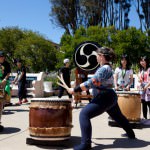 The Yamakiya Taiko Group traveled to the United States and performed in Washington, DC and Baltimore from April 9-16, 2012 as part of the annual Cherry Blossom Festival celebration.
TOMODACHI NAJAS Grassroots Exchange Program-TOMODACHI Ties Through Taiko
This program brought twelve members of an award-winning Taiko program from Nihon Fukushi Daigaku High School in Mihama, Aichi prefecture, Japan to Pittsburgh from August 8-17, 2015.
Other Activities & Events
Glenn Miller Orchestra Charity Concerts
The Glenn Miller Orchestra  put on two charity concerts in Kesennuma City, Miyagi on Nov. 25, 2012. During the first concert, the orchestra performed with students from Tsuya Junior High School (Kesennuma) and Seiwa Gakuen High School (Sendai). With the support of the TOMODACHI Initiative, Kesennuma's junior jazz orchestra Swing Dolphins was the opening act for the second performance.
Fukushima Kids Attend NBA Basketball Camp
The TOMODACHI Initiative partnered with the National Basketball Association (NBA) and the Japanese non-profit organization Frontier Minamisoma to sponsor the participation of 20 middle school students from Fukushima prefecture at the NBA Youth Camp in Tokyo on Jun. 15-17, 2012.
NBA Basketball Clinic
Children received encouragement and coaching from NBA Global Ambassador Dikembe Mutombo, current NBA players Corey Brewer (Denver Nuggets) and Vladimir Radmanovic (Atlanta Hawks), and former NBA player Yuta Tabuse at a basketball clinic at Shiogama Daisan Junior High School in Miyagi Prefecture on Jun. 12, 2012.
Orpheus Chamber Orchestra
Members of the New York-based Orpheus Chamber Orchestra conducted a music workshop for 100 students at Shukoh Middle School in Tagajo City, Miyagi Prefecture on May 31, 2012. The Orpheus musicians performed a Rossini overture and discussed their musical careers and experiences with students and faculty. 
Women's Soccer Clinic
The U.S. Women's National Soccer Team took to the soccer field and led an event for Japanese youth in Sendai, Japan on Mar. 27, 2012.  Members of the U.S. Women's National Team emphasized how young women can accomplish their goals through dedication and hard work.