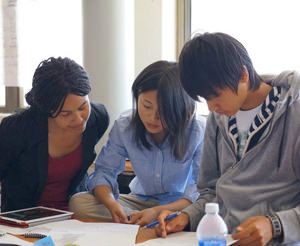 Educational and exchange programs serve to enrich and inspire young Japanese and Americans through exposure to each other's countries, including through short-term study abroad experiences.  The TOMODACHI Initiative aims to enhance existing programs and foster new ones in the United States and Japan that strengthen overall U.S.-Japan relations. Through these programs, participants:
Develop a better understanding of similarities and differences between Japanese and American cultures, as well as gain exposure to new ideas through student exchanges and homestays;
Enhance English language skills through study abroad programs and workshops; and
Build educational partnerships, information exchanges and research collaborations between universities and institutions in the U.S. and throughout Japan.
Featured Programs
Strategic Partner Programs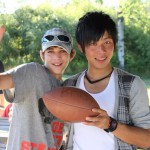 TOMODACHI Coca-Cola Educational Homestay Program
This program sends high school students from areas affected by the Great East Japan Earthquake of March 11, 2011 to the United States. Participants stay with host families in various parts of the country to experience American culture.
TOMODACHI-GE Miyagi Perinatal Program
The GE Foundation sponsored a healthcare education program for universities in the Tohoku region, which were impacted by the disasters of March 11, 2011.  This included university courses to develop the next generation of health information specialists, as well as a series of seminars targeted towards existing practitioners, care providers and local governments in order to promote regional health collaboration.
TOMODACHI Honda Cultural Exchange Program
This program sends high school students from the disaster-affected areas in Tohoku to California for a two-week cultural exchange program, including participating in the Rose Parade on New Year's Day and visiting the American Honda Motors Co., Inc.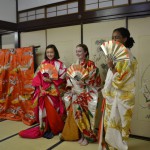 TOMODACHI MUFG International Exchange Program
The TOMODACHI MUFG International Exchange Program is a three-year exchange program. During the summer of 2012, Japanese students participated in the program in the United States with homestays and cultural activities in Los Angeles and Carlsbad, California. The 2013 program sent 26 high school students residing in Los Angeles County, Orange County, and San Diego County to Japan for a two-week people-to-people exchange and learning program. 

TOMODACHI Sumitomo Corporation Scholarship Program
The TOMODACHI Sumitomo Corporation Scholarship Program provides assistance to high-achieving university students with financial need to enable them to study abroad for one year. 

TOMODACHI-UNIQLO Fellowship 
This program offers a world-class educational experience to Japan's next generation of business and fashion leaders.  Eligible Japanese students can apply for financial support to pursue graduate studies at three top-notch U.S. educational institutions: Fashion Institute of Technology (FIT); and Parsons The New School for Design.
Fund for Exchanges Programs
TOMODACHI-Aloha Leadership Program
The TOMODACHI Aloha Leadership Program is an educational program that sent six high school and undergraduate students from Hawaii to the Tohoku region of Japan.

TOMODACHI Del Norte High School Delegation to Rikuzentakata
This program took six high school students from Crescent City, California who cleaned and returned a fishing boat belonging to Takata High School in Rikuzentakata, to Rikuzentakata, Iwate from February 15-23, 2014.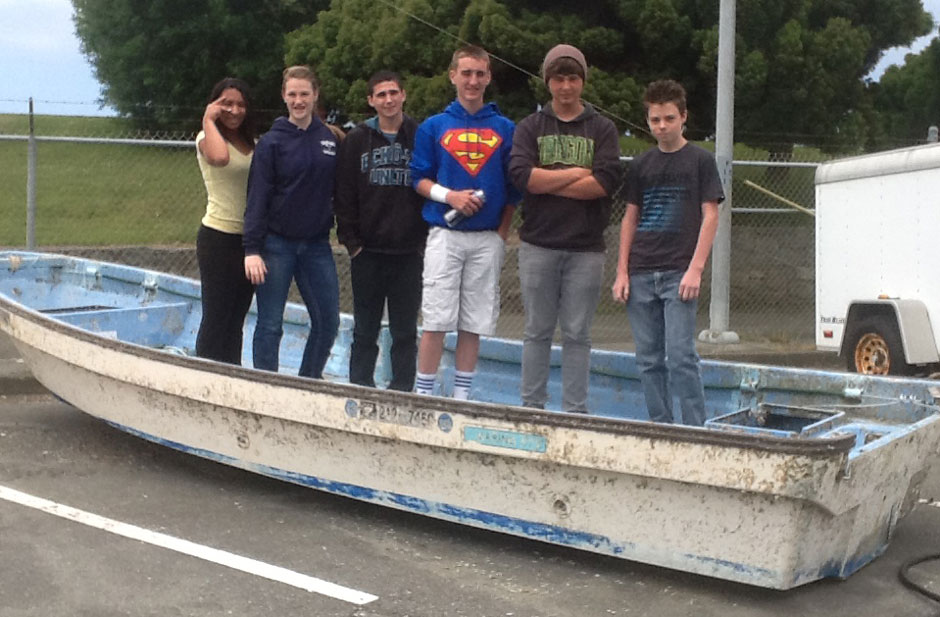 TOMODACHI Japan Society Junior Fellows Program
This two-way exchange program offers a small group of talented Japanese and American high school students (10 students each) a three-week immersive learning experience in Japan and the United States. 

TOMODACHI Matsue-New Orleans Exchange Program
This program takes eight participants from Matsue, Shimane prefecture to its sister-city of New Orleans, Louisiana for a cultural exchange and to learn the history of jazz and the American South.

St. Louis-Ishinomaki Grassroots Exchange Program
This homestay program sends five youths and four adults to St. Louis, Missouri for eight days.  During the program, the Japanese visitors participate in St. Louis' annual Japanese festival, which is one of the oldest and biggest Japanese festivals in North America.
TOMODACHI Tsunami Relief Volunteer Project
This program provides a collaborative humanitarian volunteer experience for American and Japanese students from Ohio University and Iwate Prefectural University to help victims in the disaster-affected area of Iwate prefecture.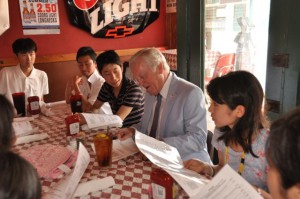 Dallas-Sendai Young Ambassador's Program
This program sends 10 middle and high school students from Sendai, Miyagi to Dallas, Texas. In July 2013, participants met with city officials, experienced homestays and toured local schools.
TOMODACHI U.S.-Japan Youth Exchange Program
This program supports six American and six Japanese high school students to participate in a three-week exchange program and community service project.  Students gain cultural awareness and sensitivity through social entrepreneurship and service learning in the respective countries.
H-LAB
This program provides Japanese high school students from the Tohoku region to participate in a six-day liberal arts summer program for Japanese high school students in Tokyo and a parallel four-day program in Obuse, Nagano organized by Harvard College students.
Rainbow for Japan Kids 
This program brings primarily middle school students from areas affected by the March 11th disasters to Hawaii for educational activities, including forming friendships with local students.  In 2013, American middle school students visited the disaster-affected areas in Tohoku.
South California-Fukushima Youth Cultural Exchange Program
This program offers eight middle and high school Japanese students to participate in a cultural exchange in Los Angeles, California.
TOMODACHI Taylor Anderson Memorial Fund (TAMF) Research Exchange Program
This exchange program selected four students and their faculty advisors from Randolph Macon College in Virginia and four students and their faculty advisors from Ishinomaki Senshu University to explore research questions of mutual concern at and on both campuses, through an in-country field work visit and exchange activities.
TOMODACHI-Callisburg 23rd Japan-America Grassroots Summit 2013 in Shimane
Thirteen students and chaperones from Callisburg, Texas visited Shimane, Japan to experience homestays, a visit to a local high school, and other cultural activities.
General Fund Programs
2014-2015 TOMODACHI Bridging Scholarship
Ten TOMODACHI Bridging Scholars were selected to study in various Japanese universities for the 2014-2015 academic year.  The scholars represent a variety of majors including Japanese or international studies, mechanical engineering, anthropology and secondary education.
Building the Next Generation of Leaders for the U.S.-Japan Relationship: the Role of Educators 
Japanese professionals in the field of education learn about the educational system in the United States, networks, and best practices available to support students who are preparing to study abroad. 

2014 Career and Cultural Study Program in Vermont
Japanese high school and university students from Onojo City, Fukuoka travel to Vermont for a career work experience
KATARIBA.online MyproRoom supported by the TOMODACHI Initiative
The program aims to nurture next-generation leaders to take on the challenge of solving social issues while being affected by COVID-19. This is a one-month program consisting of four steps.
TOMODACHI CIE Grassroots Summit in Oita
This program sends 15 high school and college students from the "Amache Preservation Society," a volunteer group that helps preserve the site of "Granada War Relocation Center," in Granada, Colorado to the 25th Japan-America Grassroots Summit in Oita from July 6-13, 2015.
TOMODACHI Inouye Scholars Program
This program provides American and Japanese university students with a unique ten-day exchange program. These exchanges are part of the broader Government of Japan's KAKEHASHI Project.

TOMODACHI NAJAS Grassroots Program – Colorado Springs and Fujiyoshida
This reciprocal exchange program takes eight members from each city to represent the brightest and most ambitious young ambassadors from the cities. In 2016, Japanese students from Fujiyoshida visited Colorado Springs.
TOMODACHI North Carolina Japan Foundation Exchange Program
This program sends American high school students from North Carolina to Nagoya, Sapporo, and Tokyo and served as cultural ambassadors to Japan because of their demonstrated interests in science, technology, engineering, and mathematics.
TOMODACHI Fellows of the ELS University Preparation Summer Program
Offered in Malibu, California, this three-week program provides four Japanese students with practical English skills combined with learning about the U.S. university system through in-class subject matter and during tours to area universities. Students selected to the program are provided an all-inclusive scholarship to participate in the University Preparation Program.
TOMODACHI Seattle-Fukushima Grassroots Exchange Program
This program takes Japanese students from Fukushima to Seattle Washington or American students from Seattle to Fukushima. The TOMODACHI Initiative and the National Association of Japan-America Societies (NAJAS) has developed a partnership that seeks to develop cultural exchange program for the Japanese and American youth.
TOMODACHI Summer English Language Study Program 
This program provided Japanese high school students from the areas affected by the Great East Japan Earthquake and tsunami with an intensive four week English language learning program. The 2012 program took place at Sandy Spring Friends School in Sandy Springs, Maryland, located just north of Washington, D.C.
TOMODACHI Spring Homestay Program
This program provides Japanese junior high and high school students from the areas affected by the Great East Japan Earthquake and tsunami with a two week homestay opportunity in the United States during spring break.  The 2013 program took place in Virginia.

TOMODACHI in San Diego 2013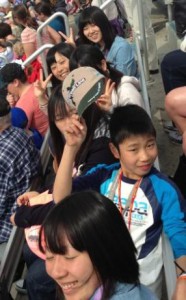 Students from Kesennuma in Miyagi prefecture participated in an exciting educational and cultural exchange in San Diego, California in March 2013.  In addition, the students met with marines and sailors that had participated in Operation Tomodachi in 2011 at the  Marine Corps Recruit Depot for a Thank You Ceremony.  This program was supported by Japan Airlines and KYOCERA Corporation.
TOMODACHI Internship Program
This new internship program, administered by Temple University Japan (TUJ), enables American students to participate in internships in Japan in a wide variety of sectors, including government, financial services, NPO/NGO, media, entertainment, fashion, journalism, IT, and consulting.
TOMODACHI University of Alaska Anchorage – Iwate University Kakehashi Program
Students and faculty members from the University of Alaska Anchorage (UAA) and Iwate University travel to the city of Rikuzentakata, Iwate prefecture to visit the disaster zone in the city, meet with civic leaders, and learn about reconstruction efforts. 

This program brings middle school children to Yokosuka Naval Base for a homestay and sports exchange program with the families of U.S. Navy service members, including some who had participated in Operation Tomodachi.  Children tour the base and the aircraft carrier USS George Washington.
Knowledge Investment Programs – Japanese Student Voices Remembering 3.11
This project brought 28 students from Tokyo and the Tohoku region to the United States for a three week trip to examine ideas for restoration and reconstruction that can be applied in Japan and to motivate university students in Japan to study abroad.  They traveled to New York, New Haven, Boston, Washington, D.C., San Francisco and Los Angeles where they met with government officials, executives at risk management companies, and students and faculty at several U.S. universities.
TOMODACHI Fund for Exchanges
The TOMODACHI Fund for Exchanges was established in April 2012 with generous support from Mitsubishi Corporation, Toyota Motor Corporation, and Hitachi, Ltd. The Fund provides hundreds of young Japanese students with opportunities to participate in high-quality educational and cultural exchange programs with their American counterparts, contributing to TOMODACHI's vision of giving hope to the young people of the Tohoku region and Japan as a whole by providing them with the skills they need to pursue their dreams. The Fund was established with $2.4 million USD to be evenly distributed over three years, with programs occurring from 2013.
Strengthening TOMODACHI

We would like to give special thanks to Takeda Pharmaceuticals, Ltd. for contributions devoted specifically to strengthen TOMODACHI's operational and administrative capabilities.  To be effective, an organization must have good people and the resources to accomplish its mission effectively.  The generous donation by Takeda Pharmaceuticals, Ltd. gives us the ability to realize strong programs that cultivate the youth of the TOMODACHI Generation and build a strong, enduring U.S.-Japan relationship.