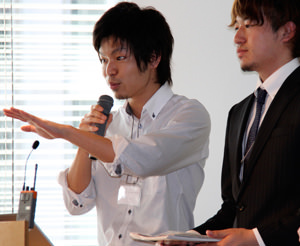 The TOMODACHI Initiative promotes programs that help the next generation of young leaders gain the skills and expertise necessary to guide them towards success and help them make a positive difference in their communities, for their countries, and for the entire world.
Through these programs, participants develop leadership skills that can be used throughout their lives, regardless of their profession. They will also learn to work and thrive in an entrepreneurial environment, creating new ideas and enterprises that spur economic growth and social progress.
Featured Programs
Strategic Partner Programs
TOMODACHI Aflac Program
This program provides Japan-based pediatric cancer specialists with an opportunity to visit the Aflac Cancer and Blood Disorders Center of Children's Healthcare in Atlanta, Georgia and to observe and share best practices related to the care and treatment of children with cancer.
TOMODACHI Amway Japan Foundation Tohoku Future Leader Program
This program provides opportunities for high school students from the Tohoku region to develop leadership skills to become next generation leaders, and to revitalize the Tohoku region through tourism.
Building the TOMODACHI Generation: Morgan Stanley Ambassadors Program
This intensive, two-week program is designed for Japanese and American students with an interest in leadership training, cross-cultural exchange, and entrepreneurial approaches to addressing social challenges.

TOMODACHI Boeing Entrepreneurship Seminar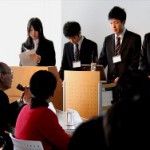 This program provides university students with the opportunity to learn about and cultivate skills related to entrepreneurship.  Past programs have focused on the development of new enterprises that could help in the revitalization and recovery of the Tohoku region.
TOMODACHI Daiwa House Student Leadership Conference
This program is a unique leadership development opportunity designed to mentor and nurture future leaders in the United States and Japan. Held in the United States, the series of conferences aim to strengthen and encourage community among American and Japanese students in the region, enhance cross-cultural awareness and build the people-to-people ties that are so important to the future of the U.S.-Japan relationship.
TOMODACHI FamilyMart SDGs Leadership Program in Tohoku -Beyond Tohoku to Japan, and Finally, the World-
This program provides leadership training opportunity for youth who are passionate about solving regional challenges in Iwate, Miyagi, and Fukushima Prefectures.
TOMODACHI Honda Global Leadership Program
This program sends high school students from across Japan to the United States for two weeks, providing an experiential learning opportunity for the next generation leaders to enhance global leadership skills and experience cultural exchanges between the United States and Japan.
TOMODACHI J&J Disaster Nursing Training Program
This program provides opportunities for Japanese nursing students and supports capacity building of nurses by focusing on the field of disaster medicine.
TOMODACHI Lawson High School Women Career Mentoring Program in Tohoku
This online program provides career support for female high school sophomores and juniors from Iwate, Miyagi, and Fukushima Prefectures.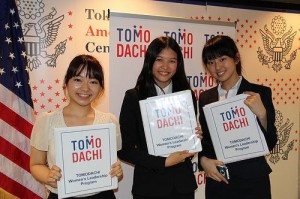 TOMODACHI MetLife Women's Leadership Program
This program is a mentoring program to promote women's leadership and empowerment in the workplace. Mid-level professionals in Tokyo Osaka, Naha, and Fukuoka serve as mentors for university students to develop leadership goals.
TOMODACHI Microsoft iLEAP Social Innovation and Leadership Program
This program is designed to cultivate a new generation of Japanese social entrepreneurs and community leaders (ages 18-25) who are prepared to make a positive difference in Japan, the United States, and around the world.

TOMODACHI Mitsui & Co. Leadership Program
This program provides twenty outstanding young American and Japanese professionals from the business and government sectors to participate in a unique delegation exchange that broadens their perspectives in their professional fields.
TOMODACHI NGO Leadership Program supported by J.P. Morgan
This program provides Japanese NGO leaders with an opportunity to enhance their capacity to respond to future disasters in Japan and abroad by connecting them to key resources in the U.S.  The first delegation attended the InterAction Forum in Washington, DC from April 29 to May 1, 2013.
TOMODACHI Summer SoftBank Leadership Program
This program provides Japanese high school students from the disaster-affected Tohoku region with an intensive three week program at the University of California, Berkeley that focuses on leadership development and community service. Students work in teams to develop community service projects and gain experience that they can use to contribute to recovery and reconstruction efforts back home in Japan.
TOMODACHI Toshiba Science & Technology Leadership Academy
This program provides high school students and teachers in the United States and Japan with an one-week, cross-cultural Science Technology Engineering and Math (STEM) exchange and leadership program in Tokyo.
TOMODACHI Toshizo Watanabe Leadership Program
This program for high school students aims to promote understanding between Japan and the U.S. and to develop the next generation of Japanese and U.S. leaders with globally applicable skills.
TOMODACHI Combini Fund
TOMODACHI High School Women Career Mentoring Online Program in Tohoku (2020)
This online program provides career support to high school women living in Iwate, Miyagi and Fukushima Prefectures by exploring the options that they have for their future.
TOMODACHI High School Women Career Mentoring Program in Fukushima (2015-2019)
This program provides career support to high school women living in Fukushima prefecture.
TOMODACHI HLAB TOHOKU 2015
This program provides Japanese high school and university students with the opportunity to participate in a liberal arts program organized by Harvard College students.
Fund for Exchange Programs
Building the TOMODACHI Generation: A Partnership to Engage U.S. and Japanese University Students in Social Problem Solving (2012-2016)
This program provides Japanese college students from top universities with an opportunity to visit Washington, DC from February to March where they will join their American peers for a robust leadership-based curriculum that enhances students' understanding of the principles, challenges and potential of civil society.
TOMODACHI Food Innovation for Regional Sustainability in Tohoku (FIRST) Program
This program grows the leadership and cross-cultural skills within the next generation of Japanese who are committed to social innovation in the production, processing, distribution, and/or consumption of food in Japan.
Japan-America Student Conference
This conference provides students from the United States and Japanese with an opportunity to participate in roundtable discussions and to talk about the future of U.S.-Japan relations in a time when both nations face great challenges.
TOMODACHI P5 Tohoku Entrepreneur Summer Program
This program develops entrepreneurship skills among Tohoku young people who have lost family members or whose families were permanently displaced by the disaster on  March 11, 2011.  Past program participants were introduced to business mentors who helped them formulate a business plan, while volunteer "big brothers and big sisters" from sponsoring companies offered personal development support.
TOMODACHI Social Innovation in Seattle (SIIS) Scholars Program
This program takes place in Seattle, Washington and is a four week, intensive training course in leadership and social entrepreneurship for Japanese students and young professionals.
General Fund Programs
TOMODACHI ADA25 Lead On! Program
Fifteen young Japanese leaders with disabilities from all over Japan join the ADA25 Celebration in Washington, D.C. and participate in ADA25 events and the National Council on Independent Living (NCIL) Annual Conference, where they meet with prominent leaders from the United States with disabilities.

TOMODACHI Disability Leadership Program at UMass Boston
This is an intensive five-month disability leadership and advocacy training that takes place in Boston, Massachusetts. The program trains young Japanese people with disabilities to become stronger and more confident leaders of the next generation.
TOMODACHI Story Jam for Youth with Disabilities
This program is an 8-week digital storytelling and youth leadership program that brings together Japanese and American college students and young professionals with disabilities to collectively explore experiences in the time of COVID-19.
TOMODACHI Social Entrepreneurship Award Program to Silicon Valley
This program provides a U.S. study tour to winners of the TOMODACHI Award at the Campus Venture Grand Prix organized by THE NIKKAN KOGYO SHIMBUN,LTD. The TOMODACHI Award is being awarded to those who are excellent in creating business plans that focus on solving social challenges. The recipients of the Award travel to Silicon Valley, California to meet and pitch their ideas to influential startups and venture capitals.
TOMODACHI-SCORE Study Tour
This program takes the winners of the Science in Okinawa: Research for Enterprise (SCORE!) competition to various cities in California to experience a science and entrepreneurship-focused program.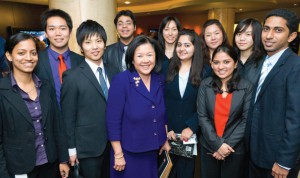 TOMODACHI Foster Youth Leadership Program
International Foster Care Alliance (IFCA) members from the United States travel to Japan to deepen their understanding of Japanese culture, particularly the Japanese child welfare system and its history. 

TOMODACHI High School Women Career Mentoring Program in Fukushima (2014)
This program offers career support to high school women living in Fukushima prefecture who are in their junior year.  It provides career mentoring and support by explaining the options that they have for their future. 

TOMODACHI Job Shadow Challenge Program
Out of the thirty students who participated in a national competition, ten finalists were selected for a four-day program in Guam to participate in exchange activities and a job shadow at FedEx Guam with ten local students.
TOMODACHI Clinton Global Initiative University
TOMODACHI participants attend the annual Clinton Global Initiative University conference where students from all over the world convene in the United States to "discuss global issues, develop practical skills, identify potential partners, and formulate concrete plans of action for the months ahead."
TOMODACHI-Ryukyu Frogs Jr.
This program sends four students between the ages of 17-24 from Okinawa to Silicon Valley, California for a ten-day entrepreneurship study tour. In August 2013, participants had the chance to meet with various business officials and receive special entrepreneurship training.
TOMODACHI Fellows Program
This program provides young nonprofit leaders from Japan with a 12-18 month professional fellowship at organizations in the United States to learn best practices, build organizational capacity, and return to Japan to create a network of global leaders.
TOMODACHI-STEM @ Rice University Program
This program is a five-week research internship program for 10 Japanese undergraduate students majoring in science & engineering (S&E) at Rice University in Houston, Texas. 

TOMODACHI-STEM Women's Leadership and Research Program
Hosted by Lehigh University in Bethlehem, Pennsylvania, and Rice University in Houston, Texas, this program is a five-week research internship for 10 Japanese female undergraduate students.
TOMODACHI Youth Visionary Contest Mirai Sendai City
This program provides Japanese and American students with an opportunity to plan and implement their ideas for the recovery of the areas affected by the Great East Japan Earthquake.
TOMODACHI BEYOND Tomorrow U.S. Program
This two-week program in New Orleans, Boston, New York and Washington D.C. provides students from the Tohoku region with opportunities to learn from the U.S. experience in post-disaster reconstruction and planning, as well as to serve as student ambassadors to share their experiences with the American people.
TOMODACHI U.S.-Japan Clean Energy Local Partnership Program
This program takes Japanese community leaders to various cities in the United States to learn about smart communities, tour energy efficient buildings, and view leading-edge renewable and smart energy systems. It furthers the objectives of the Tohoku Green Communities Alliance established by President Obama and Prime Minister Noda in 2012.
TOMODACHI Tohoku Challenge
This program was a business plan competition for entrepreneurs that identified a venture business to bring innovation and employment to the Tohoku region and to accelerate the reconstruction of the area.
TOMODACHI Clean Energy Program
This program was a series of students workshops on renewable energy and methods for saving energy in Tokyo, Sapporo, Naha and Fukuoka.
TOMODACHI Alumni Development
TOMODACHI Alumni Leadership Program supported by Prudential
The TOMODACHI Alumni Leadership Program builds upon the initial TOMODACHI experience and offers the alumni community with a range of opportunities to engage and inspire one another through professional development and network building events and programs.

TOMODACHI Generation Global Leadership Academy (Alumni Program)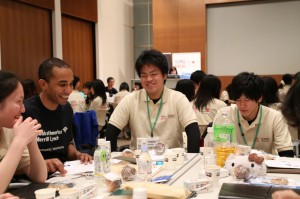 Seventy students who participated in TOMODACHI programs over the summer are selected to participate in a 3-day workshop in which students discuss and study the global agenda, and what the youth can do to contribute to society.  This program was designed for students who have a global perspective based on their experiences in studying abroad in the United States.
TOMODACHI KaoLINK Fukushima Rebranding Program
The TOMODACHI KaoLINK Fukushima Rebranding Program aims to rebrand Fukushima through the power of scent. Through creating an original scents, participants send messages that they want to tell from Fukushima.

Drucker For Future Japanese Leaders (DFJL) Program  (Alumni Program)
This program provides 10 TOMODACHI high school alumni with an opportunity to participate in a two-week Drucker-based management skills program at Claremont Colleges in California.  The students use what they've learned to design and implement community service projects.
Other Activities & Events
TOMODACHI Award at the University Venture Grand Prix 2013
The TOMODACHI Award was awarded to two winning groups who participated in the University Venture Grand Prix (UVGP) 2013 entrepreneur contest.  They will have an opportunity to visit Silicon Valley, CA to present their ideas to American venture capitalists in March 2014.
TOMODACHI Students Attend Cloudforce Japan
Salesforce.com, a TOMODACHI sponsor, gave participants of TOMODACHI programs the chance to attend the Cloudforce Japan event on December 6, 2012 in Tokyo.  The event featured a special dialogue on innovation and global leadership with Toyota President and CEO Akio Toyoda, former U.S. Secretary of State Colin Powell, and Salesforce.com CEO Marc Benioff.