Q&A with TOMODACHI Program Participants and TOMODACHI Alumni: Koki Yamamoto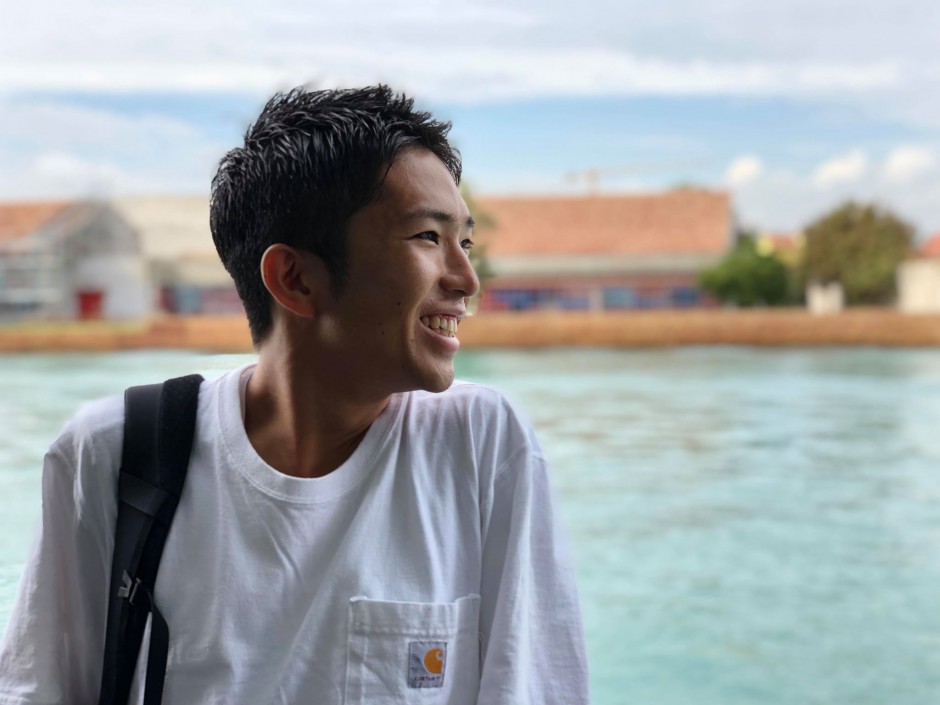 Koki Yamamoto
Koki Yamamoto is originally from Namie, Fukushima Prefecture. He is an alumnus of the TOMODACHI Summer 2014 Softbank Leadership Program. He participated in the U.S.-Japan Council Annual Conference held in Silicon Valley, California in 2016 as one of the alumni speakers, and shared his feelings toward his hometown and his thinking at the time of the Great East Japan Earthquake in 2011. He is a graduate of Toyo University in Tokyo and majored in Regional Development Studies. After graduation, he returned to Namie to start working at a local construction company. He knew there were few young people living there, but was shocked to see the reality. However, the situation motivated him to open a bar called Sachi where youth can come and spend time together.
July 20, 2020
Q1. You have been very active as a TOMODACHI alumnus since 2014. First of all, what does TOMODACHI mean to you?
The friends I made through the TOMODACHI program are my true friends. I also have older supporters around me who are willing to support me to do what I want to do. When I opened my bar, a friend of mine who I met through the TOMODACHI program designed a logo for me. TOMODACHI means the bonds of friendship that can support the people within a community.
Q2. When the earthquake hit your hometown, Namie, you have faced lots of difficulties such as finding a safe place to live. While experiencing hardships, what motivated you to participate in the TOMODACHI program?
At that time, I was a very negative kid as I was a victim of a disaster. I was not able to open my heart to anyone. One day, my teacher introduced me to TOMODACHI and suggested I join. I decided to participate thanks to him and I feel like it was a destiny to encounter TOMODACHI. When I opened my bar in 2020, I was interviewed by NHK and appeared on TV. I was very glad that my teacher called me when he saw it.
Q3. After your initial program in 2014, you have participated in many alumni programs. What kind of people have you met through your activities?
The connections I made through TOMODACHI created further connections at other occasions. As I said earlier, the friends I made through TOMODACHI are my best friends. The luck brought more luck and each was tied to the next connection. For example, one of my best friends in TOMODACHI introduced me to a person who could be my mentor. Now, in Namie, there is another TOMODACHI alumnus besides me. I am sure that having two alumni in the same town will bring about a bright future.
Q4. After graduating from university, you found a job at the local construction company in Namie. Why did you decide to work there?
I wanted to return to my hometown and was looking for a job opportunity there. In fact, my family owns a construction company and I was hired there. The reason I decided to work there is because I wanted to create something by myself. I wanted to create a base for Namie and build up something afterwards by myself as well.
Q5. What do you hope to do with your company in Namie in the future?
I have been thinking about "how the people of my generation can live in Namie with joy." I really want to create an environment where young people can live comfortably.
Q6. What do you see for the future of Namie?
I want to emphasize "living as who you are in Namie." At this moment, it is difficult to eat out and go for a drink whenever you want. Thus, first, I want to create an environment where people can live as who they are and I want everyone to believe that it is possible to live as who they are.
Q7. What did you learn about leadership from the TOMODACHI program?
To me, not everyone has the same kind of leadership. Leadership for me is the ability to think of the possibilities in order to realize what you want to do and implement it with thinking what kind of means you take. I think what I learned from TOMODACHI is the first step of the whole leadership lessons.
Q8. How do you want to get involved in the future of Namie?
What is important for me is whether young people can do freely what they want. If they suggest something interesting, I think others will think the same thing. From an adult's point of view, it might not be interesting but the ability to realize those suggestions will be the key. Even though 80% of people are against it, I still think it is important to listen to those 20% and how we make something happen among them.