The Youth Voice Rises at the World Bosai Forum through the Stories of TOMODACHI Alumni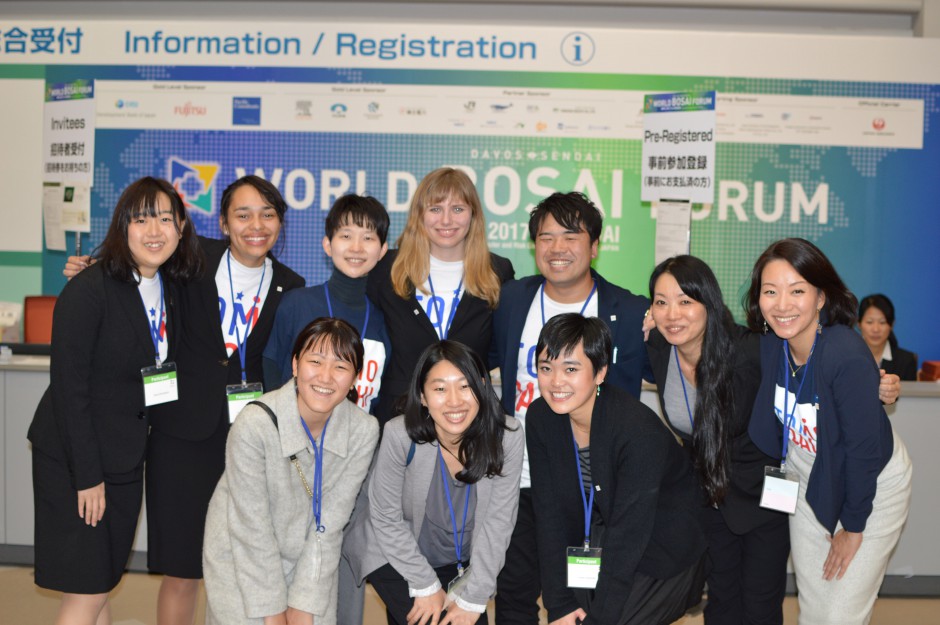 On November 27th 2017, the TOMODACHI Alumni Disaster Resilience Training (DRT) Program concluded with final presentations about the program at the 2017 World Bosai Forum held in Sendai, Japan. The international forum was attended by professionals and experts in the field from over 40 countries.
This TOMODACHI Alumni DRT Program began after the Third United Nations World Conference on Disaster Risk Reduction (WCDRR) which was held also in Sendai, Miyagi Prefecture in March 2015 to respond to the need for more representation of youth in the engagement and awareness of disaster preparedness, disaster response, and disaster resilience, and it was a very special opportunity to be able to come full circle to attend this international forum and be on the same footing as these experts and professionals to share the impact that we have created in these past two years.
TOMODACHI, working in partnership with Peace Boat and JISP (Japan IsraAID Support Program), put together a five-part program that would span across two years and four cities throughout Japan. To learn more about the past workshops, click here.  At this fifth and final part of the program, six Japanese alumni who participated in one or more of these DRT workshops in the past two years were joined by two American alumni with proven interest in disaster resilience, to add their voice in the final presentations to an international forum on disaster resilience in Sendai.
Out of the eight alumni present, three were selected by their peers to represent the group and speak about their experiences from the program and how it has impacted them to be more aware and knowledgeable about responding to future disasters.
Shota Sakurai, alumnus of the TOMODACHI Coca-Cola Educational Homestay Program, said that the TOMODACHI DRT Program "changed his life". The program taught him on-the-ground skills in the workshop and in the field when he volunteered in Kumamoto and it motivated him to pursue a year abroad in the Philippines teaching disaster preparedness to youth in the country. View speech from here.
Chelsea Monteverde, alumna of the TOMODACHI J&J Disaster Nursing Training Program, shared her experience and importance of storytelling and to remind ourselves that "pain is subjective" – something she learned by connected and sharing her stories with those on her program who called Tohoku home.  View speech from here.
For Sawa Shimokawa, alumna of the TOMODACHI-STEM Program @ Rice University, her interest had always been in infrastructure but after joining the TOMODACHI DRT Program, her focus became specialized on building disaster resilient bridges as she is now doing research on the effects of tsunamis on bridging structures. From the program, she was not only able to hone her interest in physical bridge-building but also learned the importance of what an "outsider" can do, someone who hasn't experienced disaster, to listen and help build those people-to-people bridges as well.  View speech from here.
In April 2016, we were able to send five alumni to respond to the Kumamoto Earthquake and in August 2017 sent three volunteers to respond to the Kyushu Flooding.
The TOMODACHI Alumni Disaster Resilience Training Program is part of the TOMODACHI Alumni Leadership Program and is made possible by the generous donation of The Prudential Foundation.