From Tohoku to Kumamoto: TOMODACHI Alumni Join Relief Efforts on the Ground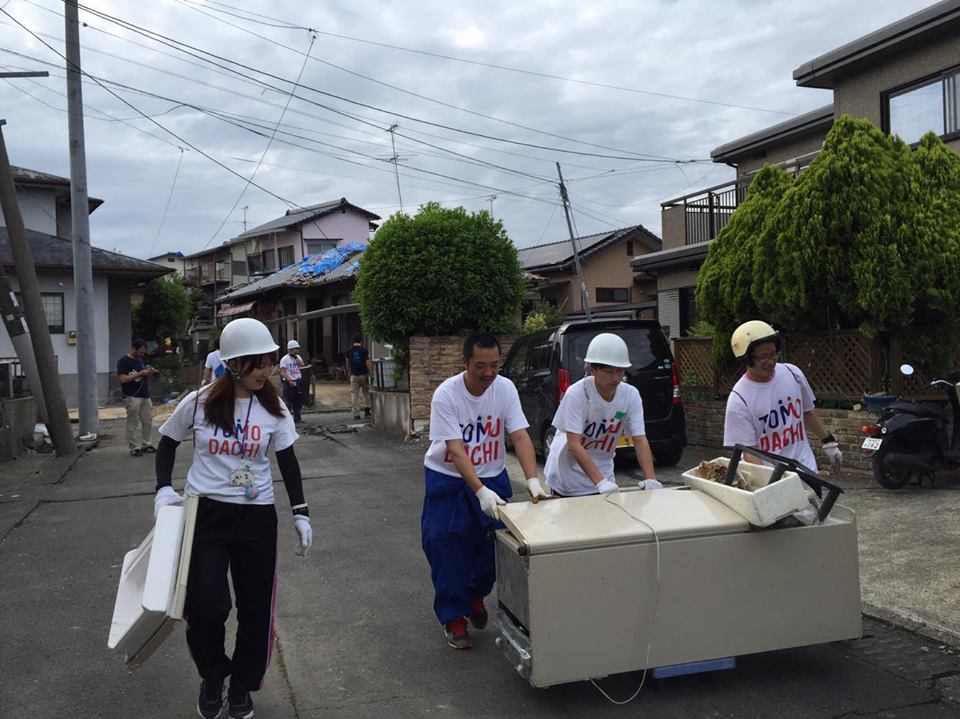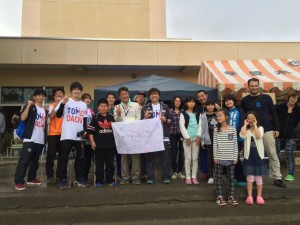 From April 25-27, 2016, five TOMODACHI alumni visited some of the most remote areas in Kumamoto prefecture to help local residents rebuild their lives after the devastating earthquake on April 16, 2016.
Organized by Japan IsraAID Support Program (JISP) and Peace Boat, as an extension of the TOMODACHI Alumni Disaster Resilience Training Program, this relief mission was an opportunity for the four alumni from Tohoku who experienced the Great East Japan Earthquake and for one alumnae from Kumamoto Prefecture to utilize the skills they learned while participating in the alumni leadership program supported by Prudential Foundation, in January 30-31, 2016.
On day one, the alumni helped clear debris and clean homes and Mashiki City Elementary School, and in the evening attended a meeting hosted by the Japan Voluntary Organizations Active in Disaster (JVOAD) where NPOs and NGOs currently working on the ground in Kumamoto shared their projects and progress, allowing fellow organizations to collaboratively serve the affected regions. At the JVOAD meeting, the alumni learned about the many needs the Kumamoto residents such the necessity of support for evacuees and psychological first aid (PFA), addressing needs as they escalate, and ways to volunteer.
On day two, the alumni traveled south to Mifune City to continue their disaster relief efforts by assisting those who had been evacuated from their homes. Damaged houses and property are classified into one of the following three categories and marked with a sheet of colored paper accordingly: red for total damage, yellow for houses that are livable but hazardous due to some damage, and green for no major problems. However, the homes in Mifune City were still yet to be categorized. There, TOMODACHI alumni helped this process by clearing away broken roof tiles and cleaning up the residents' homes. The team continued to look for where the need was greatest and decided to focus their relief efforts to support the elderly and handicapped.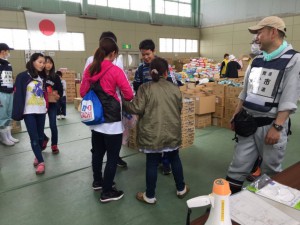 On day three, the alumni visited Kumamoto City International Exchange Promotion Agency and heard how they responded to the earthquakeregarding the evacuation status of foreigners. Although initially planning to go to Minamiaso, road closures impeded the way and ultimately the group reverted to the Nishiharasonmin Gymnasium nearby and aided the transportation of provisions. Through their volunteer work, the alumni were not only able to interact with local residents and witness the situation immediately following the earthquake, but were also able to share their own experiences of the Great East Japan Earthquake and provide valuable "kokoro-no-care" (emotional support) that only individuals who have actually experienced a similar disaster could share.
Ms. Aoi Seto, a student originally from Iwaki, Fukushima and currently studying nursing at Chiba University, said this relief mission in Kumamoto was very meaningful for her, and she felt that her experience as a victim of the 2011 Great East Japan Earthquake was very helpful in approaching the local people in Kumamoto and understanding their feelings of stress and fear, as well as to connect with them on a very deep and personal level.
At the end of their trip, the alumni returned to Makishi City where they had started, and TOMODACHI alumnus Shota Sakurai directly handed a donation amount of 68,110 yen that he had collected from Reitaku University to the representative of Makishi's City Hall.
Our hearts and prayers go out to the people of Kumamoto and their loved ones. TOMODACHI's strength is not in immediate disaster relief, but in the more long-term people-to-people connections. We plan to continue engaging with the people we met in Kumamoto to provide hope and friendship to journey together on the road to recovery.