Building the TOMODACHI Generation Program Successfully Concludes in Washington, DC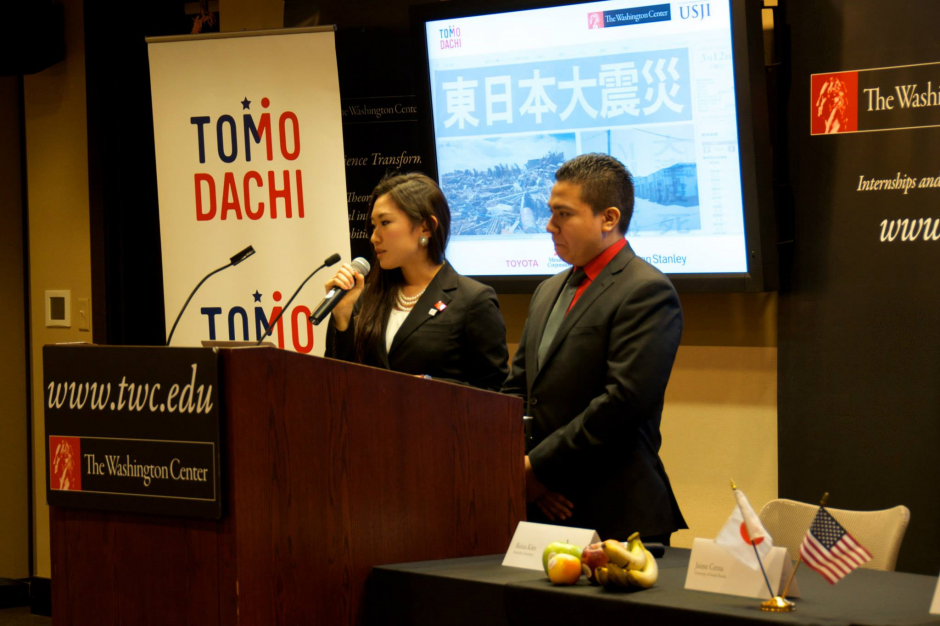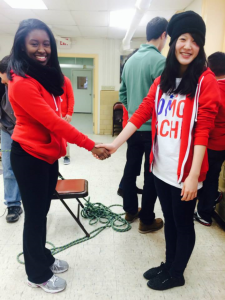 The Building the TOMODACHI Generation Program, a two-week program which brings together Japanese and American college students to Washington, DC with support from the Washington Center and the USJI (U.S.-Japan Research Institute), concluded successfully on February 28, 2015.  Starting on February 14, thirty five students participated in this program (20 Japanese and 15 American college students).  The students took part in team-building exercises, attended lectures and discussions, and met with U.S.-Japan Council members, TOMODACHI sponsors and guests at several exclusive events.
As a conclusion of the program, on February 27, the students took part in a group presentation competition. The participants were divided into five teams and were tasked with developing and presenting an idea for a project that addresses a specific need or issue for the people in the Tohoku region. Projects ranged from cross-generational community gardens in Ishinomaki and small gardens for orphanages, to training for young entrepreneurs in Miyagi. Teams Fuku Mirai (Happy Future) and Itadaki (Above the Clouds) were awarded the top prize for: their educational programs on post-traumatic stress disorder in Iwate and Miyagi  (Fuku Mirai) and digital education program for seniors in Rikuzentakata (Itadaki).
Akane Meguro who is a junior at Tsukuba University, from team Fuku Mirai reflects on her experience as follows:
"I was the only participant from the Tohoku region this year and I felt the emotional difference as a person who experienced the 3.11 disaster as well as the revival of the Tohoku region. At first, I felt uncomfortable sharing my experience with other members but gradually, I came to think that it's important to think about the disaster not only myself but also with those eager to know what it was like and what should be done to revive the region. In the end, I realized I'm not alone thinking about the Tohoku region but there are so many people who want to think together about problems the Tohoku region is facing. With a strong bond, the TOMODACHI generation will solve problems together and make the world a better place."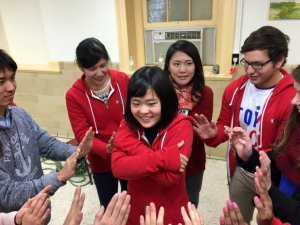 This program was unique and extraordinary in a way that participants have opportunities to input knowledge which they would never be able to receive in Japan. Furthermore they are also required to output and generate outcome through group work.  A participant from Kyoto University, Midori Inoue said, "the most valuable experience of the program was that we were able to intensely discuss topics with American students. Even though we were often being confronted by a difficulty of difference in each sense of value, the program pulled me out of Japan where its such a comfortable place because we unconsciously benefit from culture of 'Ishindenshin' (understanding each other even without many word)."
Japanese students and American counterpart truly became TOMODACHI, the word symbolizes a strong bond between two nations which cannot be simply translated as 'friendship'. "We cannot end our relationship once we get back to our lives. We have to stay connected and keep in touch because I believe by doing so, this relationship will foster and grow. After 10 or 20 years, we will still be TOMODACHI and that is what makes this people-to-people connection precious," said Ryan Gandolfo, a participant from the University of South Florida.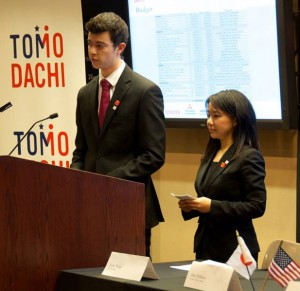 A junior at Keio University, Kana Takagi, who currently interns at the TOMODACHI Initiative said, "After participating in the program, I became determined to build an infrastructure for the non-profit sector in Japan, a sector which I believe would be a place where people who are ambitious and try to make a difference can maximize their full potential and positive impact. I strongly believe that Japanese society needs advocacy organizations which enable unheard voice heard. As one of the students who learned about the functionality of nonprofits, I am determined to continue to devote myself to U.S.-Japan relations. I would like to learn more about the nonprofit sector and develop a network so that I can ultimately give back to the Japanese community."
After coming back to Japan, on March 2nd, Japanese students made their presentations at Waseda University, to representatives of the TOMODACHI Fund for Exchanges companies. In the presentation, Madoka Shishikura, a Sophomore at Keio University incited a quote which left her the strongest impression; "Get out from the comfort zone and be uncomfortable because that is when you grow!!", and she continued "Learning about NPOs from a faculty adviser, guest lectures from well-known sectors, sight visits and team work with fellow American students, every single moment was designed to help us grow as young professionals. It is now on us to build upon this experience to grow more as a member of TOMODACHi generation program and as a future leader!"
American students of the two winning teams will travel to Japan this summer, visiting Tohoku to participate in community and service projects. This program is generously supported by Toyota Motor Corporation, Mitsubishi Corporation and Hitachi, Ltd. through the TOMODACHI Fund for Exchanges, as well as by Morgan Stanley.
Program Funding

This program is funded by TOMODACHI's Fund for Exchanges through generous contributions from Toyota Motor Corporation, Mitsubishi Corporation, and Hitachi, Ltd.