Entrepreneurship and Leadership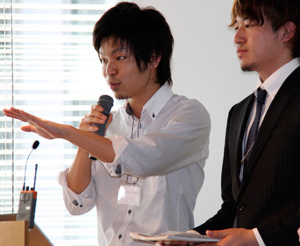 The TOMODACHI Initiative promotes programs that help the next generation of entrepreneurs and young leaders gain the skills and expertise necessary to guide them towards success and help them make a positive difference in their communities, for their countries, and for the entire world.
Through these programs, participants develop leadership skills that can be used throughout their lives, regardless of their profession. They will also learn to work and thrive in an entrepreneurial environment, creating new ideas and enterprises that spur economic growth and social progress.
Featured Programs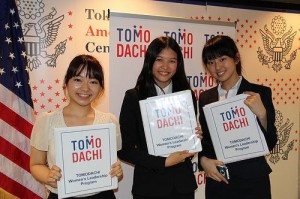 TOMODACHI Summer SoftBank Leadership Program
This program provides Japanese high school students from the disaster-affected Tohoku region with an intensive three week program at the University of California, Berkeley that focuses on leadership development and community service. Students work in teams to develop community service projects and gain experience that they can use to contribute to recovery and reconstruction efforts back home in Japan.
TOMODACHI MetLife Women's Leadership Program
This program is a mentoring program to promote women's leadership and empowerment in the workplace. Mid-level professionals in Tokyo and Osaka serve as mentors for university students to develop leadership goals.
TOMODACHI Emerging Leaders Program
This program provides leadership training and networking opportunities with the highest levels of leadership in business, public policy, academia, journalism and community organizations.  
TOMODACHI-Mitsui Co. Leadership Program
This program provides twenty outstanding young American and Japanese professionals from the business and government sectors to participate in a unique delegation exchange that broadens their perspectives in their professional fields.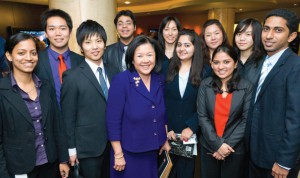 Building the TOMODACHI Generation: A Partnership to Engage U.S. and Japanese College Students in Social Problem Solving
This program provides 16 Japanese college students from top universities with an opportunity to visit Washington, DC from February 15, 2014 to March 1, 2014, where they will join 12 American peers for a robust leadership-based curriculum that enhances students' understanding of the principles, challenges and potential of civil society.
TOMODACHI Aflac Program 2013
This program provides Japan-based pediatric cancer specialists with an opportunity to visit the Aflac Cancer and Blood Disorders Center of Children's Healthcare in Atlanta, Georgia and to observe and share best practices related to the care and treatment of children with cancer.
TOMODACHI-Ryukyu Frogs Jr.
This program sends four students between the ages of 17-24 from Okinawa to Silicon Valley, California for a ten-day entrepreneurship study tour. In August 2013, participants had the chance to meet with various business officials and receive special entrepreneurship training.  
Drucker For Future Japanese Leaders (DFJL) (Alumni Program)
This program provides 10 TOMODACHI high school alumni with an opportunity to participate in a two-week Drucker-based management skills program at Claremont Colleges in California.  The students use what they've learned to design and implement community service projects.
TOMODACHI NGO Leadership Program supported by J.P. Morgan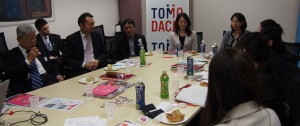 This program provides Japanese NGO leaders with an opportunity to enhance their capacity to respond to future disasters in Japan and abroad by connecting them to key resources in the U.S.  The first delegation attended the InterAction Forum in Washington, DC from April 29 to May 1, 2013.   
TOMODACHI Fellows Program
This program provides young nonprofit leaders from Japan with a 12-18 month professional fellowship at organizations in the United States to learn best practices, build organizational capacity, and return to Japan to create a network of global leaders.  
TAC-Keio SFC-TOMODACHI Entrepreneurship Seminar and Business Plan Competition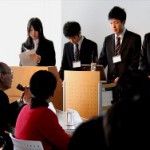 This program provides university students with the opportunity to learn about and cultivate skills related to entrepreneurship.  Past programs have focused on the development of new enterprises that could help in the revitalization and recovery of the Tohoku region.
TOMODACHI P5 Tohoku Entrepreneur Summer Program
This program develops entrepreneurship skills among Tohoku young people who have lost family members or whose families were permanently displaced by the disaster on  March 11, 2011.  Past program participants were introduced to business mentors who helped them formulate a business plan, while volunteer "big brothers and big sisters" from sponsoring companies offered personal development support.
TOMODACHI BEYOND Tomorrow Global Leadership Academy 2013 (Alumni Program)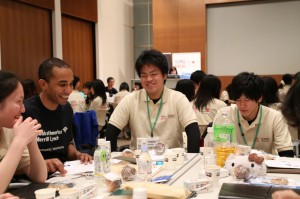 Seventy students who participated in TOMODACHI programs in summer 2012 were selected to participate in a 3-day workshop in which students discuss and study the global agenda, and what the youth can do to contribute to society.  This program was designed for students who have a global perspective based on their experiences in studying abroad in the United States.   
TOMODACHI BEYOND Tomorrow U.S. Program 
This two-week program in New Orleans, Boston, New York and Washington D.C. provides students from the Tohoku region with opportunities to learn from the U.S. experience in post-disaster reconstruction and planning, as well as to serve as student ambassadors to share their experiences with the American people.
TOMODACHI Tohoku Green Communities Alliance Exchange Program 
This program introduces Japanese community leaders from the disaster-affected Tohoku region to approaches to energy efficient "smart" communities used in the United States. This includes utilizing urban planning, energy efficient buildings, and renewable and smart energy systems to facilitate the communities' rebuilding efforts after a natural disaster.
TOMODACHI Tohoku Challenge
This program was a business plan competition for entrepreneurs that identified a venture business to bring innovation and employment to the Tohoku region and to accelerate the reconstruction of the area.
Other Activities & Events
TOMODACHI Students Attend Cloudforce Japan Salesforce.com, a TOMODACHI sponsor, gave participants of TOMODACHI programs the chance to attend the Cloudforce Japan event on December 6, 2012 in Tokyo.  The event featured a special dialogue on innovation and global leadership with Toyota President and CEO Akio Toyoda, former U.S. Secretary of State Colin Powell, and Salesforce.com CEO Marc Benioff.