TOMODACHI Generation: Yo Douglas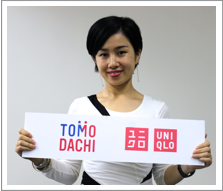 Yo Douglas has a strong interest in fashion and has worked in the fashion media industry with companies such as Gilt Group and Conde Nast Publications. She is currently participating in the Master's program at Fashion Institute of Technology majoring in Global Fashion Management, as a TOMODACHI-UNIQLO fellow starting Fall 2014 semester. Through her education at FIT, she plans to help gifted new creators acquire greater mindshare in the fashion industry by utilizing current technologies to boost prosperity of the industry.
Ms. Douglas at FIT
About Yo Douglas
Why did you apply to the TOMODACHI UNIQLO Fellowship? 
I had always loved fashion and appreciated the primal power of visual arts, working for many years in the fashion industry, first at leading magazines like vogue and ryuko tsushin and later managing editorial and photography teams for the leading fashion internet retailer. Over my career I have enjoyed many chances to work with leading international creators both in Japan and abroad. In the course of my work I realized that many gifted creators, whose work deserves wider attention, struggle to be successful or to impact the market. I have made this one of the themes of my career:
(1)Helping gifted new creators get greater "mindshare" in the fashion industry
I love finding under-appreciated artists and encouraging them. Working on customer facing platforms like magazines and retail websites enabled me to promoted young, talented fashion designers, creators I had discovered.
My second professional mission is:
(2)Utilizing Internet technology to boost prosperity of the industry
The importance of the second theme really came to me when I moved to Singapore to join my husband; while I was away, my beloved ryuko tsushi ceased publication. The quality of its fashion journalism and perspective was unmatched but the magazine struggled in a digital age, and like the greater fashion world, failed to evolve into a new niche where it could survive and prosper. This event made me decided to shift my career to embrace the new opportunities offered by technology: I joined the Singaporean branch of a Japanese newswire.
After a few years (and a birth) we returned to Tokyo I joined an American E-commerce company starting up in Japan. The E-commerce, which is data-oriented business, offers amazing opportunities to develop content with direct customer feedback that gave me a whole new perspective for looking at creative content. Structured properly you can refine and test ideas vastly more quickly and for a fraction of the cost.
As a manager I was also watching our profits across the company and making financial decisions. I came to feel that I need to elevate my skill sets to achieve my two missions. The FIT program, with its fashion focused blend of business skills, is ideal.
Also, I am excited about the chance to intern with fast retailing group which, has demonstrated robust, global growth during the economic downturn. I was impressed by its customer-oriented approach and spirit of continual improvement after reading books written by the company CEO, Mr. Yanai. I deeply appreciate the opportunity provided by the UNIQLO-TOMODACHI project.
What would you like to learn from this program?
I want to develop a comprehensive skill-set, focused on the unique fashion environment, including technology, marketing and business / management.
I am particularly excited about seminars being conducted on three continents. Fashion has an intuitive component, physically being present is critical to developing that intuition. The multinational composition of the class body is also ideal; in an increasingly borderless world, knowledge of different cultures is critical. I will share my knowledge of Japanese and International trends, and my experiences working at a cutting edge e-commerce business with the other students and I look forward to learning from other students from different backgrounds who share my passion for evolving fashion industry.
What connection and/or interest do you have with the United States? 
New York, home of FIT, is both a fashion mecca and my husband's hometown. During our regular family visits I've had many chances to catch up old friends and co-workers; I'm excited to be making the move myself. I think it will be an amazing place to raise our boys, broaden and deepen my understanding of fashion and business and get exposure to the other creative people who have chosen to cluster here.
More information about the program click here