TOMODACHI Generation: Kota Okuda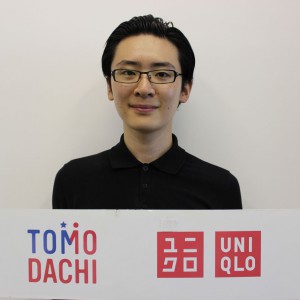 KOTA OKUDA has a wealth of experience working in the jewelry industry and collaborating with fashion designers. Originally from Niigata Prefecture, he received his with first class honors at Central Saint Martins University of the Arts London. Further achievements include winning the grand-prix prize in the Jewelry Category at the International Talent Support and receiving the scholarship from Swarovski Foundation. Mr. Okuda focuses on fundamental creations that combine handcraft processes and hi-tech digital technologies (3D modeling and printing). He will study at Parsons School of Design and pursue a Master in Fine Arts (MFA) in the fall of 2016 on the TOMODACHI-UNIQLO Fellowship.
Take a look at his designs

here
About Kota Okuda
Why did you apply to the TOMODACHI-UNIQLO Fellowship?
I want to be a renowned jewelry designer that competes in the global arena. I received a BA in Jewelry Design from London's Central Saint Martins in 2015, and since then, I have continued to design my own jewelry. I constantly challenge myself to push the boundaries of jewelry design, and through this fellowship, I wish to explore not only the art of jewelry but also how fashion contributes to culture, economy, and U.S.-Japan relations. In New York City, I hope to play my part as a proud Japanese, and spread the prestige of Japanese technology and beauty of Japanese craftsmanship. At the same time, as I have had the opportunity to partake in the collections designed by Mr. Kawanishi (2013 Fellow) and Mr. Akasaka (2014 Fellow), I have always had the desire to participate in this TOMODACHI-UNIQLO Fellowship myself.
What would you like to learn from this program?
Parsons is a renowned and extremely prestigious institution, so I am aware of how challenging my time there will be. However, I am determined to polish my individuality and taste as a jewelry designer. Although designing apparel is not my area of expertise, I am looking forward to diving into an environment full of talent, passion, and creativity and enhancing my knowledge of jewelry design. In addition, I hope to expand my networks in the organized chaos of New York City. During the internship experience, I am looking forward to learning how fashion plays into society and our daily lives. I feel extremely honored to have the opportunity to be exposed to UNIQLO's innovations as one of the pioneers of fashion today.
What connection and/or interest do you have with the United States?
I have been inspired by American culture since my elementary years. Having western influence around me such as McDonald's, Toys"R"Us, Hip-Hop, Jazz, Levi's (Levi's Strauss &Co.) and Nike (Nike Inc.), I have always felt a strong connection with the U.S. despite the physical distance between our two countries.