TOMODACHI Generation: Takeru Saito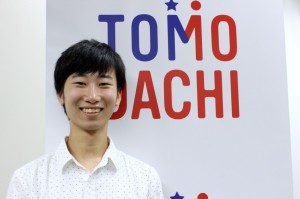 About Takeru Saito
Takeru Saito graduated from Fukushima High School in the Fukushima Prefecture. He began learning the piano early in his childhood and shifted to jazz piano when he joined a jazz club at his high school. He has been a Berklee alumni since high school. He studied under Yuki Arimasa, a phenomenal pianist teaching at Senzoku Gakuen College of Music and gained experience as a professional pianist through playing mainly at his hometown and Sendai Prefecture. After graduating high school, he moved to Tokyo where he is now brushing up his skills. 
Why did you apply for the program?
Berklee's tuition alone is nearly 4 million yen, and when I add living expenses to that, I could not possibly pay for it. When I was applying, Berklee was beyond my reach that I had to give up on my enrollment in it.
However, when I was looking for scholarships on the Internet, I found the TOMODACHI Suntory Music Scholarship Fund and applied for it thinking that I may still have a chance. I am so grateful for Suntory and TOMODACHI for creating this scholarship.
What do you want to learn?
I feel that Japanese jazz and American jazz each have their own beat. They each have their own quality, and I like them both. However, I still don't understand why Americans, especially African Americans, have a different beat from us and how I could get those beats out. I would like to go to the United States, play with those people who have different beats and through that experience, obtain that sense I can't express with words so that I could eventually play their beat as my own.
Furthermore, Berklee is a school where students from all over the world come and many races and cultures all mix together. I have never been outside Japan, so I believe that I would be inspired by many not only through music but in everyday life and culture. Day by day, I am increasingly excited to meet them. I am sure that I would be able to widen my perspectives by meeting those kinds of people and this experience will be my life treasure. I want to grow as a person through this experience and not just spend all my time there practicing the piano. 
Thoughts about United States
I heard a live jazz performance of a non-Japanese musician for the first time when I was a senior at high school. It was a performance by an African American musician who came for a workshop at a Japanese music college. I was astonished by the strong but comfortable groove and the immense sound pressure, and this fantastic performance made me realize how cool jazz is. Since then, U.S. has been my dream place and this sentiment becomes stronger every time I hear performances of American musicians.
More information about the program click here.