TOMODACHI Generation: Shun Kumagai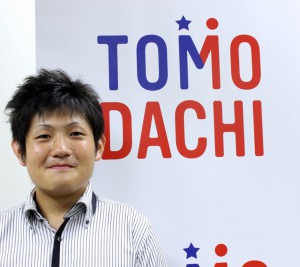 Shun Kumagai was born in Sendai City, Miyagi in 1991. His passion for music stems back in the days playing the tuba in his elementary school brass band at the age of ten. Then he received a surprise gift of a second hand saxophone from his father who saw his son's passion for music. Shun learnt the basic technique from Osamu Sato, a former teacher at YAMAHA.
At the age of 15 when he was struggling over high-school entrance examination, he came across Masahiro Fujioka's performance on a midnight television program. Hearing his performance, he began pursuing a career as professional musician. When he was 18, he studied with Yusaburo Ichinohe to learn a specific style of jazz called the Bebop. Two years later he entered Koyo Conservatory in Kobe after graduating from Department of Electrical Engineering, Sendai National College of Technology Natori Campus. He continued to study with Yusaburo Ichinohe, he also studied with Randall Conners and Mitsuiro Furuya in Kobe.
He was recognized for his outstanding academic and musical achievement, and was chosen as a scholarship student at Koyo Conservatory. He based himself around Kansai area, performing in various jazz festivals, ferries, and jazz bars. He was the first runner-up in the Second Niigata Jazz Contest in 2013, and performed in the final round stage at Kobe Next Jazz Competition.
He will be studying at Berklee College of Music from September 2014, after successfully been accepted at its audition earlier in the year. He was chosen as one of the first three recipient of the TOMODACHI Suntory Music Scholarship, and will continue to work in partnership with Suntory and the TOMODACHI Initiative.
Take a look at Shun Kumagai performing for an audience in Boston, MA on October 29, 2014:
About Shun Kumagai
Why did you apply for the TOMODACHI Suntory Music Scholarship Program?
I applied for this program for two reasons.
            One is that, this program is part of Great East Japan Earthquake recovery support. I personally experienced the earthquake three years ago. When it occurred, the entire lifeline stopped, no one knew how big a damage this earthquake had caused, and we were at unrest not knowing what will happen to our lives. It was then, when volunteers from other prefectures and around the world came to help us. In addition, Japanese Self-Defense Force and U.S. Military force conducted the TOMODACHI Plan and saved many lives. That was when I first learned about the TOMODACHI Initiative.
            I have wanted to convey my appreciation towards those who volunteered for us and to possibly help heal the victims of the disaster through the power of music. By joining this program, I thought that I could engage in many support activities through music.
            For another reason, I wished to learn more music. Music is a mysterious thing; with one sound, it is nothing more than a vibration of the air, but when the sounds connect together, they become a beautiful piece of music. I also learned in my elementary school that when one enjoys that sound, it becomes music. I clearly remember the words to today.
            I have been playing the saxophone since 10 years old. I started playing it vaguely, but as I continued on, I was gradually drawn into the allure of saxophone and immersed in the enjoyment of music. In addition, at the age of 15 when I was struggling through high-school entrance examination studies, I happened to come across a saxophone performance on a television program and was struck by his performance. From that moment, I chose to become a professional saxophone player.
            I have been trained in Japan, but my study of interest lies in jazz and I believe that the U.S. is the place to learn jazz, as it is also the birthplace and the center of Jazz. Berklee College of Music, where I will be studying starting this September, is a place I can learn jazz. I believe there are many things I would not be able to gain in Japan. I applied for this program wishing to learn a lot and be able to give fabulous performances.                                               
 What do you want to learn from the program?
My dream is to become a musician as well as an educator and make the most of what I have learned and what I will learn or experience here on. In order to make my dream come true, studying abroad is very important.
I want to study jazz in particular, and as I said before, jazz was born in the States. It has many parts that are different from Japanese music. Moreover, the true charm of jazz, improvisation is not only competency or sensitivity, but also theory, cord-progression, and other phrases; it has many profound components. To understand these, I thought that the best option was place myself in the center of jazz and study there.
Through the program, I wish to learn the marrow of jazz and make my experience of studying abroad of something greater. Of course, I will also challenge myself in other kinds of music besides jazz. I would be more than happy if I could utilize what I have learned in the US to my future performances.
What connection and/or interest do you have with the United States? 
I have visited the United States twice in my life. In my first trip, I visited Boston and New York. I still remember being unable to communicate in English and frustrated. I even feared going into shops. 
 More information about the program click here.