U.S. Training and Report Out Session for Building the TOMODACHI Generation: Morgan Stanley Ambassadors Program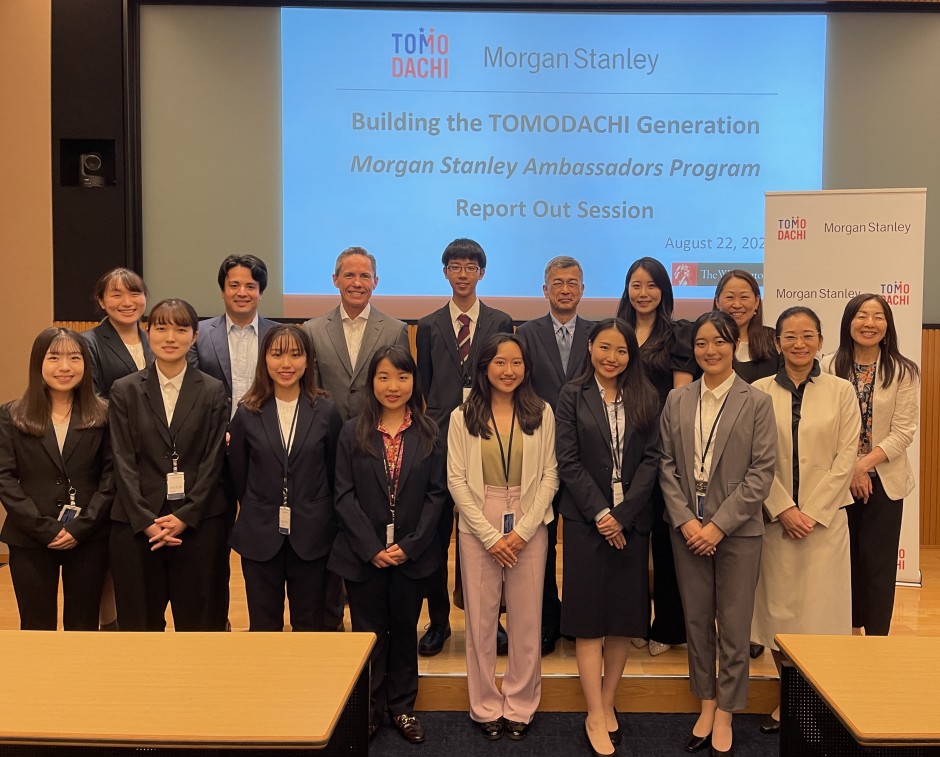 From August 6 to 18, 2023, the U.S. training of Building the TOMODACHI Generation: Morgan Stanley Ambassadors Program was held. Nine Japanese students and six U.S. students from universities across their respective countries gathered in Washington, D.C., where they studied civil society, cross-sector partnerships, and methods to leverage that understanding to address social challenges in Japan and the United States.
The first week of training consisted of a structured series of lectures, panel discussions, and conversations with experienced professionals from government institutions, distinguished nonprofits, corporate foundations and other entities. Participants were able to put their theoretical knowledge through the lens of these experienced professionals and gain a nuanced understanding of civil society.
During the second week of the program, Japanese and U.S. participants separated into three teams and put their knowledge into practice by developing an innovative civil society initiative that sought to tackle a current problem in Japan. A week of intense teamwork and creativity among the three project teams culminated on August 18 when each team presented their civil society initiative proposals to a panel of judges. Each presentation was followed by a round of questions from the judges to gain clarity on various aspects of the respective project proposal. The first team's project sought to ease tensions between Japan and China through community engagement and festivals at the local level. The second team proposed a program that would send university student volunteers to primary schools to teach children about gender norms that reinforce inequality among men and women. Finally, the third team sought to ease social isolation among Tokyo's elderly by hosting workshops led by university student volunteers to teach modern skills and build social connections between the young and old.
On August 22, the Japanese participants attended a report out session with representatives from the program sponsor Morgan Stanley. The participants enjoyed a fireside chat with Mr. David Richards, Chief Administrative Officer of Morgan Stanley Japan, before each shared their own personal reflections on the experience. The U.S. participants also joined via Zoom where they spoke of how impactful such a short-term program had been, and their presence showed the deep connections both U.S. and Japanese participants created during the program. At the reporting session, one of the Japanese participants, Sora Daidoji, said, "I have gained knowledge on each sector's responsibilities and how they work with each other. Working with the U.S. students and other Japanese students on the team project, I got a clear sense of my strengths and weaknesses. I don't have my future plans at this moment, but the global leadership skills and confidence I gained from this program will help me a lot in the future."