TOMODACHI J&J Disaster Nursing Training Program Held Pre-Trip Seminar 1 and 2, and U.S. Study Tour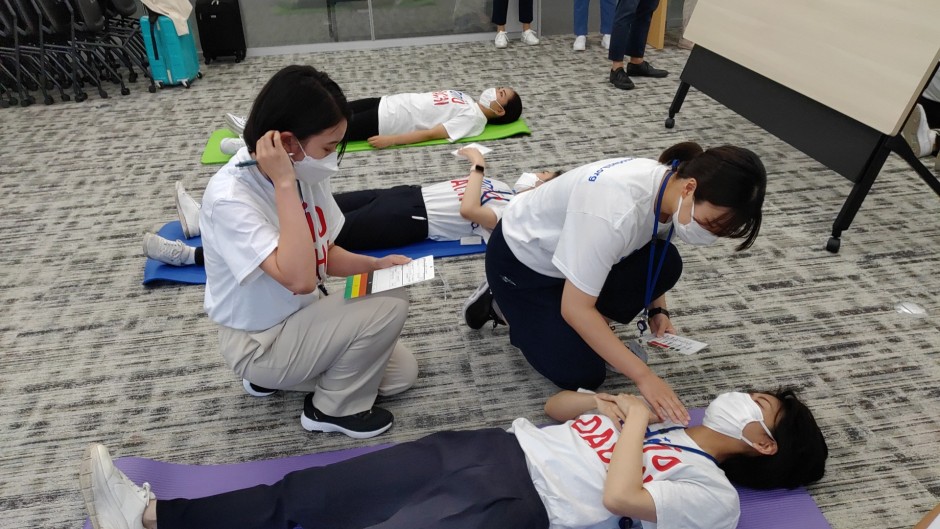 On June 18-19, 2022, the 7th TOMODACHI J&J Disaster Nursing Training Program held its pre-trip seminar 1 in Sendai, Japan, and ten nursing students selected from all over Japan attended it. This was the first in-person training session that the TOMODACHI Initiative resumed in Japan after the coronavirus outbreak. It was realized after much consideration was given to infection control measures.
In pre-trip seminar 1, we listened to a lecture by Professor Shinichi Egawa of Tohoku University on the specialized field of "disaster medicine and disaster nursing." We visited Ishinomaki Red Cross Hospital and 3.11 Mirai Support to learn from actual victims of the Great East Japan Earthquake and the disaster workers from that time about their experiences and disaster response. By the end of the second day, the students, who had met each other for the first time the day before, seemed to have become completely comfortable with each other, as they could spend face-to-face time together.
On July 16-17, 2022, pre-trip seminar 2 was held at Johnson & Johnson Families of Company headquarters in Japan. A workshop by Taiyo Okada of Basic Ph Japan was included to learn methods to help disaster workers recover mentally, and a triage workshop by Masamune Kuno of the Emergency Medical Center, Nippon Medical School, at Tama Nagayama Hospital. The practical training included group work and role-playing exercises.
The 9-day U.S. study tour held from August 8 to 18, 2022, was conducted online due to the impact of the coronavirus. Still, participants learned about the roles and responses of U.S. healthcare professionals in the areas of disaster nursing, community nursing, and mental health. The program was a great success. In addition to lectures by numerous experts on a wide variety of topics, this year's training included activities using the interactive app in which digital mannequins were used to perform initial disaster response, a triage exercise using an actual disaster as a scenario, and group discussions on materials distributed as part of the pre-session material.
On the final day of the training on August 18, Rina said that the concept of "You and your family's safety always come first" was new to her as it is almost reversed in Japanese culture. She learned that the concept applies not only to our physical safety but also to our mental safety.  Ms. Fujii said, " I can combine my further learnings and experiences and share the information with a community.  As a first step, I would like to share this information at the "National Conference on Promotion for Disaster Prevention" next month.
The trainees will participate in a post-trip seminar in Hyogo in September and then exhibit at the "BOSAI National Exhibition – National Conference on Promotion for Disaster Prevention" on October 23-24 to share and give back to the community what they have learned in the program.
The 2022 TOMODACHIJ&J Disaster Nursing Program will conclude with December's online final reporting session.