Q&A with TOMODACHI Program Participants and TOMODACHI Alumni: Takuya Uehara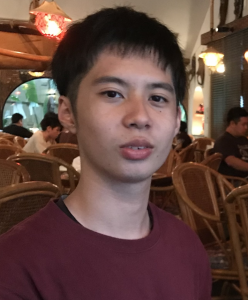 Takuya Uehara is an alumnus of the TOMODACHI-Frogs Jr. Program. Originally from Okinawa, he majored in Marketing at Ritsumeikan Asia Pacific University's College of International Management where he wrote his thesis on the Service-Dominant  Logic, an alternative theoretical framework in behavioral economics for explaining value creation, through the exchange, among configurations of actors. As an alumnus, he actively participated in the TOMODACHI Regional Framework events in the Kyushu Region, and at his alma mater, Konan High School, he supported high school students who were interested in applying to his university.
This interview was conducted online on December 2, 2021, by TOMODACHI Alumni Intern (2021) Maho Suzuki based out of Tokyo.

Q1: How did you decide to participate in the TOMODACHI-Frogs Jr. Program? And what did you learn?
When I was in the second year of junior high school, my teacher introduced me to the Naha City Student Exchange Program. The students who participated in this program also participated in the TOMODACHI-Frogs jr. Project in the following year and I witnessed them become even more outspoken and active. That is how I decided to apply as well. 
In the TOMODACHI-Frogs Jr. Program, we spent six months learning how to create a business from scratch. Specifically, we learned to discover our customers' problems and get inside their heads through design thinking. By participating in the program, I was not only able to learn about the business that I could not learn at school but also able to acquire a mindset of being unfazed by being different from others and taking on challenges without fear of failure. I was very grateful for the opportunity to learn from people who are creating new businesses in Japan and Silicon Valley on a daily basis.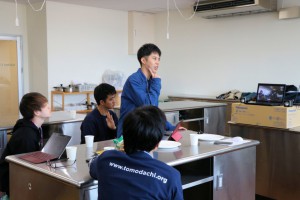 At the TOMODACHI RISE Leadership Program Kyushu Region's event
Q2: How has your experience in the TOMODACHI program influenced your career path and current engagements?
What I learned from the program is to take on challenges without fear of failure and to be unmoved by being different from those around me. After participating in the program, I would take various actions on my own. In high school, my friends in the same class struggled to understand what kind of professionals they wanted to be and what career path they should choose. I decided to interview adults in Okinawa who realized their own desires and made them into their careers, compiled them into a booklet, and sent it to my classmates. The booklet was not only in my high school but distributed to prep schools and cram throughout the prefecture.
Q3: What was particularly memorable about the TOMODACHI programs you participated in? Are you still connected with alumni who participated in the same program?
What particularly impressed me was that some of the people who create new businesses are stoic, like athletes, because their lives depend on their businesses, while others enjoy talking about their lives so that those around them can know how they live. In addition, I was deeply impressed by the words that creating the future requires investment in oneself and others.
I still keep in touch with alumni who are interested in education and who share the same interests as I do. Through social media, we not only tell each other what we have been doing, but we also share any articles or books from which we have gained new knowledge.
Q4: What does TOMODACHI mean to you? 
TOMODACHI is an opportunity for me to learn about a world that I do not know yet.
Participating in the program has allowed me to learn something new, business. Through the TOMODACHI RISE Leadership Program, I met people with similar interests. I participated in events in the Okinawa Region and helped organize events in the Kyushu Region.
Q5: What are your goals and dreams for the future?
In the future, I would like to support society by guiding individuals to share what they want to share with others in a language and form that makes sense to them. Eventually, I would also like to share my own experiences with others.
When I first entered the university, I struggled with writing papers. I got support from my seniors and made it into something I am good at. From this experience, I wanted to help younger students to be good at writing papers and decided to become an undergraduate TA (Teaching Assistant) for first-year students. I was in charge of half of the lectures and assisted the students I taught.
One of my biggest challenges as a TA was the shift from in-person to online lectures due to the COVID outbreak. Again, I made various efforts to ensure that my students could interact with each other in the lectures. Specifically, we introduced a "chatting time" during the first three minutes of the class, during which students were able to chat based on a predetermined theme brought up by the students. This solved the initial problem and also helped students to interact with each other on their own.
I also believe that making time to think about one's future, seen as a gap year, is a good thing. However, I feel that the word "gap" sometimes has a negative connotation, so I would like to give it a name such as "career year" so that more people can take the time to have more options for their future.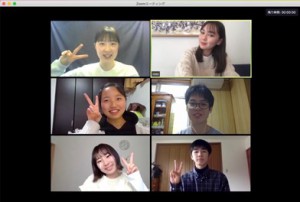 With his students at the university's event (Takuya is on the right side, in the middle)