TOMODACHI Alumni Regional Framework Theme Event in Okinawa Region: Considering Marriage as a Local Issue Through Panel Discussion with Experts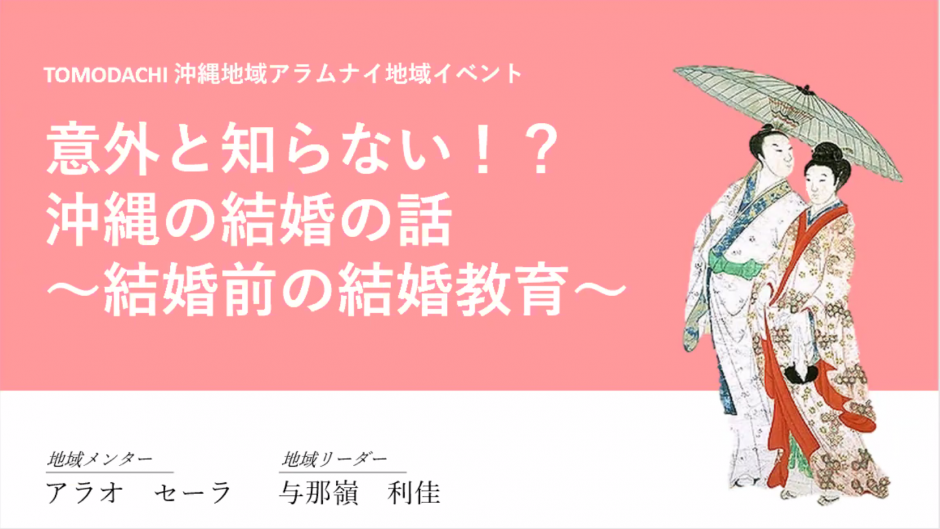 On November 14, 2020, the Okinawa Region held its 2020 TOMODACHI Alumni Regional Framework Theme Event, gathering 20 participants including TOMODACHI Alumni, university students and young professionals in Okinawa. With support from Prudential and the U.S. Consulate in Okinawa, the event was organized by Rika Yonamine, Regional Leader, and Sarah Arao, Regional Mentor.
The event titled "The Truth About Marriage" began with opening remarks by Yoshiaki Hirayama, Senior Officer, Prudential Holdings of Japan, Inc., and Aya Toyama, Public Affairs Assistant, U.S. Consulate General Naha.

In the first half of the event, Rika Yonamine, Regional Leader, explained the reason why she chose the theme marriage for the event. She noted thinking about marriage is as important as thinking about a career, considering various types of lifestyles, the impact marriage has on a person's life, and the issues surrounding marriage particularly in Okinawa.
In the latter half of the event, Masato Maehara, an administrative scrivener whose specialty is divorce and marital problems in Okinawa, and Mai Okuno, a lawyer as well as an alumna of the TOMODACHI Metlife Women's Leadership Program joined the event as panelists to discuss the issue of marriage in Okinawa, the solutions and what to consider before getting married.
Mr. Maehara described causes of divorce in Okinawa, include the proximity of relatives, the unique cultures of Okinawa, and low income. For solutions, he used prenuptial agreements as an example. Ms. Okuno conducted a case study to show the importance of discussing preferences for spending money and time before getting married.
After the panel discussion, one of the participants commented, "It was very meaningful. I want to share what I learned with my friends." Another participant mentioned children's rights and said that divorce is not only an issue of the married couple, sharing his thoughts on the importance of thinking seriously about marriage and the possibility of getting divorced from an early age.

Reflecting the Welcome Event that was held in June with the same theme of marriage, Rika Yonamine, Regional Leader, commented, "I was nervous in the beginning to set marriage as the theme, but was able to see the importance of education on this theme after hearing from the guests and participants." She shared her hope that this event will provide solutions for local issues in Okinawa and strengthen the alumni community in Okinawa.
The event was held as a part of the TOMODACHI Alumni Regional Framework, the TOMODACHI Generation Alumni Leadership Program supported by Prudential.