TOMODACHI Alumni Regional Framework Theme Event for Tohoku-Hokkaido Region, Team B Asks Alumni "What If You Were a Calbee Product?" and Introduces Fukushima Cuisine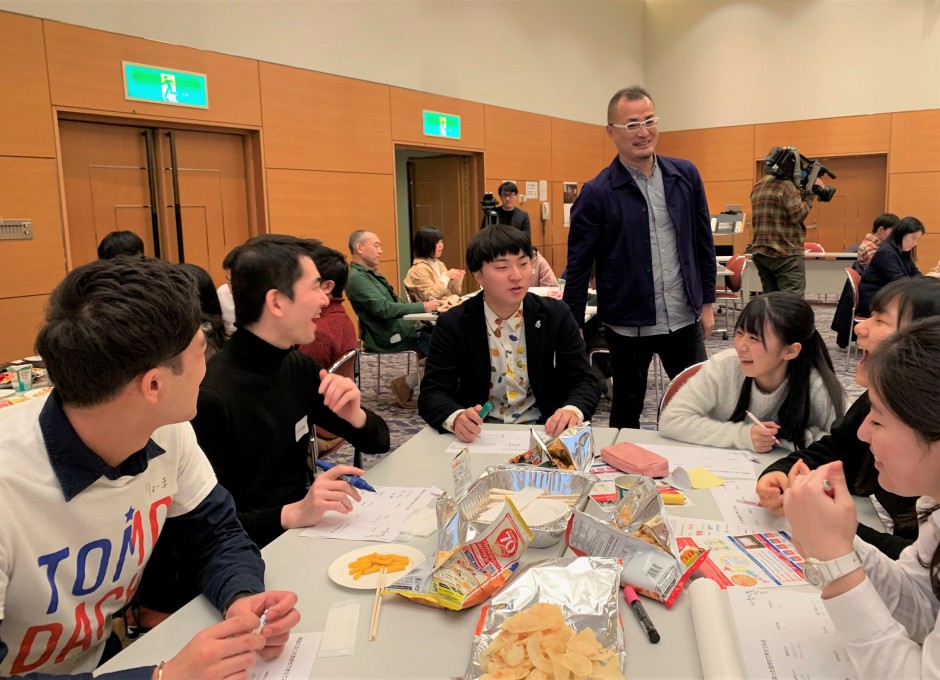 On January 13, 2020, the Theme Event for Tohoku-Hokkaido Region, Team B took place in Fukushima City, gathering about fifty TOMODACHI Alumni, regional youth, and professionals. Asking alumni "what if you were a Calbee product?," the event aimed to help participants enjoy learning about and developing an interest in Fukushima cuisine and culture.
Regional Mentor Yukari Yoshimura and Regional Leader Ayaha Kanno, who led the event, hoped to erase the negative image of Fukushima's food and products, which remains deeply ingrained in society though nine years have passed since the Great East Japan Earthquake.
The participants welcomed two guests, Mr. Kazuya Nobori, Managing Director of PR/Publicity in Marketing Division at Calbee, Inc. and Mr. Yoshiaki Hirayama, Senior Officer and Head of Portfolio Management at Prudential Holdings of Japan, Inc., a generous supporter of the alumni program.
With Mr. Yosuke Ainai facilitating, the event began with the question: "what if you were a Calbee product?" Participants fully envisioned themselves as Calbee products, simultaneously discovering a new view of local food in Fukushima. They realized a uniqueness and appeal of local Fukushima cuisine they had not considered before.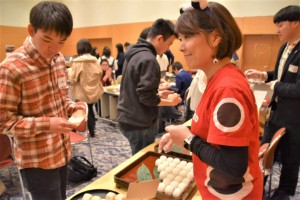 Ms. Miki Yamada and WARAIMUSUBI, LLC, from Kitakata City in Fukushima, served 200 rice balls (omusubi) for lunch. She makes these treats to realize her passion of "connecting the earth and people through rice balls." This time, she used only ingredients from Fukushima for her creations, and developed a new type of rice ball using Calbee chips. Ms. Yamada encouraged the participants to enjoy the local Fukushima products with all five of their senses, to deepen their understanding of Fukushima's cuisine.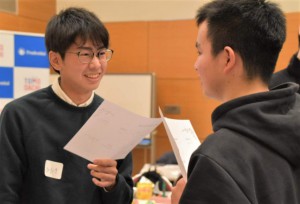 During the afternoon workshop, participants began preparing for their presentations. Reflecting on themselves and Fukushima's food, they considered what type of Calbee products they would be, discovering some surprising combinations. They then developed their various products based on their discussions. Finally, each group presented their new product, remembering their experiences in the morning workshop and the regional food they enjoyed for lunch.
After the final presentations, Mr. Nobori and Mr. Hirayama served as judges, choosing the winning teams of the Special Award from Calbee and the Special Award from Prudential. Through this program, many innovative products were created, highlighting the local food of Fukushima.
Regional Leader Ayaha Kanno commented, "I was filled with a great sense of accomplishment after finishing this program. I would like to continue thinking about what I can do to contribute to Fukushima, as well as society as a whole." Participant Yushuke Muranaka of Fukushima City explained, "I participated in this program because when I go to Tokyo next April, I would like to share the delicious regional cuisine of Fukushima with people there. It was a good opportunity to further my understanding of the food of Fukushima."
The event was held as a part of the TOMODACHI Alumni Regional Framework, the TOMODACHI Generation Alumni Leadership Program supported by Prudential.