Now Recruiting for the TOMODACHI Honda Global Leadership Program

January 24, 2019 – The U.S.-Japan Council (Japan) TOMODACHI Initiative (Head Office: Chiyoda-ku, Tokyo, Representative Director and President Irene Hirano Inouye) is pleased to announce the second "TOMODACHI Honda Global Leadership Program" that will take place from August 17 to 31, 2019. Recruitment begins on January 24, 2019.
This program, generously funded by Honda Motor Co., Ltd. (hereafter "Honda"), was established in 2018, and originated from the success of the "TOMODACHI Honda Cultural Exchange Program" from 2014 to 2016, in which high school students from Iwate, Miyagi and Fukushima Prefectures, regions affected by the Great East Japan Earthquake, took part. Based on Honda's corporate slogan, "The Power of Dreams," the program provides an experiential learning opportunity, including a Pre-departure Orientation and a Follow-up Seminar, and aims to challenge Japanese youth who are leading the future to be globally-minded next generation leaders by exposing them to people that are driven by their dreams and showing them corporate activities that will inspire them to put their dreams into action. Beginning last year, participation is now open to high school students from all over Japan. The program will take place for three years until 2020.
During this year's program, the selected students will have the opportunity to travel for approximately two weeks to Torrance, California and Marysville, Ohio, where Honda's headquarters in the United States and manufacturing base are located.
Through exposure to American society and culture through interactions with local high school students and homestays, the Japanese students and Americans they meet will deepen their mutual understanding of one another.
【Testimonials from 2018 Program Participants】
"Every day was challenge after challenge. Thanks to this, I was able to grow my confidence and courage without being afraid of making mistakes."
(Male Participant, High School Junior, Okinawa Prefecture)
"I became determined to realize the dreams I had so far, and to do jobs that make people happy. I made a new dream as well, and feel that I have grown more as a person."
(Female Participant, High School Freshman, Shizuoka Prefecture)
Applications will be accepted as outlined below.
■TOMODACHI Honda Global Leadership Program Information
□ Application Criteria: Freshmen, junior and senior high school students at the time of departure to the United States (August 2019), with Japanese nationality
□ Number of Participants: 20 students (to be confirmed)
□ Program Location: Torrance, California, and Marysville, Ohio
□ Program Dates
① Pre-departure Orientation: Saturday, June 15, 2019 to Sunday, June 16, 2019 (1 night, 2 days in Tokyo)
② Program dates in the U.S.: Saturday, August 19 to Saturday, August 31, 2019 (Meet at a hotel near Narita Airport on August 17th and leave for the United States on the 19th)
③ Follow-up Seminar: February 2020 (tentative)
□ Application Due Dates:
Online applications open until Friday, March 22, 2019/ Mail applications due on Wednesday, March 20, 2019
□ Participant Selection: May 7, 2019 (tentative)
□ Application Method: Online Application or Mail Application
Online: http://www.laurasian.org/honda
Mailing Address:
TOMODACHI Honda Global Leadership Program
Laurasian Institution 5-5-17 Shimomeguro, Meguro-ku, Tokyo 153-0064
Download application from the above website
About the TOMODACHI Initiative
The TOMODACHI Initiative is a public-private partnership between the U.S.-Japan Council and the U.S. Embassy in Tokyo, with support from the Government of Japan. Born out of support for Japan's recovery from the Great East Japan Earthquake, TOMODACHI invests in the next generation of Japanese and American leaders through educational and cultural exchanges, as well as leadership programs. The initiative seeks to foster a "TOMODACHI Generation" of young American and Japanese leaders who are committed to and engaged in strengthening U.S.-Japan relations, appreciate each other's countries and cultures, and possess the global skills and mindsets needed to contribute to and thrive in a more cooperative, prosperous, and secure world.
Visit us at www.tomodachi.org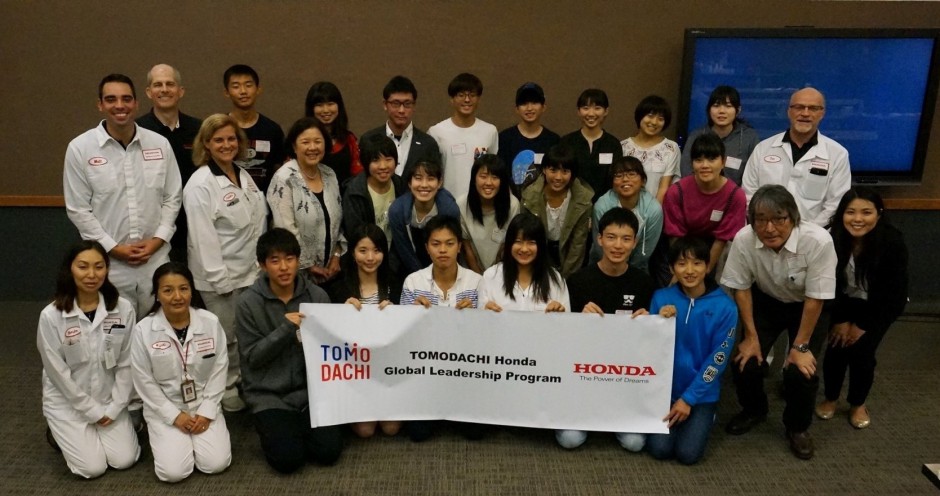 Photo from the TOMODACHI Honda Global Leadership Program 2018
Contact Information
U.S.-Japan Council (Japan), TOMODACHI Initiative: 03-4510-3400
Honda, Corporate Communication Division, Corporate PR Dept.:03-5412-1512
Webpage of this program on Honda's website   https://www.honda.co.jp/philanthropy/tomodachi/