TOMODACHI Alumni Attend the 6th U.S.-Japan Council Business Advisory Board Meeting and Learn About the Implications of the Presidential Race on U.S.-Japan Relations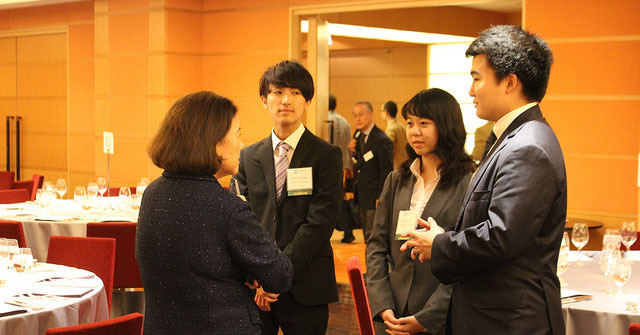 Three TOMODACHI alumni had an opportunity to attend the 6th U.S.-Japan Council (USJC) Business Advisory Board Meeting that was held at the Tokyo American Club on May 17, 2016. The alumni had the opportunity to network with the USJC Business Advisory Board (BAB), business leaders in Japan with extensive experience in the United States, and American business leaders working in Japan. The BAB advise USJC leadership on innovative programs, with the aim to diversify membership and expand the Council's impact in Japan.
In addition to networking, the alumni listened to the keynote speech given by Dr. Gerald Curtis, Burgess Professor of Political Science at Columbia University. Dr. Curtis discussed the deep fissures in American society that were revealed by this year's Presidential Race, which are unlikely to fade at the end of this election.  Going forward, regardless of the outcome of the election, he stressed the need for both Japanese and American leaders to understand that although their national interests with regard to wider foreign policy may not always be aligned, the bilateral friendship and alliance between the two countries serves the interests of both.
Prior to the keynote speech, Paul Yonamine, Chair of the USJC Board of Councilors gave opening remarks. Masaaki Tanaka, Vice Chair of the USJC Board of Councilors who leads the USJC BAB, welcomed the leaders in attendance, as well as the young alumni of the TOMODACHI Initiative programs. This was the second time TOMODACHI alumni were invited to these exclusive meetings, representing the next generation of leaders in U.S.-Japan relations.
"My second BAB Meeting was just as eye-opening as the first one I attended. This time I got to hear Mr. Gerald Curtis and his thoughts concerning the presidential election and how it will affect US-Japan relations.  I also got to converse with many BAB members.  It made me realize that its possible that I can become successful like them. It was truly a fruitful experience," commented Juri Ito, a alumna from the TOMODACHI Toshiba Science & Technology Leadership Academy.
USJC President Irene Hirano Inouye invited the audience to the next BAB meeting to take place on July 26, and this year's Annual Conference, before taking a moment to remember the lives lost in the Kumamoto Earthquake on April 16, 2016. Ms. Hirano Inouye was also pleased to share that the TOMODACHI Initiative sent five alumni who had been affected by the Great East Japan Earthquake to volunteer in the region, and expressed her hope to be able to continue to support the relief efforts.
For photos from the 6th USJC BAB Meeting, click here