High School Students from Miyagi Prefecture Travel to Texas on the TOMODACHI NAJAS Dallas Sendai Young Ambassadors Program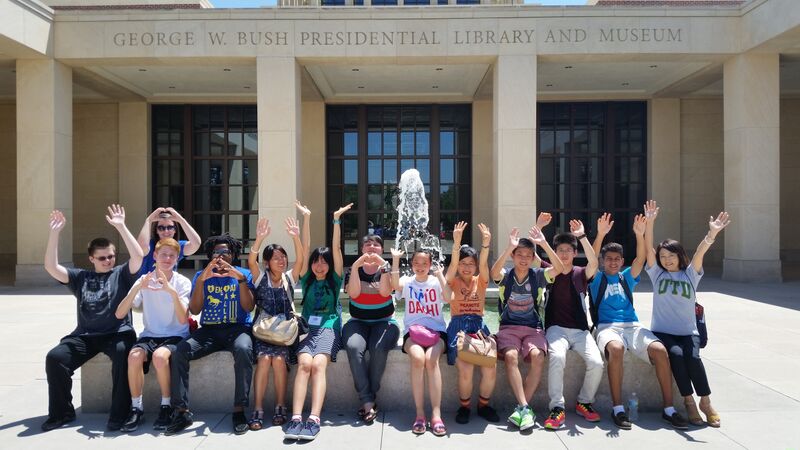 From August 3 to 11, 2015, six high school students from Miyagi Prefecture traveled to Dallas, Texas for an exchange program through the 2015 TOMODACHI Dallas-Sendai Young Ambassadors Program, which was implemented by the National Association of Japan America Societies (NAJAS).  During their week in Dallas, the students, otherwise known as the Young Ambassadors, stayed with a host family and participated in activities aimed at further developing their teamwork, leadership, and communication skills.
The trip kicked off with an Official Welcoming by the Mayor Pro Tem Monica Alonzo at the Dallas City Hall.  There, the students had the opportunity to learn about the Dallas City Government from Beth Huddleston, executive vice president of the World Affairs Council of Dallas/Fort Worth, and John Stich, President of the Japan America Society of Dallas/Fort Worth.  In addition to meeting influential leaders, the Young Ambassadors toured prominent cultural sites, including the George W. Bush Presidential Library and Museum and the Sixth Floor Museum about the assassination of President John F. Kennedy.  They also took part in a bison hayride at the Fort Worth Nature Preserve.
Yet the students did not visit Texas just to learn about American culture—they also went to share with the people of Dallas some aspects of Japanese culture and their perspectives on the Tohoku recovery process.  At the Scottish Rite Children's Hospital, the Young Ambassadors participated in a volunteer project where they got to share Tanabata decorations with some of the young patients.  They also had the opportunity to engage in "dialogue circles" or group discussions at the University of Texas in Dallas.  These "dialogue circles" were centered on cultural perceptions and sparked friendships and understanding between the Japanese and North Texan students.
Young Ambassador Kana Nemoto claimed that the trip represented "the most fulfilling 9 days of (her) life so far."  She also expressed, "I'm happy I had the opportunity to teach so many people about Sendai and the earthquake. Through the interactions with my host family and other students in Dallas, we were able not only to deepen our understanding about each other's cultures, but to forge bonds of the heart that transcend national borders. I want to share this experience with as many people as possible, and from now on, I hope to continue to strengthen the ties between Japan and the U.S. as a Young Ambassador."
The Young Ambassadors returned to Tokyo with deeper cross-cultural understanding, life-long friends, and new motivations.  As Young Ambassador Shintaro Hayashi expressed, "through this trip, I truly understood how large the world is. I hadn't considered studying abroad before, but now my interest has been piqued.  I want to continue sharing Sendai with people across the world."