TOMODACHI Goldman Sachs Young Americans One Day Workshop Launched for Children in Foster Care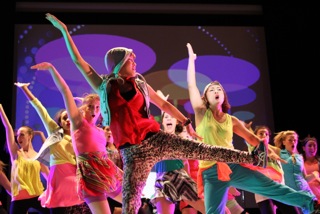 On July 28, the TOMODACHI Goldman Sachs Young Americans One Day Workshop, funded by Goldman Sachs Gives, was held at the Yamano Hall at the Yamano Beauty College in Yoyogi, Tokyo. Participants included 64 children from elementary to high school who are from 16 separate foster care facilities and 4 institution staff. In addition, 17 employees from Goldman Sachs attended this workshop as part of the Goldman Sachs Volunteer Program named Community Team Works. In three hours, the participants, along with 46 Young Americans dancers, practiced and presented their ten-minute show which included singing and dancing. The students' excitement and enthusiasm was visible as they performed the mini show after only practicing for three hours. The participants were met with thunderous applause by the audience after their performance.
The participants said, "I didn't realize it was so enjoyable to sing!" and "After meeting Americans, it made me want to visit America." They had a wonderful time performing in the workshop and the institution staff was pleased that they could see a different side of the children. The workshop was an extremely memorable day for everyone there.