TOMODACHI Donation Boxes in Lawson Convenience Stores
The Lawson Group is supporting the TOMODACHI Initiative by placing TOMODACHI donation boxes in their Lawson convenience stores in Japan nationwide from June 1!
Lawson is fundraising for TOMODACHI by placing donation boxes in Lawson Group stores to support the recovery of Tohoku.  They have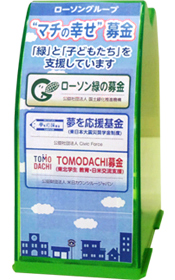 decided to launch this fundraising program because their goals align with TOMODACHI's goals of helping young leaders of Tohoku pursue their hopes and dreams.  These TOMODACHI donation boxes will be a part of the 'Creating Happiness in Our Communities' donations program.
Through this program, the Lawson Group hopes that the young generation of Tohoku will discover new experiences and opportunities that give them the confidence they need to pursue their dreams and contribute to a better future and a better world. 
For more information on how to donate, go to: