The U.S.-Japan Council Annual Conference 2019: TOMODACHI Alumni Speakers Representing the TOMODACHI Generation Share Their Stories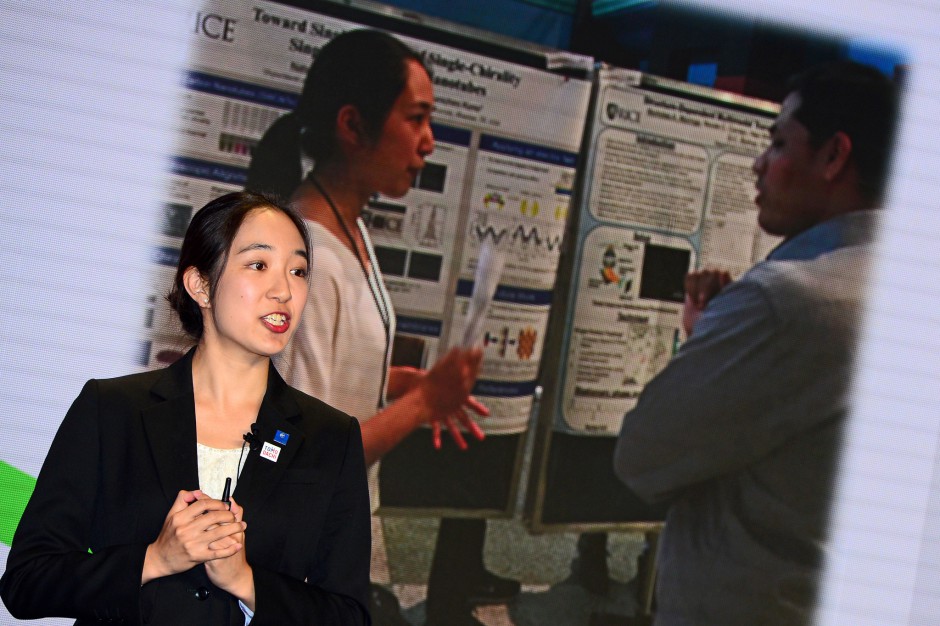 From November 4 to 5, 2019, the 2019 U.S.-Japan Council Annual Conference was held in Los Angeles, California. This year's conference was themed "Bold Ideas, Bolder Leadership: The Next Stage of U.S.-Japan Relations," with around 650 American and Japanese leaders from various sectors attending a variety of Plenary Sessions, Plenary Dialogues, and workshops.
On November 3, one day prior to the Annual Conference, a Members Day was held, where Monica Estrada and Naha Takashima spoke on behalf of the TOMODACHI Alumni as panelists during the TOMODACHI Generation Plenary session. They shared their journeys through their TOMODACHI programs and ways they have made use of their experiences after their programs.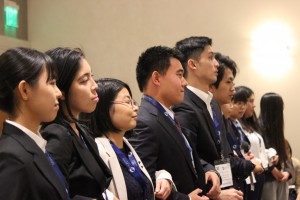 On the same day, the TOMODACHI Generation Training took place. One workshop was themed  "Understanding the Japanese-American Experience in the United States." and looked back over U.S.-Japan history, while another highlighted effective communication methods and techniques for self-introductions.
One participant,Kota Kondo, currently studying at the University of Michigan through the  TOMODACHI Sumitomo Corporation Scholarship Program, reflected on his experience, saying "Mr. Mitch Maki told us how his grandparents moved to Hawaii, experiencing great difficulties during World War II. It reminded me of my family history: my grandfather was born in China during WWII because his father was sent there as an engineer to build railroads after Japan invaded China. After sharing this story with the entire room, I called my grandfather. If I had not had the opportunity to attend this workshop, I would never have talked to him about his experiences."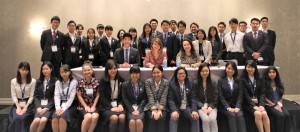 Kazuki Oshiro, who is studying at the University of Hawaii at Manoa, also through the TOMODACHI Sumitomo Corporation Scholarship Program, commented, "Realizing there are many TOMODACHI participants working hard all over the United States and Japan gives me the ability and motivation to do my best even when I feel discouraged. I truly feel the friendships we have built are special and something I want to hold on to for the rest of my life."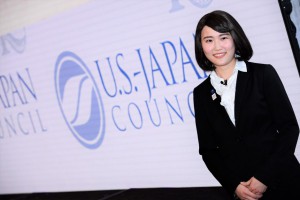 On November 4, two TOMODACHI Alumni representatives, Natsumi Komatsu and Maika Itsuno, discussed the TOMODACHI Initiative and their experiences during their TOMODACHI programs at a Plenary Feature titled "Investing in the TOMODACHI Generation."
Natsumi Komatsu, alumna of the TOMODACHI Sumitomo Corporation Scholarship Program and the "TOMODACHI-STEM @ Rice University Program, commented "I was very honored to be able to speak at the Luncheon Plenary, on behalf of TOMODACHI Generation. Preparing my speech gave me the opportunity to look back at my own experiences and growth. Again, I would like to express my deepest gratitude to the people I have met through the TOMODACHI Initiative."
Maika Itsuno, TOMODACHI U.S.-Japan Youth Exchange Program and  the TOMODACHI MetLife Women's Leadership Program, alumna, said, "I gained so much confidence in myself after presenting at such a large venue in front of about 650 participants. Before I traveled to the Annual Conference, my goal was to confidently share my ideas through my speech. I was absolutely able to take one step forward for thanks to this chance."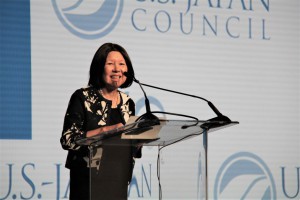 At the beginning of the conference reception, U.S.-Japan Council President Irene Hirano Inouye remarked, "TOMODACHI will continue beyond the upcoming 10-year commemoration in 2021. The nearly 8,000 program alumni to date contribute to U.S.-Japan relations and give back to their communities and all of us. As a pipeline for future leaders, we are committed to continuing TOMODACHI into the next decade."
After several afternoon Plenary Sessions, Noriyuki Shikata, a minister of Embassy of Japan in the United States,  shared a preview of the 2020 Olympics, while Janet Evans, Chief Athlete Officer – LA 2028, commented on views of the 2028 Olympics. During the last Plenary Feature, "Go for Gold! Olympics Preview," Michael Turner, Culture and Sports Attaché, U.S. Embassy in Tokyo, made remarks and announced the new TOMODACHI-U.S. Embassy Go for Gold Leadership Program launched by the U.S. Embassy Tokyo and the TOMODACHI Initiative to further U.S.-Japan exchanges and leadership development in the field of sports management.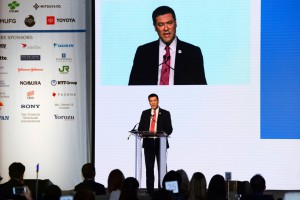 "I cannot think of a better city in America than Los Angeles to announce the creation of the TOMODACHI-US Embassy Go for Gold Leadership Program. " said Mr. Turner. "The Olympics are part of LA's DNA. It is part of this city's past and very much part of its future. The first cohort of Go for Gold exchange students will have a lot to learn from LA. And they will be part of the next generation of leaders who will use sports to keep our friendship strong into the future. By investing in a sports exchange program, we are opening new opportunities to deepen that friendship."
Read more about the U.S.-Japan Council Annual Conference 2019 here.