TOMODACHI U.S.-Japan Youth Exchange Program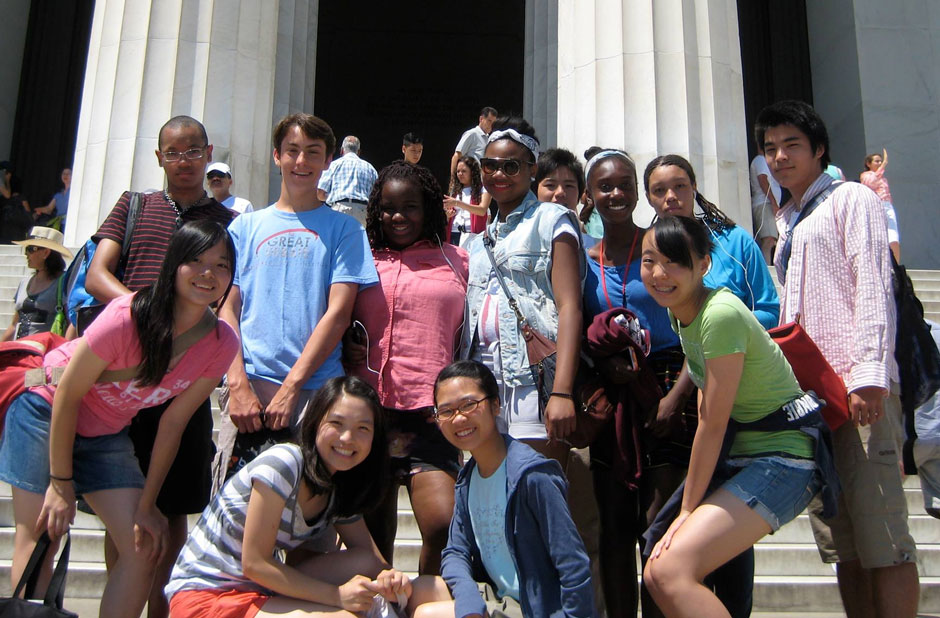 The TOMODACHI U.S.-Japan Youth Exchange Program is a two-way exchange program promoting cultural awareness and sensitivity among Japanese and American high school students by focusing on service learning and social entrepreneurship. The program participants brings together six Washington, D.C. public high school students with six Japanese high school students from Keio Shonan Fujisawa High School located in Kanagawa, Japan. A unique feature of this program is that it seeks to expose participants to civic engagement and social entrepreneurship through experiential learning, focused teamwork and deep cross-cultural immersion. The Washington, D.C. students were encouraged to consider the American and Japanese models for service and social entrepreneurship they learned about throughout the program and to think about possibly developing a project upon returning to the United States.
TOMODACHI U.S.-Japan Youth Exchange Program 2017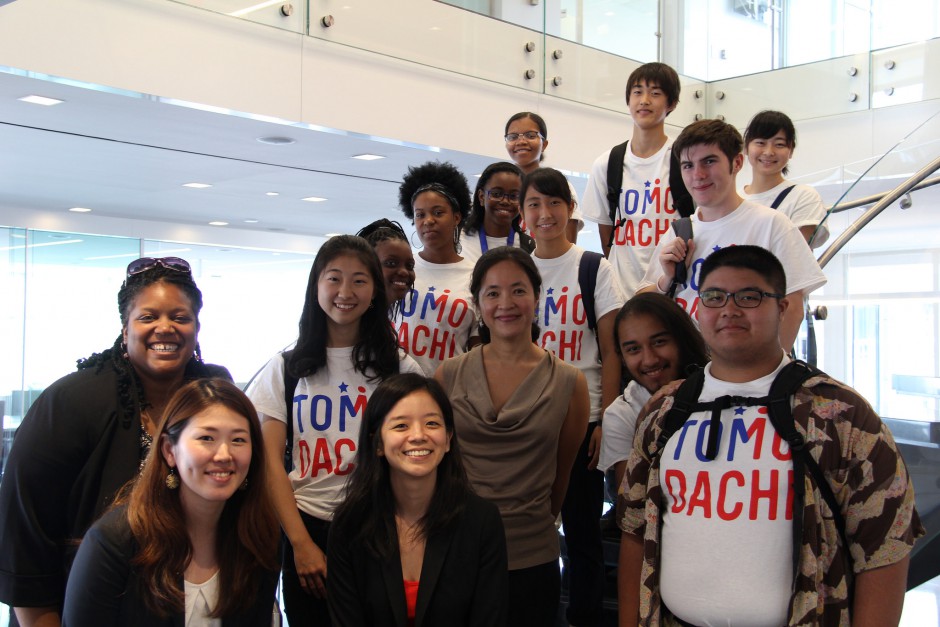 From July 15 to August 15, 2017, 12 high school students (six students from Washington, D.C., public high schools, three students from Keio Shonan Fujisawa High School, and three selected TOMODACHI alumni (past program participants) from the Tohoku region) participated in the TOMODACHI U.S.-Japan Youth Exchange Program 2017, which took place in Washington, D.C., Tokyo, and Tohoku. Summer 2017 marks the fifth year of this two-way, month-long exchange program. This year's program kicked off with a three-day dorm stay at George Washington University, where the students immediately jumped into exploring and reflecting on American history and culture through visits to national museums and monuments, as well as deep immersion in the local Washington, D.C., community.  Read More>>
TOMODACHI U.S.-Japan Youth Exchange Program 2016
Five students from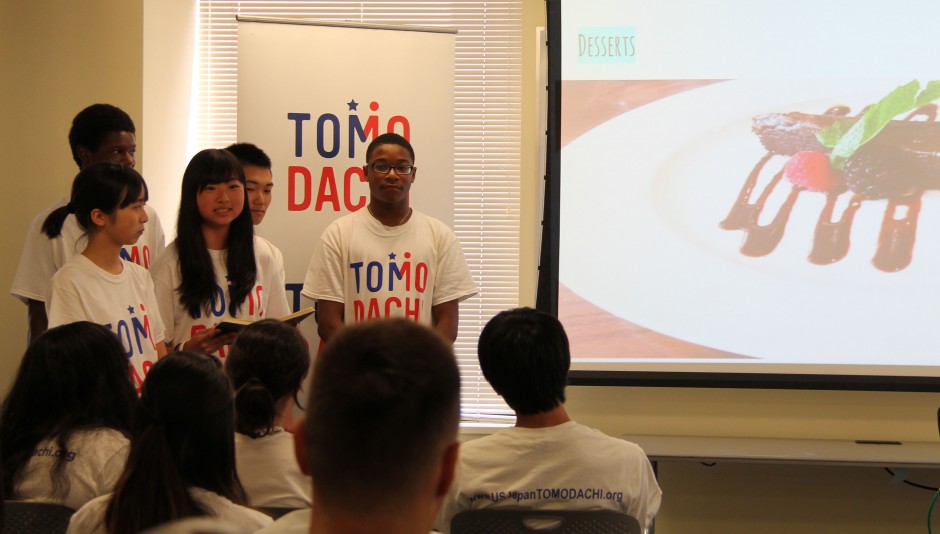 Tokyo and four students from Tohoku who are TOMODACHI alumni traveled to Washington, D.C. on July 16, 2016 and joined nine students from Washington, D.C. public schools to participate on the TOMODACHI U.S.-Japan Youth Exchange Program. For one month, they explored topics of leadership, culture, community engagement, civic engagement, social entrepreneurship, diversity and historical memory.
During the first two weeks, the eighteen students met with social entrepreneurs, learning about programs that help diverse populations and immigrants, while exploring the connections between Japan and the United States. Read More>>
TOMODACHI U.S.-Japan Youth Exchange Program 2015
From July 15-31 and from July 31- August 16, 2015, fourteen students and two chaperones (six students from Washington D.C. Public Schools, six students from Keio Shonan Fujisawa High School, and two TOMODACHI alumni from the Tohoku region) will participate in a six-week education exchange program in Washington D.C., Tokyo and the Tohoku region. The focus of the program is to develop friendship and understanding through in-depth content with a cross-cultural perspective including exploration of the following themes: leadership, civic engagement, social entrepreneurship, and developing observational and analytical skills to prepare participants for the challenges of tomorrow. The overarching theme is Telling the Story, which will be informed by perspectives in each country about U.S. and Japan's shared history, meeting engaged citizens addressing community challenges, and participants sharing their personal experiences along the way through active reflection, blogging and other avenues for sharing their experiences.
Video Testimonials
Fumiya Otani and Caitlin McDermott
TOMODACHI U.S.-Japan Youth Exchange Program 2014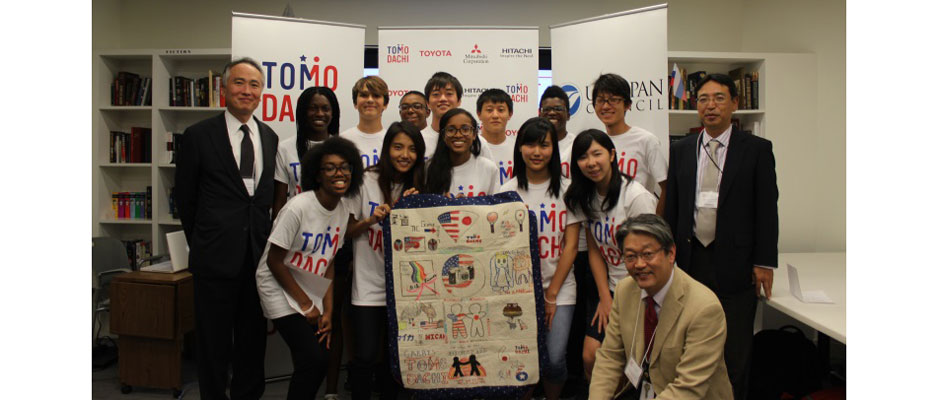 This is the second year of the two-way exchange program between Washington, DC public high school students and students of Keio Shonan Fujisawa High School in the suburbs of Tokyo, Japan.  Six students from DCPS or DC charter high schools were selected to participate in a five-week summer program in Washington, DC from July 19 – August 3, 2014.  This program also includes a two-week cultural exchange with six visiting high school students from Japan.
The purpose of the exchange is to promote cultural dialogue and understanding between DC and Japanese teens; to provide exposure to social entrepreneurship and organizations promoting social change; and to enhance the students' leadership skills and global awareness. This is part one of a two part exchange.
In November, students from Washington, DC travel to Japan for two-and-a-half weeks, which includes the reciprocal student exchange and home stays in Tokyo, as well as a trip to Tohoku, the region impacted by the 2011 tsunami.
To read more about their experiences during the trip, click here
Program in Japan
Dates: November 2014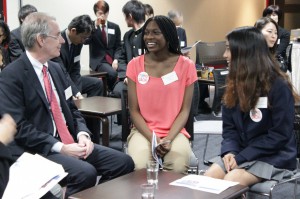 In the second part of this exchange, the six Washington, DC students and their chaperone traveled to Japan in November 2014 for a fully funded two and a half week program in Tokyo and the Tohoku region, site of the Great East Japan Earthquake of 2011. Students resided with host families during part of their time in Japan. The focus of the program was on cultural exchange and understanding, social entrepreneurship, community service, and youth leadership. All student participants are required to meet regularly during the 2014-15 school year for follow-up programming, including Japanese classes.   Read More>>
TOMODACHI U.S.-Japan Youth Exchange Program 2013
Program in the United States
Dates: July 19-August 9, 2013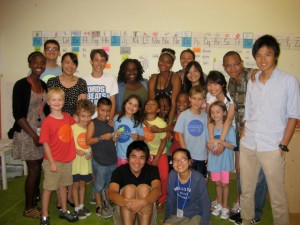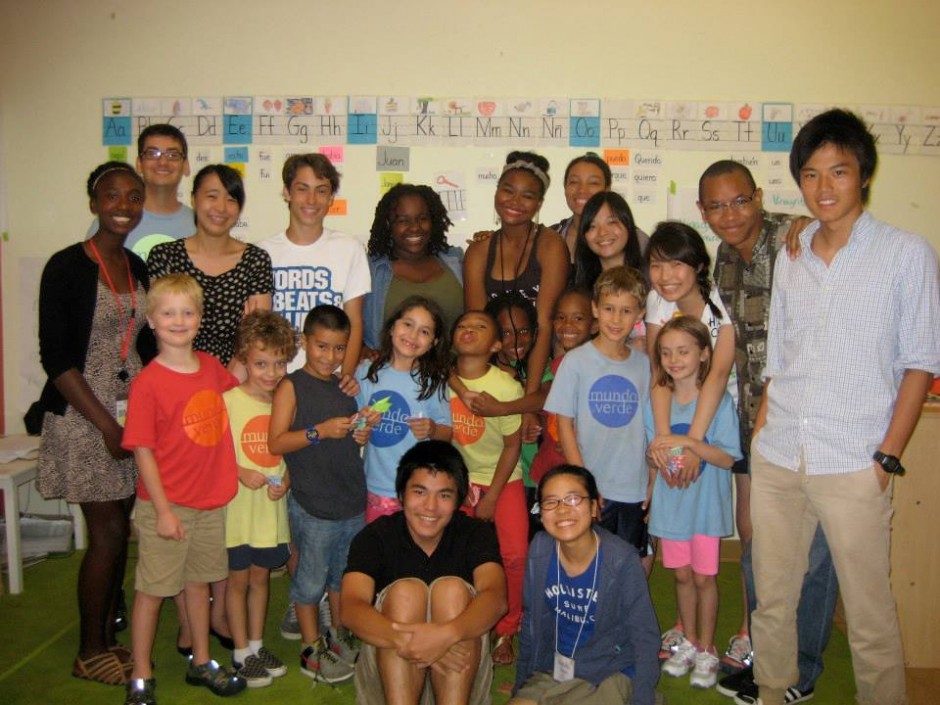 In the summer of 2013, the Japanese students traveled to Washington, D.C. for three weeks, during which time together with the local American students met with social and business entrepreneurs, as well as a variety of organizations focusing on social issues. Students learned about civics, history, and politics in relation to social entrepreneurship. They attended a civics workshop, visited historic sites, met with Members of Congress and learned about the history of Japanese-Americans during a meeting and presentation by Terry Shima, a WWII veteran of the 442nd Regiment, which was comprised solely of Japanese-American soldiers. As an experiential-learning program, students participated in in intensive hands-on service projects at city schools, Martha's Table, D.C. Central Kitchen, and United Way. They also had the chance to meet other TOMODACHI Generation students at a reception hosted by the Embassy of Japan.
Two program participants Rebecca and Chihiro appeared on the Rock Newman radio show during the summer programming in Washington DC. Hear them talk about their experience: https://www.youtube.com/watch?v=Fi_XoAHU4sI#at=9719 (The segment begins at 2:42:16).
Program in Japan
Dates: November 1-24, 2013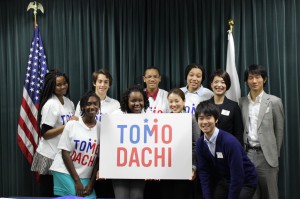 On October 31, 2013, the American high school students travelled to Japan to partake in a two-and-a-half week program focused on better understanding social entrepreneurship as it relates to addressing social issues in Japan. The American students were joined by their Japanese counterparts in Tokyo where they visited local organizations, learning about Japanese culture and civic engagement models. This included the Tokyo Volunteer Action Network where they learned about homeless in Japan and participated in service outreach in Shinjuku. These students were able to share their perspectives on how community service and social safety nets are implemented in their communities in the United States with those they met in Japan.
The American students visited a number of important historic and cultural sites in and around Tokyo, to gain a better understanding of Japan. They also spent a few days at the Keio Shonan High School where they gave presentations to the Japanese classes about their life in Washington DC, school, hobbies or family. Toward the end of the program, the six DC students went up to Sendai to visit areas impacted by the March 11, 2011 Great East Japan Earthquake and Tsunami. There they were able to learn about the many organizations contributing to the rebuilding of the region, their success and challenges.  Read More>>
Post-Program Highlights (Washington, DC)
In addition to the direct exchanges, the local organization Globalize DC continues to work with the DC based participants with follow-on opportunities designed to continually engage students in international and Japan related activities.
2013 U.S.-Japan Council Annual Conference – DC student Delmar Tarrago served as a panelist at the conference.
On October 23, 2013 two participants Jatalia Wilson and Atiya Artis gave a testimony in front of the D.C. State Board of Education, about how participating in this program has impacted their lives. Their testimony of was particular note because the Board was considering giving academic credit to participants of short-term international programs like this one.  Read their blog entries here
The DC participants marked the 3rd anniversary of the Great East Japan Earthquake and Tsunami with a presentation on their experiences visiting Tohoku as well reflections of their experience participating in this program.  Read More>>  

Program Implementer and Partner Organizations
American Councils for International Education developed and implemented the program. The American Councils is an association for area and language professionals that creates opportunities for individuals and institutions to succeed in an interconnected world.
Globalize DC, a Washington, D.C.-based nonprofit organization with extensive experience working in international education and exchange programs, serves as the local partner for U.S. student recruitment, selection, preparation, and follow-on programming.
Common Earth Co., based in Tohoku, is the local partner providing infrastructure, program development, and managerial support in Japan.
For more information on the program, please read the press release
Program Funding

This program is funded by TOMODACHI's Fund for Exchanges through generous contributions from Toyota Motor Corporation, Mitsubishi Corporation, and Hitachi, Ltd.