APPLICATIONS for the TOMO Voices Speakers! Deadline soon on August 2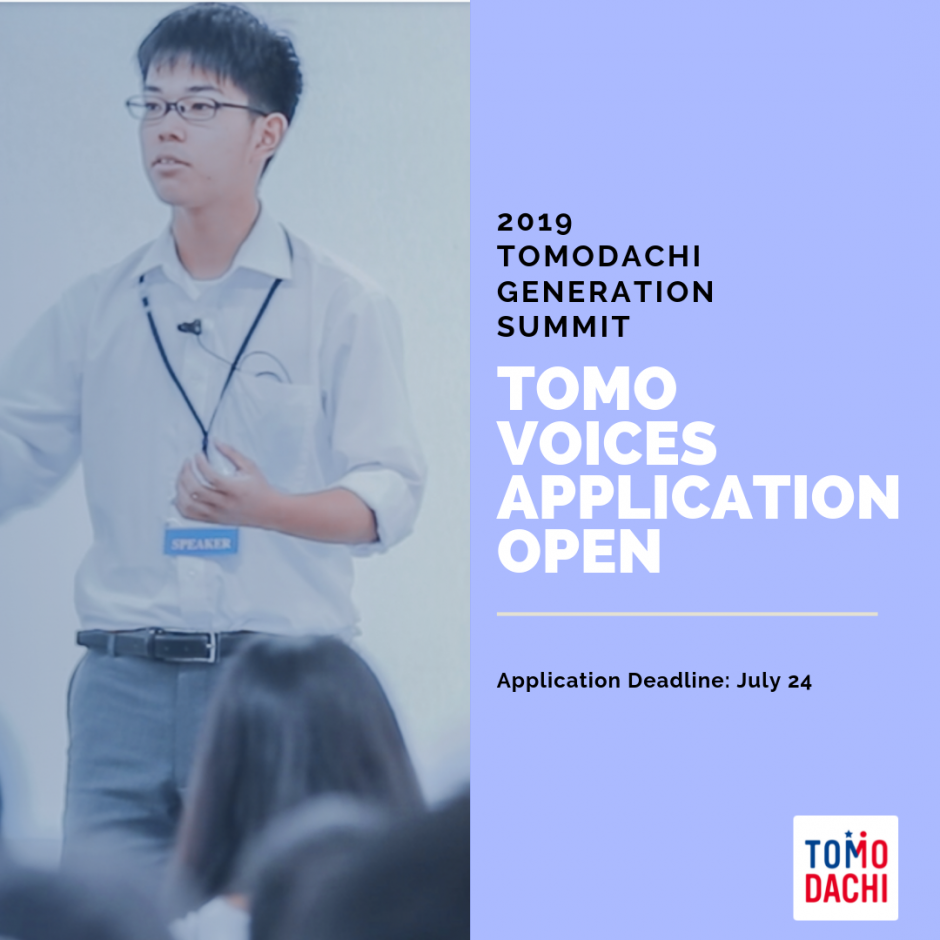 Become a speaker at the 2019 TOMODACHI Generation Summit in Tokyo! 
All TOMODACHI Alumni are welcome to apply! We want to hear your story!  Please share with us your experiences and the kind of impact you have made.
The theme for the 2019 TOMODACHI Generation Summit is: The TOMODACHI ERA: Climbing the Summit together ~ How will you step into the new era?. As Japan steps into the Reiwa Era in 2019, and with the 2020 Tokyo Olympics and Paralympics coming up, we are excited to hear stories from TOMO Voice speakers to find hints on how we might take the next step forward.
Application Information
Number of Speakers:
There will be four speakers, each expected to be between 7-10minutes.
Eligibility:
Attended at least one of the TOMODACHI Initiative programs or a TOMODACHI Alumni
Language: You can choose to present in English or Japanese.
Style:
Your speeches will be conducted in a TED Talk style with a panel of experts to give you feedback on Saturday, September 7th.
Dates:
You will be required to join us on both September 7th & 8th in Tokyo if you are selected. Please make sure you can attend.
<SCHEDULE>

8/2 (Fri)   Deadline for Applications
8/9 (Fri)   Speakers Selected & Announced
9/7 (Sat)  Final Preparation in Tokyo
9/8 (Sun)  Present at the 2019 TOMODACHI Generation Summit
TO APPLY: http://bit.ly/Summit2019-TOMOVoices