TOMODACHI Generation: Natsumi Aoki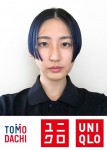 NATSUMI AOKI was born in 1996 and raised in Kanagawa, Japan. She earned a BFA in Textiles at Tokyo University of the Arts, graduating in March 2019. After that, she moved to London to work toward a Graduate Diploma in Fashion at Central Saint Martins and completed the program in July 2020. While she was a student in Japan, she also studied pattern-making at Esmod Japon and worked for several Japanese brands such as BANZAI. She started her MFA study at Parsons The New School for Design in August 2020 and is working on establishing her aesthetic philosophy by blending her material and cultural experiences.
About Natsumi Aoki
Q1. Why did you apply to the TOMODACHI-UNIQLO Fellowship?
When I was a teenager, I had a vague dream that I would like to go abroad and study fashion. However, I decided to major in Textiles at Tokyo University of the Arts because I thought it was more reasonable to establish my identity through an understanding of the strong points of my country, especially in terms of materials. After that, I went to Central Saint Martins and studied for Graduate Diploma in Fashion for one year to prepare for further study in fashion at graduate school. While I was in this course, the program head from Parsons MFA Fashion Design and Society visited my school and introduced Parsons and this fellowship. In addition, my program head at the time encouraged me and I finally made up my mind to apply for it.
Q.2 What are you specifically excited to learn about at Parsons? 
Studying at Parsons brings unlimited possibilities for me because I have never been to NYC and haven't had the chance to focus on fashion for over two years. I find it intriguing that the program is called Fashion Design and Society, which is not limited to a genre like womenswear. While I was studying Textiles at Tokyo University of the Arts, I was inspired by people from the different art areas there. On the other hand, the unique culture in London also attracted me and impacted my creativity. Now, I feel it is opportune that I have a chance to study in such a welcoming program in a new city and pursue my own expression, utilizing all the cultural and material elements I have developed.
Q.3 What is your goal after completing the program? 
Considering the impact of COVID-19, it is difficult to determine my future career, so I would rather consider it more spontaneously in line with my future situation. As long as the environment outside of Japan holds my interest, I would like to seek a way to be active internationally as a Japanese person, regardless of titles, because now is an era of uncertainly.
Q.4 As you will study in the United States as a representative of Japan, how would you like to contribute to the U.S.-Japan relationship as a bridge between the two countries? 
One of the highest expectations for my stay in the U.S. is to deepen my knowledge about areas such as race, gender, sexuality, and feminism. I am sure that people in NYC discuss those topics more deeply than in Japan. As I am the first woman to attend Parsons with support from the TOMODACHI-UNIQLO Fellowship, I expect that I can share my studies in the United States with Japanese people from my own perspective.