TOMODACHI Amway Japan Foundation Tohoku Future Leader Program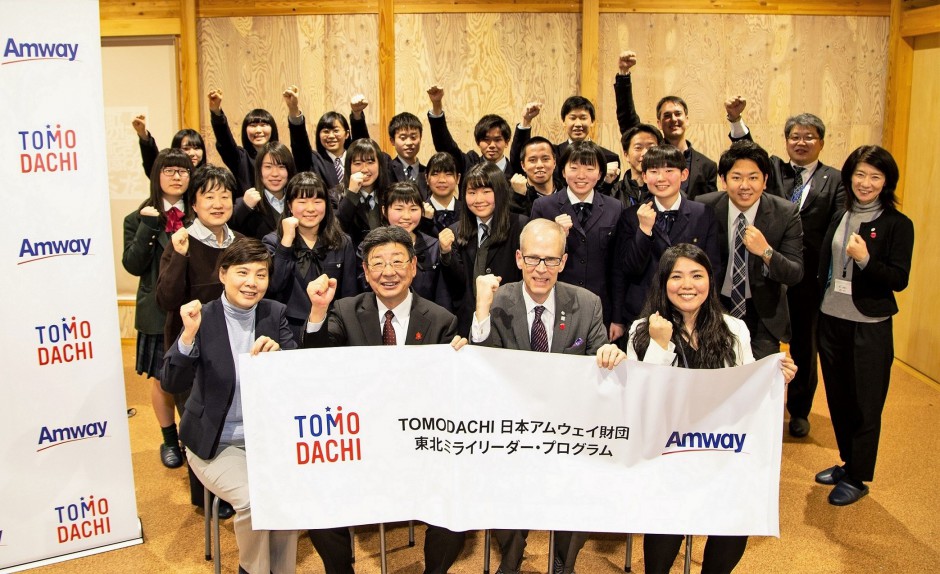 The Amway Japan Foundation and the TOMODACHI Initiative have established a new program, "TOMODACHI Amway Japan Foundation Tohoku Future Leader Program."
This program is designed to emphasize the local charms of Tohoku and is a part of the Amway Japan Foundation's Tohoku reconstruction project "Remember HOPE." It will be offered for three years from 2019 to 2021. In its inaugural year, 2019, the program will support high school students residing in the town of Minami Sanriku in Miyagi Prefecture, where "Remember HOPE" has already been providing aid.
The program participants will travel to the United States during an upcoming spring break in 2019, upon completing a series of pre-departure seminars, which not only include studying English and American culture, but also site visits within the town to see tourism resources and find the challenges facing the town. During the U.S. trip, the participants will have opportunities to learn about the best practices of regional approaches for inbound tourism in the United States and interact with local high school students. After returning to Japan, the participants will revitalize their town further by utilizing lessons learned in the United States, based on a theme chosen by Minami Sanriku officials relating to tourism.
For the press release, click here.
TOMODACHI Amway Japan Foundation Tohoku Future Leader Program 2019
 Pre-departure orientation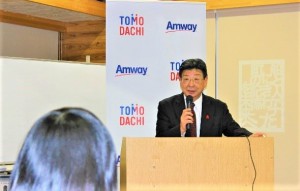 On February 23, the pre-departure orientation of the TOMODACHI Amway Japan Foundation Tohoku Future Leader Program was held at the Portal Center in Minami Sanriku-cho, Miyagi Prefecture. The event officially marked the launch of the program by bringing together the Amway Japan Foundation, representatives from Minami Sanriku-cho, and program participants and their guardians.  The program was created to foster the next generation of leaders in Tohoku who will rediscover the charms of their town and revitalize it through the power of tourism. Read More>>
Study trip to the United States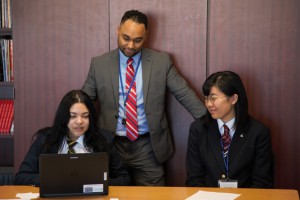 From March 23 to April 1, 2019, the inaugural year of the TOMODACHI Amway Japan Foundation Tohoku Future Leader Program was held successfully, with 16 high school students from Minami-Sanriku, Miyagi Prefecture, traveling to the United States for a ten-day program focused on tourism and cross-cultural exchange. The high school students spent time in Washington, D.C., New York City, and coastal communities on the Jersey Shore. While in the nation's capital, the students were based at a local high school with specialized hospitality and tourism curriculum. Read More>>
Final Presentations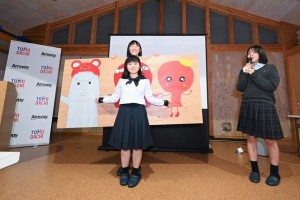 On September 20, 2019, the final presentations of the TOMODACHI Amway Japan Foundation Tohoku Future Leader Program were held at the Portal Center in Minami Sanriku-cho, Miyagi Prefecture, gathering 40 attendees, including program participants and their guardians, as well as local residents. After the study trip to the U.S., participants divided into four groups to create projects focused on tourism in Minami Sanriku-cho. The groups developed their project plans by digging deeply into their initial ideas and discussing ways to improve their daily lives, as well as lessons learned from the study trip. Read More>>
To see "TOMODACHI Amway Japan Foundation Tohoku Future Leader Program " videos from the links below;