Q&A with TOMODACHI Program Participants and TOMODACHI Alumni: Kokomi Watanabe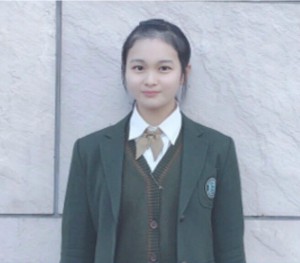 Kokomi Watanabe is an alumna of the 9th U.S. Embassy-Keio SFC-TOMODACHI Entrepreneurship Seminar and participated in the study tour to Silicon Valley as the member of the winning team in February 2020. (Please see the article here.)
She is originally from Kanagawa Prefecture and lives close to the sea and its fish. She once saw a news story on fish eating plastics in the ocean and decided to work with companies to develop plastic bags made up of materials that repel fish. In 2019, she participated in the 7th High School Business Plan Grand Prix and received second prize. (Please see the article here.)
This interview was held on September 9, 2020 by Ayaha Kanno, a TOMODACHI Alumni Intern (2020) based in Tokyo, Japan.
Q1. Currently you are working develop a plastic bag made from materials that fish dislike. How did you start this project?
I live by the sea and used to go on walks to the aquarium. Fish have always been part of my life and an animal that I hold very dear. One day I was shocked by see a news story on fish that had eaten plastic bags. This became my biggest motivator to start this project.
Q2. So the shock from the news moved you to take on this work. Why did you decide to apply to the High School Business Plan Grand Prix in 2019?
I have never participated in this kind of business plan contest and thought that it would be important for me to be able to present my ideas to the audience. I wanted find personal growth through this.
Q3. How did you learn about the U.S. Embassy-Keio SFC-TOMODACHI Entrepreneurship Seminar, and what thoughts did you have?
It was introduced to me by the grand-prix winner of the High School Business Plan Grand Prix. I did my own research and became interested, especially as the winning team would be given a chance to participate in the study tour to the United States. Moreover, if selected, we would be able to improve our ideas with mentors and university students. I had not had such an experience and wanted to apply.
Q4. Can you tell us a little more about the study tour? What did you do in the United States? Did you feel something changed in your mind?
We visited some big companies such as the headquarters of Google and Rakuten, Inc. to learn about how these corporations realize work-life balance. In addition, we were able to talk with entrepreneurs and professors at Stanford University to get feedback on our business ideas presented in English. I was nervous when I left, as it was my first time to go abroad and I felt anxious about using English as my teammates and I did not speak so well. The people we met in the United States spoke in Japanese and help put us at ease, but I thought we should have studied English more and we will have to study more in the future.
Q5. How did you build a trusting relationship with your teammates? Was there a moment your team bond became stronger?
We knew each other from school, but needed to discuss how to improve our business idea, not spend time as friends, so we continued our work during school breaks and after school. We talked very openly to understand one another better. The moment we felt our minds became united happened on the last day of the U.S. Embassy-Keio SFC-TOMODACHI Entrepreneurship Seminar, when the results of the selection were announced. Our team was selected as a winning team, which made us so happy. On selection day, there were teams of university students, so we thought it would be difficult to win. In the end, we heard many cheering for us.
Q6. As you worked on your activity, you had team supporters. How did you find them? What kind of people were they?
In order to create our product, we needed someone who could help us experiment and had access to equipment to produce plastic bags. Since we were high school students and had no connections, we looked for help by calling. A university professor let us use their facility to experiment. The author of a thesis paper we found on the internet responded to our question by email. A university professor helped us gain general knowledge about fish, and a company helped us produce the plastic bag.
Q7. What was the reaction of these individuals when you first introduced your idea?
One of the professors told us that our project seemed difficult in reality and shared information beyond what we would have been able to research. However, the more we continued our work, the more support we found.
Q8. I read the blog article on your meeting with the Minister of the Environment Shinjiro Koizumi. How did you share your activities with him?
He praised us as we are doing something good. He said he likes fish too since he is originally from Yokosuka City, Kanagawa Prefecture. He asked us, "When are you aiming to be able to use your product in actual shops?" and we answered within three years. The plastic bags are now under inspection and our partners at a company are helping to further its development.
Q9. Last question. What does TOMODACHI mean to you?
TOMODACHI taught us the importance of expressing ourselves. One of the professors we met in the United States asked us, "What do you want to be in the future?" and we answered "We are not sure yet." Then he said "When you're here, you must say at least something like 'I want to be an entrepreneur.' You must have the guts to say that." In Japan, a lot of people feel embarrassed to tell their dreams to others, but in the United States, it's the opposite. It can be embarrassing if you do not speak up. If you do not share your opinion, people will ask, "Why are you here?" It is simply right and that is why there are so many entrepreneurs. I realized the importance of expressing myself in order to grow by speaking up and sharing what I am good at thanks to TOMODACHI.