The 2018 TOMODACHI Sumitomo Corporation Scholarship Program Scholars Share their Year's Worth of Learning from their Study Abroad Experiences in the United States, as the Program Welcomes New 2019 Scholars to Embark on a Once-in-a-Lifetime Journey
On June 28, 2019, the 2018 and 2019 scholars and partners for the TOMODACHI Sumitomo Corporation Scholarship Program were brought together for a Post-Program Report and Awards Ceremony at the Sumitomo Corporation in Tokyo.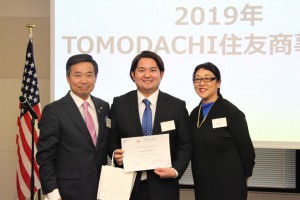 Having finished an orientation and training session for the 2019 scholars in the morning, 2018 returnee scholars and the newly selected 2019 scholars participated in a joint session about leadership. They divided into groups and discussed communication, flexibility, diversity, empathy, and many aspects of leadership skills, under the theme of "Required Leadership Skills in the World and Japan in 2030."
During the Post-Program Report, the 2018 scholars were divided among several themes and gave presentations on their year of learning during their study abroad experiences. During the presentation, Tatsuya Chiba, who studied Chemistry at Rice University, shared, "Since it was my first time traveling outside of Japan, I felt uncomfortable at first in every situation in this totally new environment. The biggest challenge was my lab, where I felt I was not contributing enough to the team. However, my lab mates helped me tremendously, and I stayed up day and night trying to learn how to use the lab instruments using books and websites. Although the semester was a struggle, my one-year experience game me the confidence to see that even if something seems too big of a challenge at first, once I jump into a new environment, I can adjust and continue to push myself by believing in my future growth."
Following each group's session, Education and Exchanges Officer Gregory Aurit from the U.S. Embassy Tokyo, Ms. Jewelle Yamada, Vice President, Corporate Communications, and Mr. Hideki Yamano, Representative Director, Managing Executive Officer, Chief Strategy Officer and Chief Information Officer, Sumitomo Corporation, offered feedback on the presentations.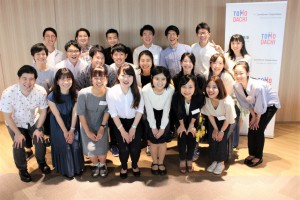 At the award ceremony, after the group sessions, Mr. Masayuki Hyodo, Representative Director, President and Chief, Executive Officer of Sumitomo Corporation, and Ms. Royanne Doi, Representative Director of the U.S.-Japan Council, offered congratulatory remarks and words of encouragement. The 2019 scholars were awarded their certificates of scholarship and souvenirs, and spoke about each of their goals for this study abroad experience.
Sumitomo Corporation employees, who act as mentors, university representatives, and TOMODACHI Alumni participated in the group sessions, the award ceremony, and the reception, and had the chance to mingle with the scholars. To conclude the reception, 2017 scholar Takara Inoue, TOMODACHI Alumni representative, shared his journey and offered powerful and warm encouraging words: "This is my third time attending this ceremony. First was when I had been selected a 2017 scholar. The second time was the last year's session, where I felt a great sense of achievement. And this time, I'm pleased to attend this ceremony as an alumnus. To all the 2018 and 2019 scholars, please let us alumni know and give you advice whenever you feel concerned before or after your study abroad experience."
On the following day, an event was held by program alumni and 22 participants, including the 2019 scholars. In the first half of the event, alumni shared how they make use of their experiences and learning from the program. The last half, they discussed their future plans for job-hunting or graduate school.