Entrepreneurship and Leadership seminars kicked off in Tokushima; the series of seminars will be held at 13 locations throughout Japan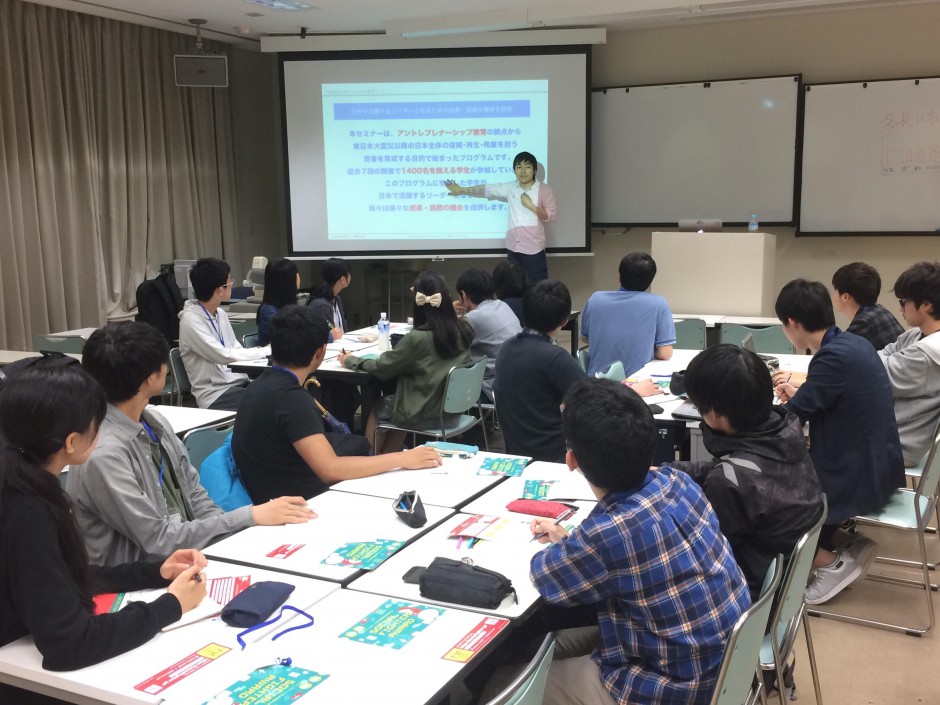 The pre-seminars for the 8th U.S. Embassy-Keio SFC-TOMODACHI Entrepreneurship Seminar kicked off in Tokushima Prefecture on May 10, followed by pre-seminars in Fukushima Prefecture on May 17, and Niigata Prefecture on May 27.
This nine-months program consists of pre-seminars that take place between May and July at approximately 13 locations throughout Japan; a camp seminar in September; a final session in November; and a concluding field study tour which sends the winning groups from the final session to Silicon Valley. The program is generously funded by the Boeing Company.
The pre-seminars provide opportunities for university students seeking means to solve social issues to learn about entrepreneurship and the concept of idea building. The participants also take part in discussions and group projects to understand the process of turning ideas into concrete plans.
At the recent pre-seminars, the participants learned that the concept of entrepreneurship is not an exceptional talent that only entrepreneurs possess. Rather, students learned that entrepreneurship is way of thinking necessary for anyone seeking to better our daily lives and our surrounding environment. The participants further studied the importance of generating ideas from different perspectives and acknowledging each unique idea in order to make businesses and projects successful. Moreover, by studying methods for creating ideas and utilizing a framework for building businesses, the students learned the process of turning their ideas into actual plans.
In the three areas where the pre-seminars were held, the environment has become more conducive to support university students who aspire to start their own projects or new businesses. As one of the participants at the pre-seminars reflected, "I realized that my own actions can have positive impacts on others around me. I want to keep trying without fearing failure." The pre-seminars offered an opportunity for the participants to remind themselves that the leadership and continuous efforts of every individual have the capacity to positively change our society.
The remaining pre-seminars are scheduled to take place in following prefectures: Hokkaido, Yamagata, Osaka, Toyama, Yamanashi, Yamaguchi, Miyagi, Miyazaki, Tokyo, and Kanagawa. Click the following links to sign up for the pre-seminars happening in June: