Final Session of the 7th U.S. Embassy-Keio SFC-TOMODACHI Entrepreneurship Seminar: The Three Winning Team will participate in Silicon Valley Study Tour next Spring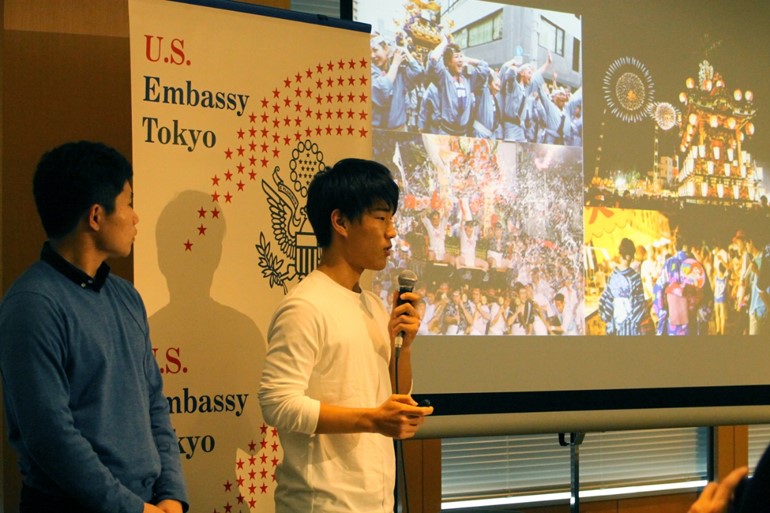 On November 23, 2017, the final session of the 7th U.S. Embassy-Keio SFC-TOMODACHI Entrepreneurship Seminar took place. The program is funded by the Boeing Company.
In the final review, the six teams that were selected to participate from the mid-way review presented their business plans to the committee. Between the September seminar and the final review, the students continued to brush up and improve their business plans by collaborating with mentors and carrying out hearings. The teams developed unique and compelling business plans for the final review.
The three following teams were selected as having the best business plans during the final review:
National Institute of Technology, Toyama College Team "Ton-girls"The students plan to publish a booklet titled "CRENKE," with the goal of connecting people to establish a society that "creates a circle of friends beyond generations and provides happiness to people." This booklet promotes the charms of Toyama through interviews of shopkeepers in Toyama's local shopping district, which were conducted by young students.
Kyushu University Team "Quriosity"
The students made a web page for foreign tourists to get information on participating in and learning about Kyushu festivals to better enjoy their stay in Kyushu. When introducing the festivals, the students placed a focus on "Co-Experiences." They plan to provide support so that the foreign tourists can easily participate in the festivals for the first time.
Keio University SFC Team "Helpush"
The students plan to provide a service specializing in dealing with bullying issues and enabling people to quickly connect for "A Society that can Share Aid." In their plan, they focused on spreading "Empathy," which can help students who struggle with bullying problems.
The three teams will participate in a week-long study tour to Silicon Valley in February of next year. They hope to further advance their business plans by experiencing the United States' diverse perspectives and values.