High School Students from St. Louis Travel to Ishinomaki for a Cultural Experience and to Learn About the Great East Japan Earthquake on 3.11

For two weeks, five American high school students participated in in the TOMODACHI St. Louis-Ishinomaki Friendship Program which consisted of a homestay and a study tour focused on the city of Ishinomaki, Japan and its destruction by, survival of, and recovery from the tsunami resulting from the Great East Japan Earthquake of March 11, 2011. This is the fourth year of a reciprocating exchange program in which Japanese students traveled to St. Louis and American students were sent to Japan in alternating years.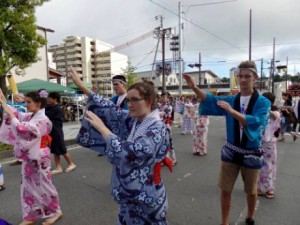 The highlights of the program included participation in Ishinomaki's annual Kawabiraki (River Opening) Festival where they danced in the parade; a visit to Sakana-machi, the massive fish market representing the vital seafood industry in Ishinomaki and an experience on a commercial fishing boat to learn about the ongoing recovery of the aquaculture industry (of scallop and wakame seaweed). They learned about the Japanese tea ceremony from a local tea master and visited a Japanese middle school to learn about education in Japan. The group met with both the mayors of Zao and Ishinomaki to learn about the tsunami and ongoing recovery efforts.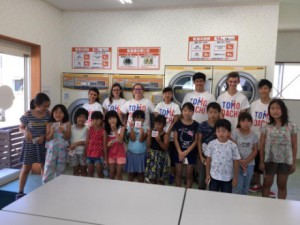 On the final day of the program before returning home, the experiences, work, study, and writings also found their way into a final presentation that the students prepared and delivered to a full array of coordinators, volunteers, host families, and past program participants. They delivered the entire presentation in both English and Japanese. Many of the people in the audience were openly weeping at the emotion in the student presentations.
The program seemed to achieve its objectives of cultural exchange between Ishinomaki and St. Louis, educating young Americans about the earthquake and tsunami of 3.11 and its effects and recovery, and established strong grassroots connections between the people of St. Louis and Ishinomaki. The mixture of pure cultural activities, first-hand experience of tsunami-affected areas and people, and extended periods of personal time between American and Japanese students seemed to create a unique and valuable experience for all parties.