TOMODACHI Alumni Finds New Opportunities and Dreams at a High-Level Business Event with Groundbreaking Technology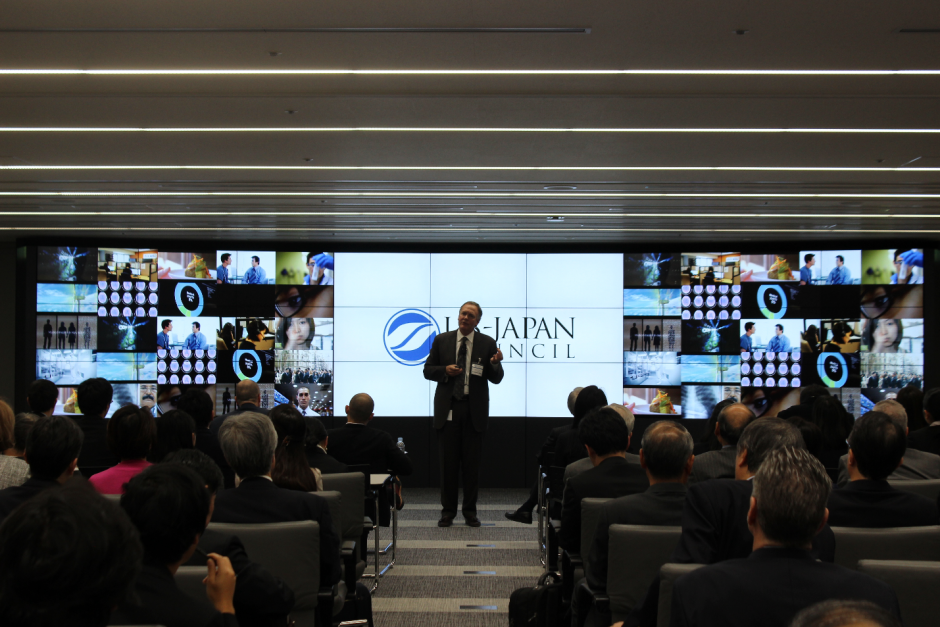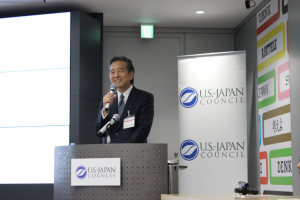 "A hub of energy unlike I had ever felt before, surrounded us, the TOMODACHI Alumni at the meeting," said Kanji Yamamoto, a third year high school student and TOMODACHI alumnus of the TOMODACHI U.S.-Japan Youth Exchange Program after taking part in the U.S.-Japan Council (USJC) Business Advisory Board meeting. This was the first time TOMODACHI alumni were invited to this exclusive, high-level event, made possible by the Mr. Paul Yonamine (President, IBM Japan Ltd.; Chair, Board of Councilors, U.S.-Japan Council) and Mr. Masaaki Tanaka (Senior Advisor, The Bank of Tokyo-Mitsubishi UFJ, Ltd.; Chairman, U.S.-Japan Council Business Advisory Board and Vice-Chair, Board of Councilors, U.S.-Japan Council).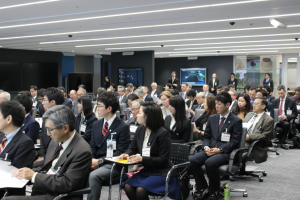 On February 18, 2016, twenty two alumni representing nine TOMODACHI programs attended the 5th USJC Business Advisory Board meeting in Tokyo held at IBM Japan. The Business Advisory Board is comprised of business leaders in Japan with extensive experience in the United States, and American business leaders working in Japan. They are invited to advise USJC leadership on innovative programs, with the aim to diversify membership and expand the Council's impact in Japan.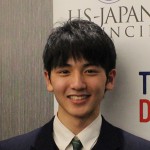 "The event was truly inspiring. Through the course of meeting distinctive, ambitious people, I allowed myself to think about my passion and dream in an elaborated new sense. In times of forging new ideas and getting a broader sense of the TOMODACHI Generation, it is vital that opportunities like this are not missed" added Kanji Yamamoto, who took part in the TOMODACHI Summit last year as well as the TOMODACHI Disaster Resilience Leadership Training program as an alumnus.
On this same day, IBM and the SoftBank Group announced the launch of Japanese Watson. Mr. Michael D. Rhodin, Senior Vice President, IBM Watson Group was in Japan. Many corporate executives as well as alumni were able to hear from father of the Watson and were able to gain deep insights on how information technology would evolve in the future.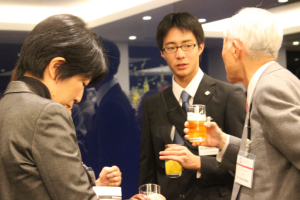 It was a great opportunity for young leaders during the reception to be able to connect with and have discussions with the executives. An alumnus of the TOMODACHI Toshiba Science & Technology Leadership Academy, Takashi Yabuta said "the event opened my eyes to the whole new possibility of what I want to study in the future. I was always interested in studying Computer Science, but was not entirely sure which field. I thought the AI (Artificial Intelligence) exist only in the world of Science Fiction! However, after hearing Mr. Rhodin's speech, I was thrilled that the AI was already happening in the real world, and there was a huge demand in various industries. The words, "We are currently in the Third Informational Revolution" struck me and made me want to go into more concrete field of studying."
Participants immersed themselves to learn the technology that let people solve unsolvable problems with this new informational revolution. The event high lightened the importance of collaboration between the U.S. and Japan in the field of science and technology and encouraged next leaders, the TOMODACHI Generation, to learn from their role models.
Lastly, many of the participants took part in the TOMODACHI Initiative Social Media Campaign which is taking place until March 11, 2016 to send messages to Tohoku and messages from Tohoku. Click here to send YOUR message!