TOMODACHI Alumni Participate in TOMODACHI BEYOND Tomorrow Global Leadership Academy 2014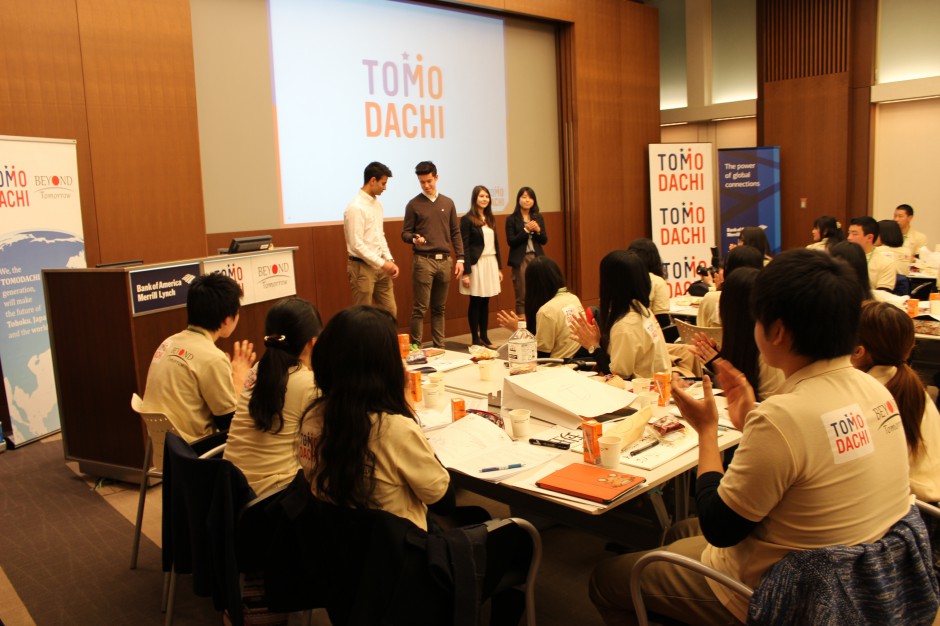 On March 7-9, 2014, seventy two Tohoku high school students who visited the United States through 2013 TOMODACHI Initiative programs gathered in Tokyo for the TOMODACHI BEYOND Tomorrow Global Leadership Academy 2014. Students reflected on the Great East Japan Earthquake and Tsunami, shared their experiences from visiting to the United States, and researched disaster relief and reconciliation efforts in Sumatra, Haiti, and the Philippines.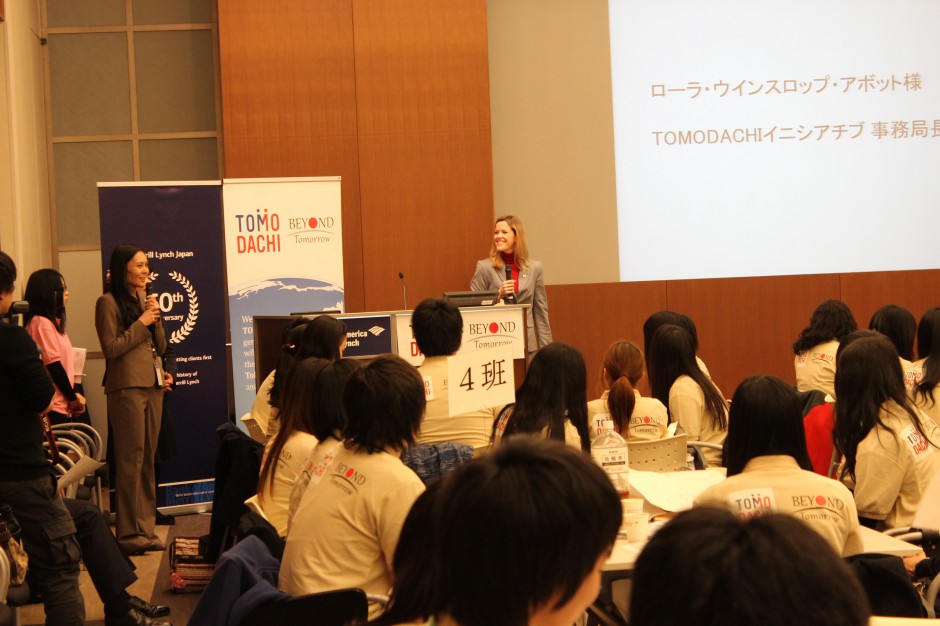 TOMODACHI Initiative Executive Director Laura Abbot welcomed students with a video message from U.S. Ambassador to Japan Caroline B. Kennedy. During the TOMODACHI Session, students discussed and presented in groups on how their experiences on TOMODACHI programs affected them and how their perspectives about Japan and the rest of the world changed. Professor Yoko Ishikura from the Graduate School of Media Design at Keio University identified natural disasters as part of the global agenda in a bilingual talk titled "What is Global Agenda?" She encouraged students to think about how their past experiences give them a unique perspective when addressing world issues.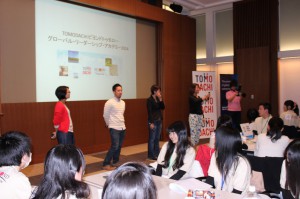 On Saturday morning, Noyuri Mitsuhashi from the U.S. Embassy in Japan, Mayo Hotta from Softbank Corporation, Yusuke Kawanabe from Recruit Technologies, Ltd., and Yoshida Tomoko from Coca-Cola (Japan) Co., Ltd. shared their experiences and advice on studying abroad in the U.S.  In the afternoon, volunteers from Bank of America Merrill Lynch joined students to interview three nonprofit organization leaders on their overseas humanitarian work. Ryoji Noritake from Project HOPE, Chiaki Furukawa from AAR Japan, and Yoko Asakawa from JEN emphasized the importance of building communities after the wake of a disaster. In the evening, guests from nonprofit, government, and business sectors joined students for dinner. Students and dinner guests tested their knowledge in a lively session of jeopardy.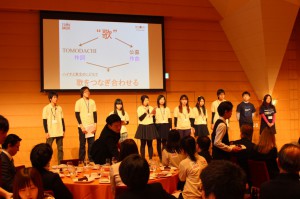 Attended by program participants and approximately 160 TOMODACHI Initiative donors and guests, the final luncheon on Sunday concluded a packed weekend of lectures, discussions, and preparation. Merrill Lynch Japan Securities Co., Ltd. Representative Director Tim Latimore expressed the continued support of Bank of America Merrill Lynch for the program. U.S. Embassy in Japan Deputy Chief of Mission Kurt Tong delivered remarks in Japanese, highlighting the courage, confidence, and curiosity of student participants. Two student speakers shared stories of their experiences from March 11, 2011 and expressed how TOMODACHI programs had an impact on them. Professor Daijiro Hashimoto from Musashino University delivered the toast. Japan's First Lady Akie Abe articulated the importance of remembering March 11, 2011. Nine teams of students presented innovative project proposals on how to improve humanitarian relief efforts.
Students from the TOMODACHI Summer 2013 Coca-Cola Educational Homestay Program, the TOMODACHI Summer 2013 Softbank Leadership Program, the TOMODACHI Summer English Language Study Program, the TOMODACHI 2013 Spring Homestay Program, the "TOMODACHI in San Diego 2013" program, the St. Louis-Ishinomaki Grassroots Exchange Program, the Dallas-Sendai Young Ambassadors Program, and the TOMODACHI Summer Beyond Tomorrow U.S. Program 2013 participated in the events.
For more information on the TOMODACHI BEYOND Tomorrow Global Leadership Academy 2014,

click here
写真