Scholars Attend the 2021 TOMODACHI Sumitomo Corporation Scholarship Program Award Ceremony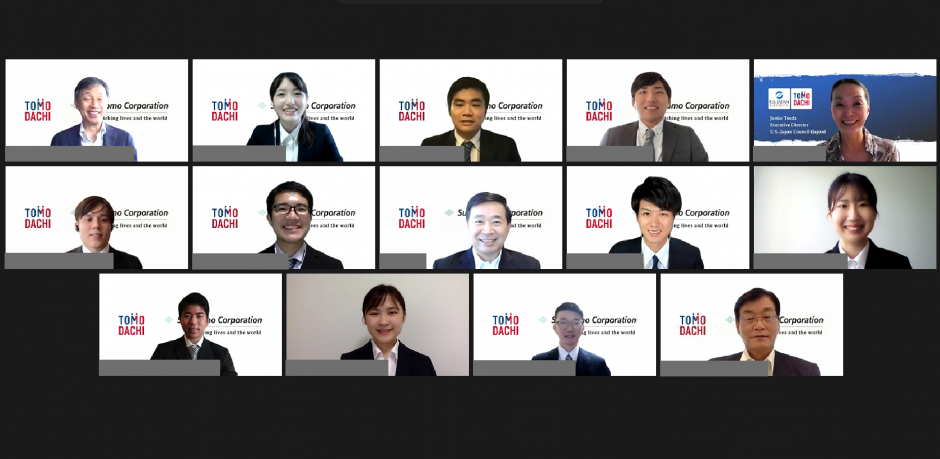 The 2021 TOMODACHI Sumitomo Corporation Scholarship Program Award Ceremony was conducted virtually on July 27, 2021. About 50 people were in attendance, including students and affiliates.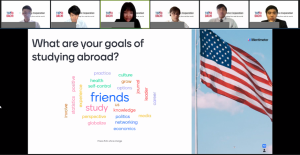 Prior to the ceremony, the ten newly chosen participants took part in orientation and training. During training, the recipients discussed various skillsets that are critical for future leaders. The skillsets discussed included the ability to sympathize with others, communication, and resilience.
The ceremony began with a congratulatory address delivered by Mr. Masayuki Hyodo, Representative Director, President, and Chief Executive Officer of Sumitomo Corporation. Ms. Suzanne Basalla, President and CEO of U.S.-Japan Council, and Ms. Carolyn Glassman, Minister Counselor for Public Affairs of U.S. Embassy in Tokyo also extended their congratulations to the recipients via video. Mr. Hyodo presented the scholarships to the recipients. Participants followed up with speeches that allowed them to express their enthusiasm and share the goals they hoped to achieve during their time abroad.
On July 31, 25 individuals, including the 2021 scholarship recipients and affiliates, attended an event organized by program alumni. The event was an opportunity for alumni from various fields with diverse interests to discuss the current situation, share their opinions regarding the future of their respective fields, and share their plans with one another.
To see the press release, click here.
For information about the 2021 scholars, click here.