Q&A with TOMODACHI Program Participants and TOMODACHI Alumni: Reika Mihara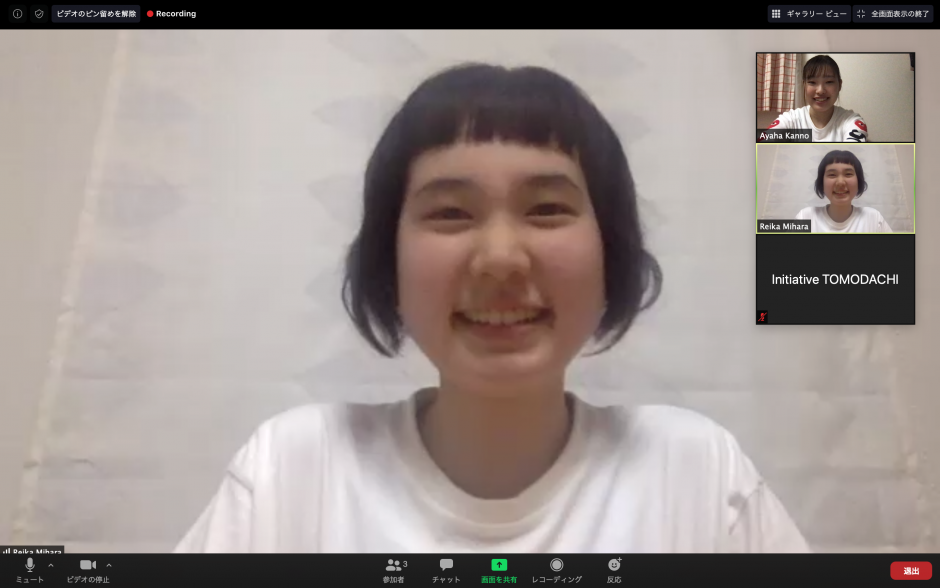 Reika Mihara is an alumna of Building the TOMODACHI Generations Morgan Stanley Ambassadors Program held in 2020. She is a sophomore at Sophia University Faculty of Liberal Arts. In May 2020, she started working as a TOMODACHI Alumni Intern.
Q1. Tell me how you became interested in Building the TOMODACHI Generations Morgan Stanley Ambassadors Program (BTG Program) 2020?
When I first heard of this program, two components of the program excited me so much. First, I thought it would be a special opportunity to learn about civil society and multi-sectoral partnerships directly from professionals working in nonprofit organizations, government institutions, and private corporations. Another feature that fascinated me was project planning. I became highly motivated to learn about principles of project management and implement the learning in planning project to address social issues in Japan.
Q2. Did you develop good friendships on the program? Who was the first friend you met?
One of the first friends I met was a Japanese participant from Kyoto, called Momoka. What I found interesting about her was her passion about her future dream. She wanted to be a pilot. She loves flying and she does everything she could do to achieve her dream. For example, she goes to the airport whenever she has time and goes to the deck to see the airplanes. During our flight to the U.S., she kept a journal about the flight and talked to the flight attendant to see the pilot. It was the first time I met a person who does these things at our age. I had not made so much effort toward my dream at the time, and she made me feel I wanted to do the same. 
Q3. True, I know a lot of people don't know what they want to do in the future. I am glad to know that Momoka was such an inspiration for you. So, you said you wanted to do something for yourself too. Did you try something new?
I want to work in the art industry in the future and create a platform where people can engage with art. Usually, people who are interested in being an artist go to art universities but I do not. So I started thinking about what I can do as a non-art school student. What came up in my mind was to draw something every day. I used to think that I had no time for this but after coming back to Japan, I wondered why I don't do it just in a short amount of time. I also wanted to get used to showing my drawings to other people so I started to post them on my Instagram. In the future, I want to try entering some amateur painting contests. 
Q4. Nice, I am glad that you were able to make good connections with people and reflect on your experience. Tell me more about the program. What was one activity that you really loved?
The team project was the most fun part. I met with my team members for the first time in D.C. and we had only two weeks to get to know each other and work together. Our team was called the "United Amigos Coalition" and it consisted of seven participants – three from the U.S. and four from Japan. What I liked the most was how we asked each other: "What ideas do you have?" and "What do you think?" Everyone cared for each other and made sure we each had a voice. Actually, this was very new to me. I always focused on how I can express myself and my thoughts, but the important thing there was that everyone was incorporated and heard. In this moment, my attitude toward group conversation changed forever.
Q5. When you came back from the U.S. in February, the COVID-19 pandemic was just kicking off globally. How did you feel about coming back to Japan?
Honestly, the situation was worse than I had expected. At the same time, if I hadn't participated in this program, I would have been depressed about the situation. But since I participated in the program, I felt that I could deal with it and be confident in myself. Keeping my Instagram journal is one thing; I can search for interesting articles online and I can have conversations with my friends who I met on the BTG Program online. We actually just celebrated on zoom the birthday of one of the friends I met in Washington DC.
Q6. Wonderful. After you came back to Japan, what made you apply for the TOMODACHI Alumni Internship? And with regard to your future goals, what do you want to do as an intern?
As the BTG Program inspired me in many ways, I realized that one of the significant features of TOMODACHI Programs is its lasting impact on the participants. When I found this internship program, I thought it would be the perfect opportunity to learn how the TOMODACHI Alumni Leadership Program empowers the Alumni's continuous self-development.
To pursue my ambitions, I would like to develop my capacity to reach out to people by utilizing my creativity. So, in this internship, I am looking forward to taking part in PR of TOMODACHI Alumni Programs so that I can encourage TOMODACHI Alumni to join the programs. Though I have never taken part in professional PR activities, I am excited to practice using different communication tools.
Q7. Last but not least, tell me what TOMODACHI means to you. Do you have a message for those who are to join TOMODACHI Programs in the future?
I would say TOMODACHI "expands, deepens, and connects." TOMODACHI helps me to expand my ideas and interests, deepens understanding of myself, and connects my present self to my future self. The BTG program indeed kept stimulating me even after I came back to Japan.
For those who are to join TOMODACHI Programs, I recommend you to have many conversations with people you meet in the programs. I am sure that you will get various inspirations from other participants.
TOMODACHI let me find that I can do almost anything if I promised myself to do it. Thanks to TOMODACHI, for making me ready for the next stages ahead and stay well during the self-isolated period.