The Final Phase of the TOMODACHI High School Women Career Mentoring Program in Fukushima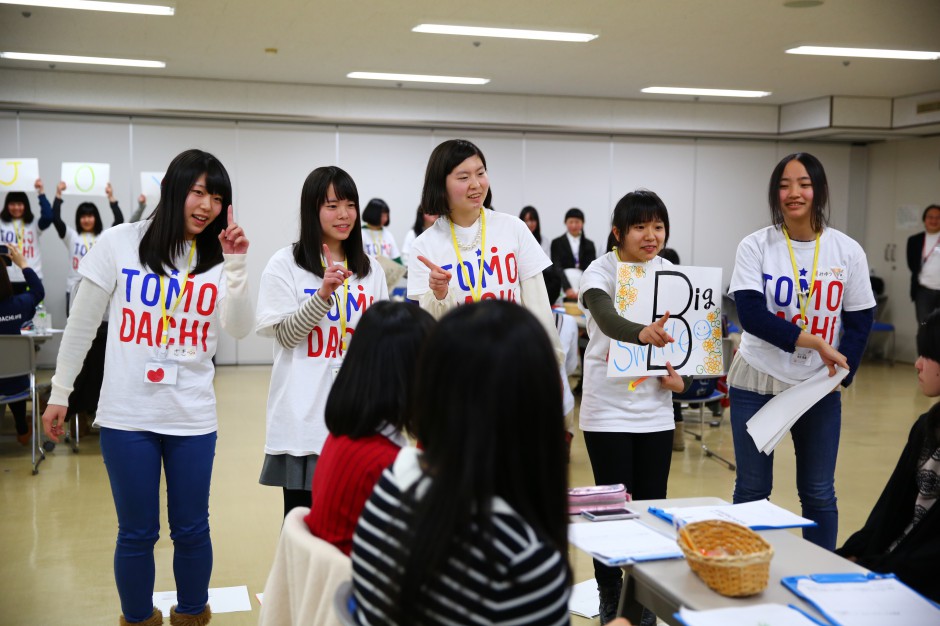 From January 31 to February 1, 2015, the fourth phase of the TOMODACHI High School Women Career Mentoring Program was held at a cultural center in Iwaki-city, Fukushima. The high school women participants who are in their junior year, presented to their fellow sophomore students the lessons and experiences they have gained through this six month program in which they met working career women and exchange students from all over the world.
On the first day, the juniors went into small groups and summarized the influential encounters they had during the program and the advice that they would give to their sophomore counterparts. In addition, they brainstormed the contents of their presentation about what their next step would be after this program and what they desired to do in the future. The teams faced multiple challenges, such as having to overcome conflicting opinions among team members, and having to improve certain mediocre aspects of their presentations. However, despite these challenges, they continued to discuss and debate among each other with determination. By questioning the most effective methods of conveying their ideas, the day turned into a heated rehearsal where direct feedback and introspective comments were exchanged.
On the second day, the "Building Your Identity & Future LIVE" was held, in which over 100 high school sophomore students in Fukushima attended. The event kicked off with a session of self-introductions, where college/vocational school students who are TOMODACHI alumni talked about their high school experiences along with five foreign students from five countries, including the United States and China. This was followed by a session involving ten professional women from five companies. It was then transitioned to the main part of the event in which the juniors presented on the materials they had diligently prepared the day before.
The program participants embedded creative skits and songs within their key ideas and important messages. One junior advised to her fellow sophomores, "It is better to go ahead and do things that you are pondering about". Another stated, "Because I was able to change myself, I will continue to aggressively challenge anything in the future". Lastly, the sophomore students commented on what they had learned from the event, such as the importance of not fearing failures, doing what one is passionate about, and broadening one's perspectives. The juniors were filled with a sense of accomplishment as they were able to convey their messages clearly.
The following are comments from the juniors who participated in this six month long program:
"I have grown so much that I cannot even compare my present self to my old self, six months ago. I am filled with a sense of accomplishment because I was able to change so dramatically".
"Every day was filled with valuable encounter, and the environment I was immersed in fostered the broadening of my perspectives. Due to this program, I was able to discover my dream and determine my university. The program also heightened my desire to get more involved in similar programs and activities"
"I will continue to challenge various things! I will not forget the expectations of everyone who has supported me, and will pursue everything I do with 120 percent of my effort".
We hope that the participants will cherish every lesson, encounter and opportunity they have had during the program, and to live their lives enthusiastically by staying true to themselves.