High School Students from the U.S and Japan Reunite on the TOMODACHI US-Japan Youth Exchange Program and Conclude with a Reception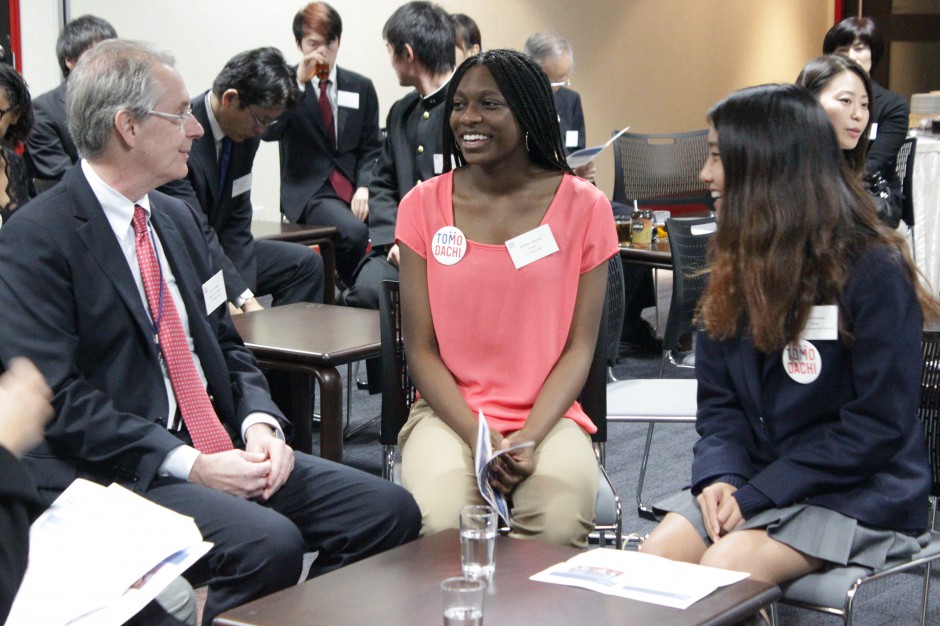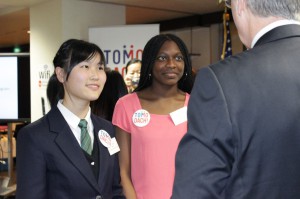 On November 14, 2014, the American and Japanese participants of the 2014 TOMODACHI US-Japan Youth Exchange Program gathered in Tokyo to present their experiences on the program.  The American students from Washington, DC were at the end of their two-week program in Japan, and had recently returned from the disaster-affected areas of Tohoku, where they had learned from local non-profits. Participants shared their stories in front of U.S. Embassy Tokyo Deputy Chief of Mission Jason Hyland and U.S.-Japan Council President Irene Hirano Inouye. Senior Vice President of Global Relations for Mitsubishi Corporation, Satohiro Akimoto, representing the TOMODACHI Fund for Exchanges donor companies (Toyota Motor Corporation, Mitsubishi Corporation and Hitachi, Ltd) shared his own story of coming to the United States for the first time and how that experience greatly impacted his own life.  "I know the impact this kind of exchange can have on the life of young people, because I am a product of that. We are glad we can support programs such as these," stated Mr. Akimoto.   
The program began with the Japanese students from Keio Shonan Fujisawa High School talking about their program in Washington, DC this past summer. Students were inspired to consider the power of words during a poetry slam workshop, overcame stereotypes about homelessness through volunteering, and were empowered to express themselves through "Everyday DC" photography.  
"I was very inspired to learn once again that "words are powerful", Soh Umabayashi from Keio Shonan Fujisawa High School said who realized the importance of having a confidence to speak up. She is trying hard to contribute actively in discussions within the tennis team she belongs to. From their experience in the United States, the Keio students expressed that this program was their first step in being a part of the TOMODACHI Generation.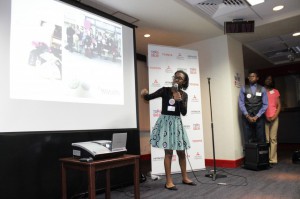 The American students from Washington, DC, fresh from their trip to Sendai and Minami-sanriku, shared their overall impressions of Japan, but focused on reflections from their trip to Tohoku. They were deeply moved by the stories of those who survived the earthquake and tsunami as well as the various work being done by people to help the economic recovery in the region.  They visited organizations such as SEELS and Kids' Door, where they helped with teaching English to the students there. They visited the Watari-cho museum and learned about the history of the town and a famous samurai leader. In Minami-sanriku they heard stories from fisherman who were working to rebuild the industry and made pizza and danced with local high schools students, who were dealing with many serious topics and situations. They made crafts out of silk cocoons and presented them to the donors and major program supporters, as a token of thanks.  Finally, one of the American students Luke Nogueira, recounted meeting the Mayor of Minami-sanriku, who himself survived the tsunami. "His story inspired me, knowing that someone like him is out there." For the American students the visit to Tohoku held a lot of meaning for them. For Sierra Queen her time in Tohoku inspired her to begin thinking about how Japan might fit into her future. "I already had positive image about Japan only from animes and manga, but my experience in Tohoku changed that dramatically. I started considering studying in Japan, and it would be great if I get a chance to study in Tohoku again in college."
The American students announced a plan for an exhibit in March 2015, in Washington, DC to talk about their visit to Japan and to reflect on their visit to Tohoku. 
The program concluded with remarks given by Hirofumi Yokoi, Chief Executive Officer of the Akira Foundation, the organization responsible for coordinating the program in Japan. "We hope you have achieved the goals set for yourself two weeks ago. We understand how a TOMODACHI program can change lives, especially for the youth participants."

This program is funded by TOMODACHI's Fund for Exchanges through generous contributions from Toyota Motor Corporation, Mitsubishi Corporation, and Hitachi, Ltd.