Del Norte High School Students Meet Ambassador Kennedy in Tokyo After Visiting Rikuzentakata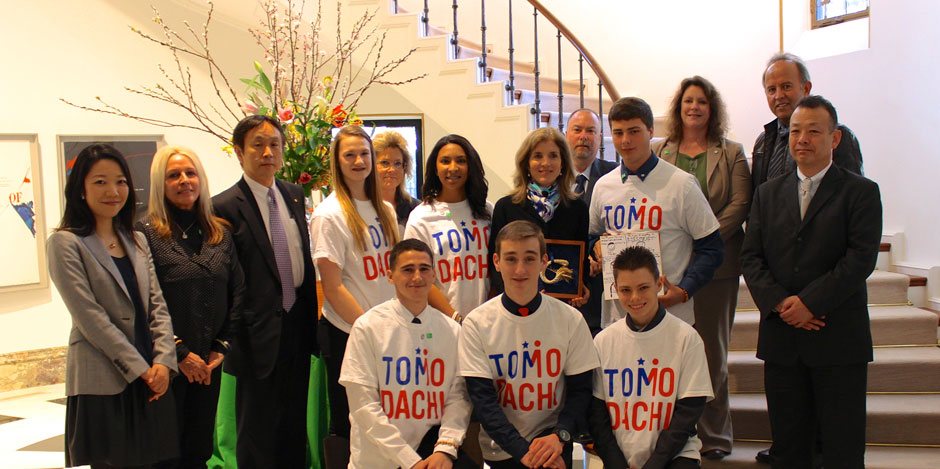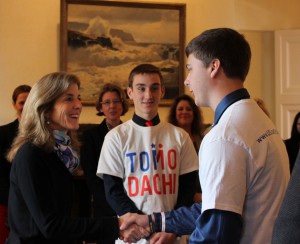 On February 21, 2014, Ambassador Kennedy met with six students from the Del Norte High School along with their teachers and chaperones, who had come from Crescent City, California to Japan to return a boat that had washed up on their shores.  It turned out that the boat belonged to Takata High School in Rikuzentakata, Iwate, and they had been using the boat for marine studies before the tsunami from the Great East Japan Earthquake hit.
The Del Norte students and their chaperones had travelled to Japan on the TOMODACHI Del Norte High School Delegation to Rikuzentakata to meet the students from the high school, after cleaning and returning the boat in September 2013. They spoke to Ambassador Kennedy about the momentous impact that the trip had on them. One of the students, Connor Field said, "Because of this program, all I can think about now is doing something abroad, definitely in Japan," a view that was echoed by all the students. In spite of the fact that the students only spent two days at Takata High School, they forged lasting friendships. One of the students, Griffin Walker mentioned how she virtually had to be dragged into the bus as they left Takata High School.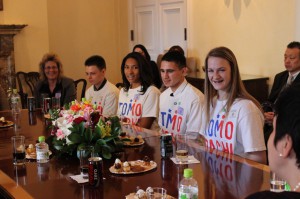 The connection and similarities between the two cities was also striking; both were small fishing towns that had experienced awful tsunamis that had wiped their towns off the map. One of the chaperones recalled that, upon her arrival in Rikuzentakata, the sight of a solitary building amidst the vast plains of flattened houses bore an uncanny resemblance to a scene from the 1964 tsunami in Crescent City. She told the story of how, since then, Crescent City has revived itself with such vigor that it has been dubbed the "Comeback Town USA."  The hope is that the friendship this northern Californian city has created will also help the northern Japanese city come back in its own right.  Ms. Cindy Henderson from Del Norte County's Office of Emergency Services, summed up this special connection, "I don't believe it was a coincidence that this boat washed up on our shores."
Through the support of the Fund for Exchanges donors – Mitsubishi Corporation, Toyota Motor Corporation, and Hitachi Ltd. – Crescent City and Rikuzentakata are now trying to create sister city and sister school relationships to ensure their friendships will continue through the years. Ben, whose father, the town sheriff, first discovered the boat, summed this goal up perfectly: "Now that we have met the Takata High School students and seen their world, we can't wait to get them to Crescent City to show them ours."