2nd U.S.-Japan Council Japan Week Symposium 2013


The U.S.-Japan Council held its second U.S.-Japan Council Japan Week in Tokyo from May 27-30, 2013.
The theme of this symposium was"The Next Generation: Investing in the Future of Japan and the U.S.."  Major events included a Women in Business Summit co-organized by the American Chamber of Commerce in Japan; the USJC Japan Symposium on investing in the next generation of leaders; and a Non-profit Organization Summit. 
Women in Business Summit
The Next Generation of Women Leaders in Business
On May 27, the US–Japan Council along with the ACCJ's Women's committee sponsored the Women in Business Summit at the Tokyo American Club.  Three hundred fifty women (and some men) attended this summit which included keynote speeches, a panel discussion, breakout sessions, and networking, in which women were inspired and energized.
U.S.-Japan Council Symposium
On May 28, 2013, approximately 500 top business executives, government officials and non-profit leaders convened at the U.S.-Japan Council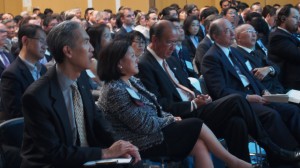 Japan Symposium in Tokyo, which focused on investing in the next generation of leaders from Japan and the United States. The symposium included keynote speakers, Fast Retailing Chairman, President & CEO Tadashi Yanai, and Marc Benioff, Chairman & CEO of Salesforce.com, a special tribute to Senator Daniel K. Inouye, and a panel discussion on how diversity and risk-taking influence the next generation.
Japanese Foreign Minister Fumio Kishida, U.S. Ambassador to Japan John V. Roos and Mitsubishi UFJ Financial Group, Inc. Deputy President Masaaki Tanaka also spoke at the event.
For more information on the U.S.-Japan Council Japan Week Symposium, read the press release  
 Photos