Update from Team TOMODACHI
November 2016
Eight Alumni from the TOMODACHI Generation Share Their Stories at the 2016 U.S.-Japan Council Annual Conference in Silicon Valley
Every alumnus of the TOMODACHI Generation has a special story to tell.

On November 15, eight TOMODACHI alumni from both the United States and Japan were selected to share their stories of overcoming adversity at the 2016 U.S.-Japan Council Annual Conference held in Silicon Valley in California. Their personal trials and tribulations ranged in topics from women's empowerment, disaster resilience, mental illness, youth entrepreneurship, social welfare, and cultural and educational differences.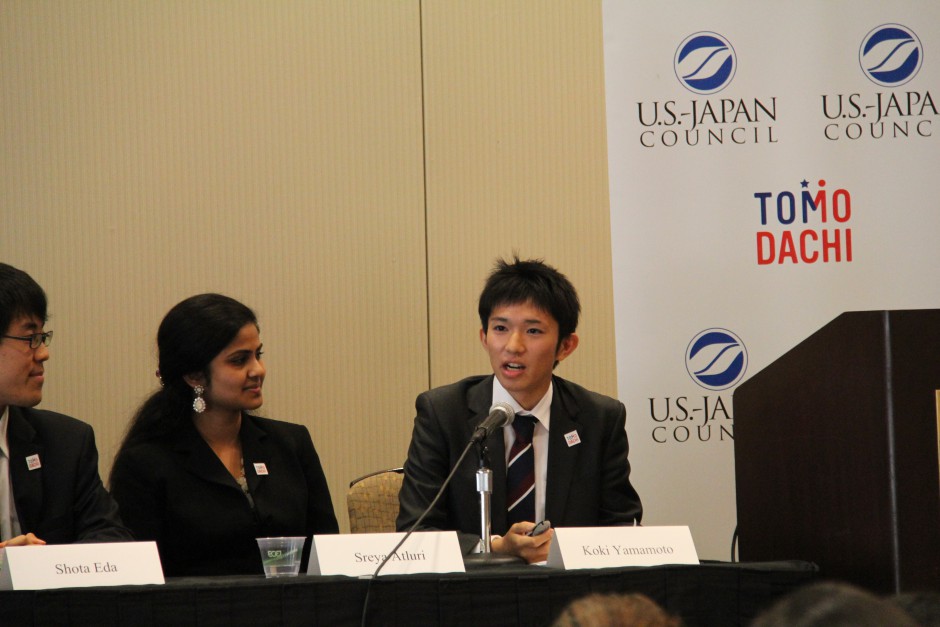 Koki Yamamoto spoke about evacuating his home in Namie, Fukushima after 3.11 and how participating in the TOMODACHI program affected his life.
"My hometown is Namie, two miles away from the nuclear power plant in Fukushima. I have never been able to return to my hometown since the accident. In 2014, I was able to take part in the TOMODACHI SoftBank Leadership Program. During those three weeks, I learned the importance of community development but more importantly, I was able to openly say that I come from Namie town. Something I could not say before because I was afraid of discrimination. It gave me time and the opportunity to speak about my experiences, meet with other Tohoku students, and share memories of my hometown for the first time. It also became clear to me that I want to do community development to support my hometown." Read his entire speech here>>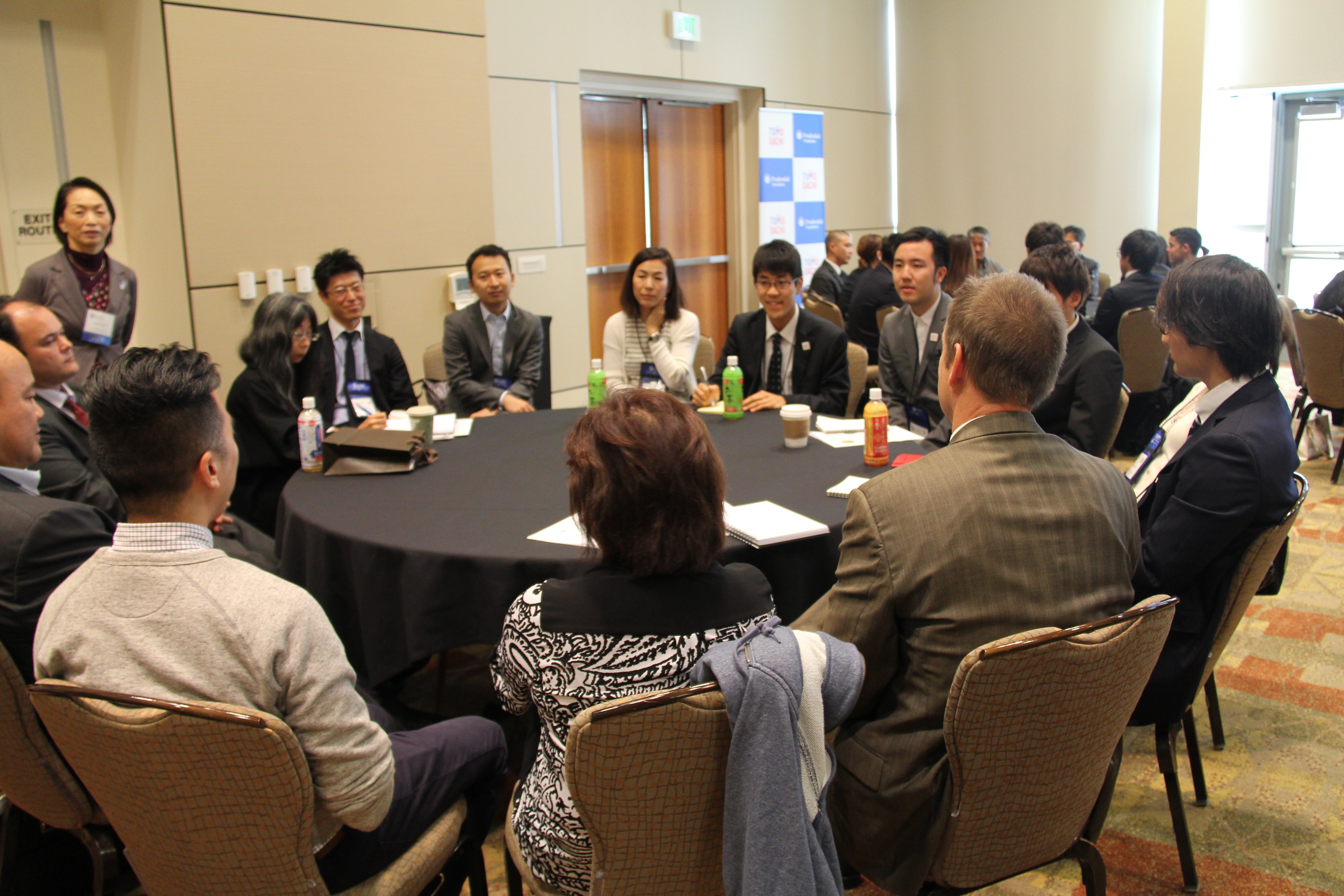 After hearing the alumni's introductions and personal stories, the workshop attendees were asked to choose one of four table where the alumni speakers led discussions focused on the themes identified in their speeches. The participants provided feedback to the challenges and questions posed by the alumni speakers and began those discussions that would create awareness and propel them to work towards a better world. Read More>>
The Latest on TOMODACHI Programs and Activities
Female High School Students in Fukushima Discover the Importance of Challenge Through a Session with Foreign Exchange Students in Japan
From October 29-30, one hundred and twenty-two high school women in Fukushima met with 20 foreign exchange students from 13 countries including the United States for Step 2 of the TOMODACHI High School Women Career Mentoring Program in Fukushima 2016.

Funded through the TOMODACHI Combini Fund, which is supported by FamilyMart Co., Ltd. and Lawson, Inc. companies, this six-month program consists of four sessions or "steps" that support female high school students from Fukushima to broaden their perspectives and to open doors and opportunities for their futures.

During this session themed "challenge", foreign exchange students shared the conflicts that they overcame in order to study in Japan. Subsequently, the students contemplated and presented their own new challenge that they will be executing in time for Step 3 on December 17.
One participant commented, "I learned the importance of challenging myself." More>>
Two Japanese Female Entrepreneurs Selected for the TOMODACHI Goldman Sachs Female Entrepreneurship Support Program
Two young female entrepreneurs were selected to participate in this program which aims to develop leadership skills for female entrepreneurs. Sponsored by Goldman Sachs Co., Ltd., the program engages Goldman Sachs employees from various background and sectors to collaborate with the participants by providing pro bono advice and support. More>>
Sayaka Murata, President of Kamonohashi Project

Ms. Murata founded Kamonohashi Project to fight child prostitution in 2002. Since then, she has been raising supporters and funds to bring substantial change to the issue of human trafficking. She was the youngest person to receive the Nikkei Woman's "Woman of the Year 2006" Leadership Award in 2006. In 2007, she received "The Outstanding Young Person" Award by Junior Chamber International.
Tomoko Shirai, Representative Trustee of Toybox

Ms. Shirai took part in the establishment of a free school in Okinawa in 1999 where she was appointed as principal. In 2003, she founded Japan's first publicly established and private free school, Smile Factory. After the Great East Japan Earthquake, she established the Minamisoma Learning Center in Fukushima prefecture. Ms. Shirai currently serves as Representative Trustee of the nonprofit corporation Toybox and of Hatachi Fund, and is also a member of the education enhancement master plan working group for the MEXT's Central Council for Education and a member of several free school-related committees.
Participants of the TOMODACHI Disability Leadership Program in America Welcomed in Washington, DC
From October 19 to 20, three young women participating in the TOMODACHI Disability Leadership Program in America visited the DC region, meeting leaders of Northrop Grumman Corporation as well as local community leaders. The TOMODACHI Disability Leadership Program, generously supported by Northrop Grumman and implemented by the Institute for Community Inclusion (ICI) at UMass Boston, is a five-month internship program in Boston designed to support future careers in disability leadership.

The three young women were invited to Northrop Grumman office in northern Virginia and participated in an event celebrating the Disability Rights Museum, which began with remarks by Sandra Evers-Manly, Vice President of Global Corporate Responsibility at Northrop Grumman, followed by a tour of the museum by the curators who explained to them about the fight for disability rights in the United States. More>>
Over 900 Students and Faculty Inspired by the Young Americans on the TOMODACHI Goldman Sachs Music Outreach Program
With the support of Goldman Sachs Japan Co., Ltd., the cast members of the American nonprofit organization, Young Americans, visited public elementary and junior high schools in disaster-affected regions of Tohoku to conduct educational outreach workshops through music and dance. From September to November 2016, this TOMODACHI Goldman Sachs Music Outreach Program inspired over 900 students and faculty in 6 elementary and junior high schools throughout Iwate, Miyagi and Fukushima.

One student remarked, "The exchanges with the Young Americans made me want to know more about America."
Through exchanges with the talented and energetic cast of the Young Americans, the students gain confidence and are inspired to learn about different languages ​​and cultures. More>>
Voices of the TOMODACHI Generation
Yuka Sadayuki grew up in Los Angeles, California and Tokyo, Japan and currently attends George Washington University in Washington, D.C. She became a TOMODACHI intern at the Tokyo office during the summer of 2016. She participated in the TOMODACHI Daiwa House Student Conference III that took place in Washington, D.C. in the fall of 2016.

"I believe that the TOMODACHI Initiative has been a cherishing experience that has trained me to have a more multifaceted and appreciative attitude towards others and at the same time, has boosted my passion for international relations and the U.S.-Japan alliance." Read More>>
Koki Yamamoto is currently a freshman at Toyo University majoring in regional development studies. He is originally from Namie town in Fukushima Prefecture, an area that was affected by the Great East Japan Earthquake and subsequent explosion of the nuclear reactor that made his hometown a restricted zone.

"In 2014, I took part in TOMODACHI SoftBank Leadership Program [and] learned the importance of community development. It was suddenly clear to me that THIS is what I wanted to do; community development to support my hometown. Even if I can't go back right now, I want to help create and share my culture to others not just for the people from Namie, but also for myself." Read More>>

On November 15, he shared his story during a TOMODACHI Workshop at the 2016 U.S.-Japan Annual Conference.
Sreya Atluri participated in the TOMODACHI Toshiba Science and Leadership Academy in 2014 and is currently a Robertson Scholar at The University of North Carolina at Chapel Hill/Duke University.

"With TOMODACHI's support, I have been able to expand my work as Founder and CEO of Creating Awareness in Research and Education (CARE), a non-profit striving to address educational disparities across socioeconomic dimensions by distributing educational and STEM resources. We've been able to run operations internationally, and have been very fortunate to be able to reach thousands of people." Read More>>

On November 15, she shared his story during a TOMODACHI Workshop at the U.S.-Japan Annual Conference.
Upcoming Programs and Events
Dec 17-18 Step 3 Session with Global Career Women of the TOMODACHI High School Girls Career Mentoring Program in Fukushima 2016 take place in Tokyo

Dec 26- Jan 9 Fukushima high school students travel to California for the TOMODACHI Honda Cultural Exchange Program

TOMODACHI Alumni Activities
TOMODACHI Alumni Network with Influential Leaders from Japan and the U.S. in Silicon Valley at the U.S.-Japan Council Annual Conference
Over seventy alumni and current program participants representing 11 various TOMODACHI programs were invited to attend and participate in the 2016 U.S.-Japan Council (USJC) Annual Conference which was held in Silicon Valley, California from November 12-13.

In this conference themed, "Imagine. Innovate. Inspire. - The Silicon Valley Experience," the alumni joined approximately 700 distinguished American and Japanese leaders from all sectors and listened to keynote speakers discuss technology collaboration in various areas from design to artificial intelligence to finance, and panelists exchange views about the U.S. elections and its effect on U.S.-Japan relations. The alumni also had opportunities to network and exchange business cards with conference attendees during receptions and dinners. More>>
Alumni Inspired to Take On Leadership Roles After Attending the Women in Business Summit Hosted by the American Chamber of Commerce Japan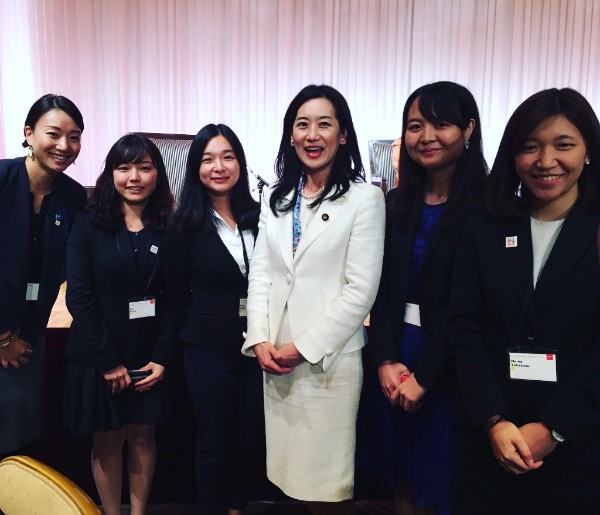 Four stellar TOMODACHI alumni who are Japanese university students were selected to join the ACCJ Women in Business (WIB) Summit 2016 in Tokyo on October 28, 2016. They "shined" at the event as they attended panels and actively took part in various workshops and networked with various individuals.

Inspired by the speakers and lessons learned from the summit, at the end of the event they expressed their interest in pursuing knowledge and best practices on how to further the role of women in society and for them to take on leadership roles.

Meina Takayasu was really stimulated by Miwa Kato (Regional Director for the Asia Pacific Region of UN Women) for the work she does and her comments really resonated with her. Ms. Takayasu remarked, "Some people might say they don't like feminism but it is not just about gender. Men and boys should be empowered too. The point is that it is good for the economy once women can work without facing barriers and thinking about pressures."

Also in attendance were U.S. Embassy Tokyo Deputy Chief of Mission Jason Hyland, who gave remarks and presented a video message from U.S. Ambassador to Japan Caroline Kennedy, and Government of Japan Minister of Women's Empowerment and Gender Equality Katsunobu Kato. More>>
Intern, U.S.-Japan Council (Japan) & TOMODACHI Initiative-Tokyo Office
The U.S.-Japan Council (Japan) and the TOMODACHI Initiative is seeking unpaid interns to begin January 2017. U.S.-Japan Council (Japan) and TOMODACHI offers an exciting environment for interns to be exposed to non-profit, corporate, and government fields. Responsibilities for interns include creating and drafting documents, translation, website management, newsletter development support, public speaking, communication with program participants, designing presentations and posters, and event planning.

For more information and to apply, click here.