TOMODACHI Disability Leadership Trainees Celebrate Disability Rights in Washington, D.C.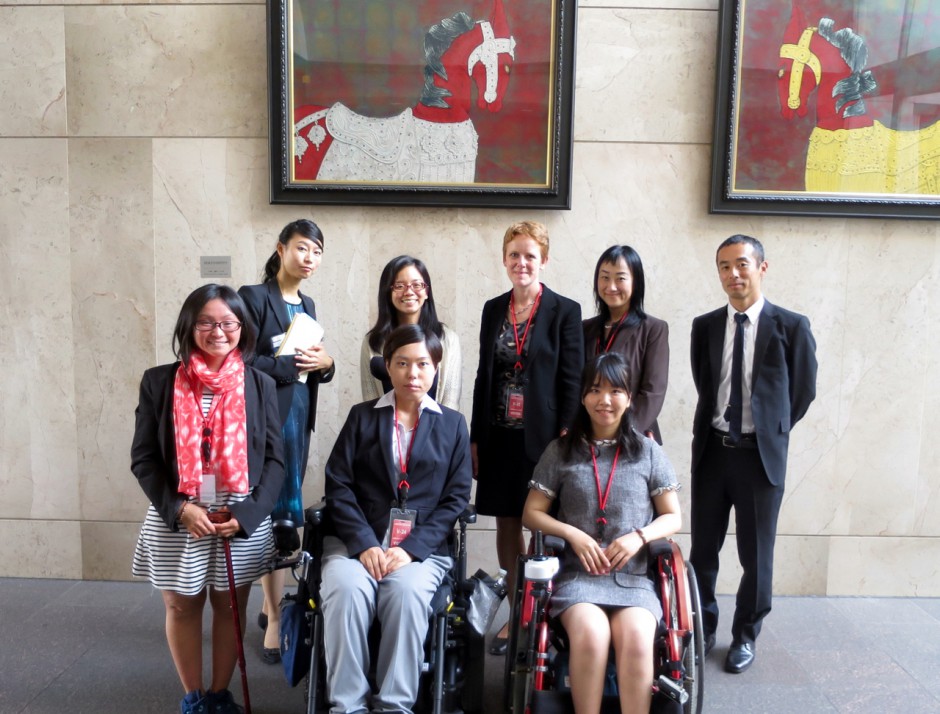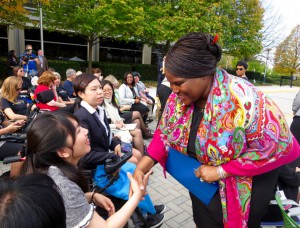 From October 19 to 20, 2016, three Japanese trainees of the TOMODACHI Disability Leadership Program in America visited Washington, D.C., meeting leaders of Northrop Grumman Corporation as well as local community leaders.
The TOMODACHI Disability Leadership Program in America, generously supported by Northrop Grumman and implemented by the Institute for Community Inclusion (ICI) at UMass Boston, is a five-month internship program in Boston designed to support future careers in disability leadership. The three women have respective topics that they are working on throughout this internship program.
Yui Awai, a student at Waseda University, is exploring how students with disabilities in the United States access college and how they advocate for themselves. Toshiko Kudo, a former peer counselor at the Tachikawa Independent Living Center in Tokyo, studies public transportation systems that are accessible to diverse groups of users, including people with disabilities. Tomomi Takata, a network engineer at Avinton Japan in Tokyo, examines the practical application of universal design to make public physical spaces accessible to all.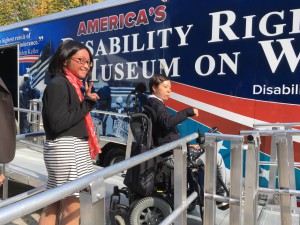 The D.C. trip was made possible by Northrop Grumman, which invited the young women to their office in northern Virginia, in conjunction with a visit by the Disability Rights Museum on Wheels.
Toshiko Kudo commented on the visit to the Disability Rights Museum. "Many places in the U.S. are accessible, and equal opportunities are guaranteed for people with disabilities in a variety of situations. However, these rights are never born naturally. All of these rights were obtained by the long struggle of people with disabilities. Disability leaders of the next generation must know about the history of disability rights, and continue the disability movement."
Yui Awai agreed, "At the Disability Rights Museum on Wheels, I was impressed with the great history in which a lot of people with disabilities fought for rights, dignity, and lives. All of these have made me who I am now. It is now my responsibility to strive to be a leader like them."
The trainees attended a DC Metro Business Leadership Network meeting, where they shared their experiences and heard from community leaders who are also committed to supporting disability leadership. They then participated in the event celebrating the Disability Rights Museum, which began with remarks by Sandra Evers-Manly, Vice President of Global Corporate Responsibility at Northrop Grumman; Teri Marconi, Mission Systems Vice President and executive lead for the Victory Over Impairment and Challenge Enterprise employee resource group; and Jill Houghton, USBLN CEO and President.
The trainees then toured the Disability Rights Museum, and with the guidance of Eric Neudel and his wife Alison Gilkey, the curators of the museum who also produced the documentary Lives Worth Living, learned about the fight for disability rights in the United States.
Tomomi Takata said, "The trip to Washington, D.C. gave me new insight and deep understanding of the rights of people with disabilities and the importance of diversity. Staff from Northrop Grumman asked us a lot of questions about life in Boston and our internship without stereotyping, and showed us the willingness to listen to our story."
Other events that the trainees took part in included a dinner on October 19 with Northrop Grumman's Diversity and Inclusion team, and a meeting with Embassy of Japan officials on October 20, where they learned about the Japanese government's priorities and community activities in the D.C. region.