TOMODACHI Generation: Sreya Atluri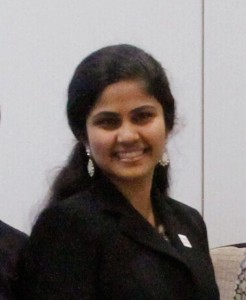 Sreya Atluri is CEO and Founder of Creating Awareness in Research and Education (CARE) and former Executive Director for Growth and Inspiration through Volunteering and Education, non-profits focusing on addressing educational disparities across socioeconomic dimensions.
Ms. Atluri participated in the TOMODACHI Toshiba Science and Leadership Academy in 2014. She is currently a Robertson Scholar at The University of North Carolina at Chapel Hill/Duke University, pursuing degrees in Business Administration, Economics, and Entrepreneurship. On November 15, she shared his story during a TOMODACHI Workshop at the U.S.-Japan Annual Conference.
Click here to read about the TOMODACHI Workshop
Ms. Atluri's speech from the TOMODACHI Workshop if below:
My name is Sreya Atluri, and I'm from Centreville, VA, right outside of Washington D.C. I'm currently pursuing my passions in college at The University of North Carolina at Chapel Hill and Duke University through the Robertson Scholars Leadership Program. I'm a proud TOMODACHI alumni – both a participant in TOMODACHI Toshiba Science & Technology Leadership Academy 2014 and returning as a Teaching Assistant for TTA 2016. I'm incredibly fortunate to have the opportunity to discuss educational disparities and reform, an issue that truly resonates with me.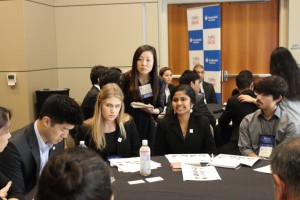 I was born in India and immigrated to the United States at the age of two, which gave me a new world of opportunities of resources, but I never forgot the friendships I had formed along the way. In 2012, I went to visit a dear friend in India that I had grown up with, and realized that she was no longer able to able to attend school due to affordability concerns. I had the power to pay her tuition and did so gladly, but was struck by the fact that this was a common, recurring theme, especially among women. I can still remember her face when she looked at me with tears in her eyes and said, "Thank you. You've saved me from a life of poverty and drudgery. You believed in me when no one else would. You're my hero."
I knew that I wanted to continue giving back, and to make sure that I was able to do so in a way that was sustainable and had meaningful, long-term impact. TOMODACHI gave me a phenomenal platform to do so. The passion that the TOMODACHI community shares to excel and give back to the community, the dedication demonstrated, the amazing relationships formed, and the desire for change so richly characterizes the community. In addition, I learned about the power of cross-cultural relationships. Ultimately, the relationships that you form and the people that you meet are among the most impactful and meaningful experiences that you can have, and this is something that TOMODACHI instilled in me.
With TOMODACHI's support, I have been able to expand my work as Founder and CEO of Creating Awareness in Research and Education (CARE), a non-profit striving to address educational disparities across socioeconomic dimensions by distributing educational and STEM resources. We've been able to run operations internationally, and have been very fortunate to be able to reach thousands of people.
Running CARE is the hardest thing I've ever done, but also the most fulfilling. I'm immensely proud of how we've changed lives and given people opportunities they hadn't thought possible. We've inspired people to pursue their dreams and be able to pay it forward. I'm incredibly grateful to the TOMODACHI community and everyone who has made these amazing opportunities possible.