TOMODACHI Alumni Join the 26th Business Advisory Board Meeting to learn about the Space Debris Removal Business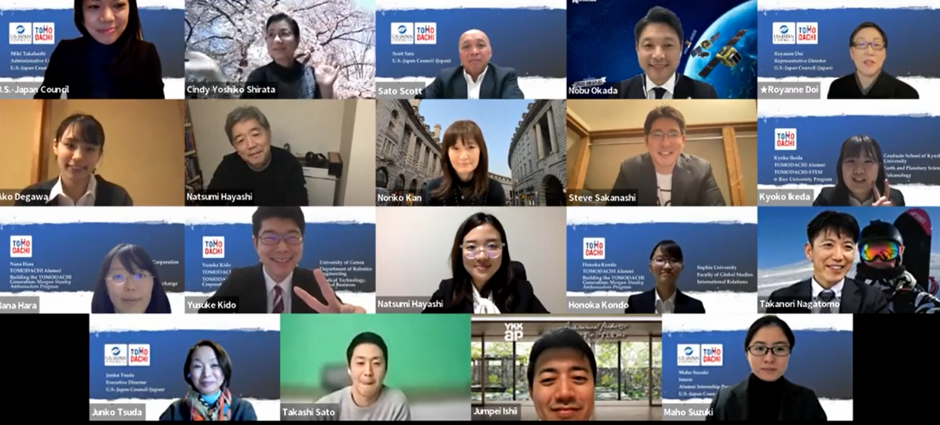 On February 22, 2022, the 26th U.S.-Japan Council Business Advisory Board (BAB) held its meeting. Four TOMODACHI Alumni from different programs were invited to attend. The event featured a presentation by Mr. Nobu Okada, Founder & CEO of Astroscale Holdings Inc., a venture company in the space debris removal business. It was the sixteenth time TOMODACHI Alumni joined business executives as representatives of the future of U.S.-Japan leadership.
In his presentation titled, "Space Sweepers: Building a Space Debris Removal Business for a Sustainable Tomorrow," Mr. Okada talked about his leadership journey in the space industry. He started with the inspiration he received from Japan's first astronaut, Mamoru Mohri, at NASA's Marshal Space Flight Center in the United States when he was a teenager. He established his venture nine years ago, because he realized that space debris had made space's environment unsustainable and no one had solutions. He believes that space debris removal is not only a business opportunity where no competitors exist, but also it is an environmental necessity. His debris removal, inspection and life extension technologies are transforming the space economy, which is expected to grow to a 10 billion dollar market in the next decade.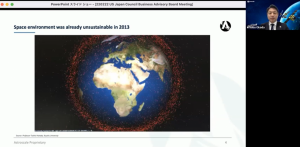 During the Q & A and networking session following the presentation, Mr. Okada and the audience enjoyed a lively discussion. Kyoko Ikeda, a 2019 alumna of the TOMODACHI-STEM @ Rice University Program, asked why Astroscale focused on the robot arm method to remove debris. Mr. Okada answered that nobody believed in this "capture and push" method at the beginning, but now this technology has become the main stream of the industry.
Honoka Kondo, a 2019 alumna of the Building the TOMODACHI Generation: Morgan Stanley Ambassadors Program, questioned if the low awareness of the space debris industry was due to the high cost or the lack of legal systems. Mr. Okada mentioned the space industry had been quite isolated, however since the last 18 months, concerned countries started to discuss the traffic management of space and the awareness has become very high. Yusuke Kido, a 2019 alumnus of the TOMODACHI Sumitomo Corporation Scholarship Program, asked how to manage a multidisciplinary business. Mr. Okada replied that he appreciated his strong team and stressed the importance of hiring top talent from all over the world regardless of nationality or background.
Nana Hara, a 2019 alumna from the Building the TOMODACHI Generation: Morgan Stanley Ambassadors Program graduate, expressed that Mr. Okada was such a passionate, ambitious and brave person and thanked him for her first experience of learning the issues of space debris and the technologies to remove them.