TOMODACHI Generation: Eiko Nakano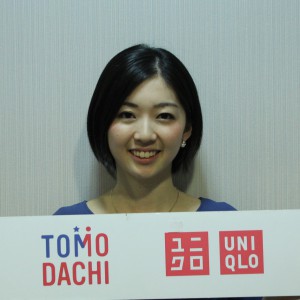 Eiko Nakano worked at McKinsey & Company Japan as a business analyst and was on a secondment at the Ministry of Education, Culture, Sports, Science, and Technology (MEXT). During her time at MEXT, she led the development of the Tobitate Program to provide opportunities for more Japanese students to study abroad.  Through the TOMODACHI UNIQLO Fellowship, she will be pursuing a master's degree at the Stanford Graduate School of Business.  Not only does she aim to strengthen her own leadership abilities, but she also hopes to one day assist in developing stronger Japanese next generation leaders in business through innovations in the education system.  She holds a Bachelor of Laws in Political Science from Keio University.
For more information on the TOMODACHI-UNIQLO Fellowship, click here
About Eiko Nakano
Q: Why did you apply to this program? 
A: I have two reasons why I have applied for this program. Firstly, I knew about TOMODACHI Initiative from before and was a fan of the organization. The mission to promote a cross-cultural experience to Japanese students aligns with my own personal mission and therefore, felt a connection. Secondly, I thought that I could learn a lot from Uniqlo, which is a company that was born in Japan but has now spread and flourished globally. 
Q: How do you hope to contribute to Japan through this fellowship program? 
A: My personal aspiration is to provide Japanese students with opportunities to get to know the world. As my childhood involved living abroad, travelling and living in different countries came naturally to me. However, when I returned to Japan, I noticed that Japanese people have a tendency to distance themselves from foreigners. Instead of this mentality, I want the Japanese youth to expand their views from an early age and to know that travelling abroad is a valid option. In order to achieve this, I want to use my work in the field of education to improve the quality of Japanese education, and I will be able to do so by attending the Stanford Graduate School of Business. At Stanford, I will be in the joint degree program that includes MBA and Education. I hope to take home what I have learnt in Stanford and utilize it in Japan.
Q: Mr. Yanai, the Chairman, President, and CEO of Uniqlo, has pointed out that Japan is lacking global jinzai and believes that Japan should be more competitive on a global scale. What are your thoughts on this? 
A: I am personally very passionate about focusing on how to provide an environment for Japanese students in which they can grow as global citizens so I agree completely with Mr. Yanai's thoughts. In order to remedy this problem, I believe that education plays an important role to inspire and provide opportunities for Japanese students to compete on a more global platform.
Q: The TOMODACHI generation includes many youth who are interested in studying abroad, fashion, or business. As their senpai, what kind of advise would you give to them? 
A: What I believe I should have done more of is to challenge and experience many things while I am young in order to expand my possibilities. By trying new things and visiting different places, one is able to broaden their horizon and opportunities. I want the youth to experience that feeling.