TOMODACHI Generation: Yukako Hirakawa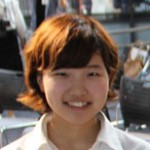 Yukako Hirakawa
 is from Keio University, and studied abroad at the University of Wisconsin-Madison as an exchange student on the 
2014 TOMODACHI Sumitomo Corporation Scholarship Program
. Prior to going abroad, she believed that language was the key to communication. However, her experience has taught her that talking about her passions transcends mere language skills. In this regard, she hopes to be able to resonate strong messages to the public in order to unite the people of the United States and Japan. 
About Yukako Hirakawa
Why did you apply to the TOMODACHI Sumitomo Scholarship?
I applied for TOMODACHI-SUMITOMO scholarship for my own future. I have a dream to be a journalist who reports on issues around the world. I hope I can someday act as a bridge between the US and Japan by reporting the news about both countries. 
What would you like to learn from this program?
From this program, I would like to understand Japan more by discussing American politics and journalism. I am sure I can think deeply about the future relationship between the US and Japan after the program.
What connection and/or interest do you have with the United States? 
I came to the United States to learn about journalism studies and it has made me want to study more about journalism and strategic communication. Thus, I have joined a university newspaper called, "The Daily Cardinal" as an opinion writer. I would like to write more about Japanese culture in the future.