Q&A with TOMODACHI Program Participants and TOMODACHI Alumni: Aika May Talavera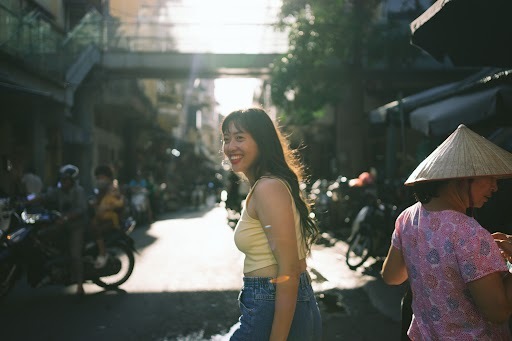 For this interview, we talked with Aika May Talavera, an alumnus of the 2019-2020 TOMODACHI MetLife Women's Leadership Program, and is our current TOMODACHI Senior Alumni Intern.
Aika is also part of the TOMODACHI Alumni Regional Framework that aims to connect and empower alumni in their respective regions across Japan and the United States. Under this framework, she is a core committee member representing the Kyushu region.
In her professional life, she teaches Japanese to U.S. military members all throughout Japan through her own online courses. She grew up within the military bases in Japan, and spoke to us about her experiences as a Japanese-Filipino growing up in U.S. Military Bases in Japan. In her spare time, she enjoys fitness, and has recently challenged herself to enter bodybuilding competitions.
Q1: What was your experience like growing up within the U.S. military bases in Japan?
My dad is in the Navy, so I mostly grew up in Japan inside several different military bases, [such as the ones in] Nagasaki, Yamaguchi, and Kanagawa. My family moved around a lot, we mostly moved around within different bases in Japan. I feel like I had the best of both worlds, as cliche as that sounds. I had access to America within Japan. So I had American as well as Japanese friends, and it was just great having 2 cultures all at once. And I really enjoyed it.
Q2: What made you decide to participate in the TOMODACHI MetLife Women's Leadership Program?
One of the main reasons I decided to apply for this program was because of its mentorship aspect. Essentially, through a 10-month period I was assigned with a mentor, and I worked one-on-one with them. I've never really had a program or experience where it was more of a very formal setting with a mentor like that, so I found that really interesting. Actually, to this day I am still connected with my mentor, and I'm very happy that I decided to take part in that leadership program because it became a turning point in my life. I met so many great mentors there that opened my perspective and made me realize … [that] I can further develop myself and create and embark on bigger and better things.
Q3: Do you have a favorite memory from your time in the program?
My mentor, Ai Asakura [who] actually now works for the TOMODACHI Initiative was so amazing. We pretty much had the exact same personality, it was such a good match, and she really went out of her way to invite me to different events. One of the key points in this program is about networking. She is so great at networking. She's such a super social butterfly, and she has a lot of connections in Fukuoka. It was so inspiring to see how she carried herself and what she thought about leadership and self-development.
Q4: What did you learn from the program?
I think essentially the power of networking is what I learned. One of the things that I realized, which I didn't know about myself, was that I was a bit more shy than I thought when it comes to asking for things or reaching out to create connections. I didn't necessarily like doing that, I would refrain from asking for favors. But I realized that if I don't ask for help, or go out of my way to ask, I'm never gonna get them. But also, on the other hand networking is not necessarily just all about you. You also have to think about what you can offer to help. The power of networking was something that I learned, understood and realized the importance of.
Q5: How did you become interested in being an intern with the TOMODACHI Alumni Leadership Program?
The year that I participated in this program was the year of COVID. [Usually] after the 9-month mark, you go to America with the people that you've been working with, but unfortunately, because of COVID, we were not able to attend, so I felt as if the ending of this program was sad, and it's not how I expected it. So I wanted to continue to be a part of this TOMODACHI community. I started off participating in events in Fukuoka and just trying to help out. And then I saw that they were looking for an Alumni Social Media Intern, so I thought, Oh, maybe this is something that I could do. This program gave so much to me. My mentors dedicated so much time to me to help me out. So what can I do to give back that same effort and energy that this organization did for me?
Q6: You recently renewed your internship, do you have any upcoming goals you'd like to achieve as an intern?
Currently, there's two things that come to mind right now. First, my title is Senior Alumni Intern. I want to make sure that I am the type that can help the new interns feel comfortable and understand more about the internship. So that's step one. It's very interesting right now, I feel like my life in the early twenties was all about me being the mentee. But now, as I transition into my late twenties, I feel like I'm becoming a mentor. So I think right now, it's a very interesting stage of my life. And this is the first part where I can really work on figuring out what kind of mentor I would like to be, or how I want to execute that part of my life. Through this internship, I want to practice that. And second, I think that the purpose of this internship is to connect alumni together. I'd really like to focus more on how we can bring the alumni together and create a stronger bond and relationship.
Q7: How is teaching Japanese to active duty members, spouses, and family members of the U.S. Military?
It's very, very fulfilling which really surprises me. This is a bit odd, but I never really thought that teaching would be something I would find enjoyment or fulfillment out of. I merely did it because I thought, "Oh, this is a skill that I have, and I can do it. So why not try?" So I started teaching Japanese to the military members. But what really shocked me was how I didn't realize how much language barriers played a role and created difficulties in a person's life. Many of my students face difficulties in daily life because of the language barrier. Through my courses I realized that I could help them feel more comfortable and enjoy their experience in Japan.. I didn't realize that I could help someone in that way.
Q8: Where do you think your passion for fitness and bodybuilding comes from?
I don't necessarily know if it's a passion, because I grew up always playing sports, so fitness has always kind of just been a part of my life, just something habitual that I've been doing for so long. Recently I just finished my first bodybuilding show. That was very, very nerve-wracking, but it was a great experience. Through that I learned that fitness teaches me how to be disciplined, it lets me strive to be the best version of myself, and it's something that gives me confidence and something to work towards. I think having a goal is really important. There's just so many things that fitness and bodybuilding can teach you and like I said, one of the biggest things there is discipline. I think that I'm always having to work on how to be disciplined. I really enjoy the different challenges that it allows for me to work on.
Q9: What are some of the challenges within your community, and what opportunities do you think the TOMODACHI/U.S.-Japan Council can help address that issue?
That's a very deep question. My answer may be really super specific towards my background, but growing up inside the military bases, I always found it a bit odd at how the community, the military bases in Japan, felt very separated. In a sense like this is America, and this is Japan. [Aika makes a hand gesture to show two sides.] I would like to see more collaboration between the two, not necessarily in a big aspect, but more casual with people and interactions. A lot of the military members don't really get a lot of opportunities or chances to interact with the locals within Japan. I want to create a more authentic relationship between the two, and to merge them together is something that I'm interested in being a part of.
Q10: What does TOMODACHI mean to you?
TOMODACHI to me means being selfless. Since I've gotten the chance to see how TOMODACHI works behind the scenes, I feel like each of the staff and members that create this community are really selfless people. They ultimately just want to give as many opportunities to people so that they can better themselves and essentially create a better world for everyone.
This interview was conducted by Hannah Fulton on October 5th, 2023. Hannah is currently a TOMODACHI Alumni Program Intern and is an Alumni of the Toshizo Watanabe Study Abroad Scholarship Program 2022-2023.