TOMODACHI Sumitomo Corporation Scholarship Program: Conducting the Award Ceremony and Training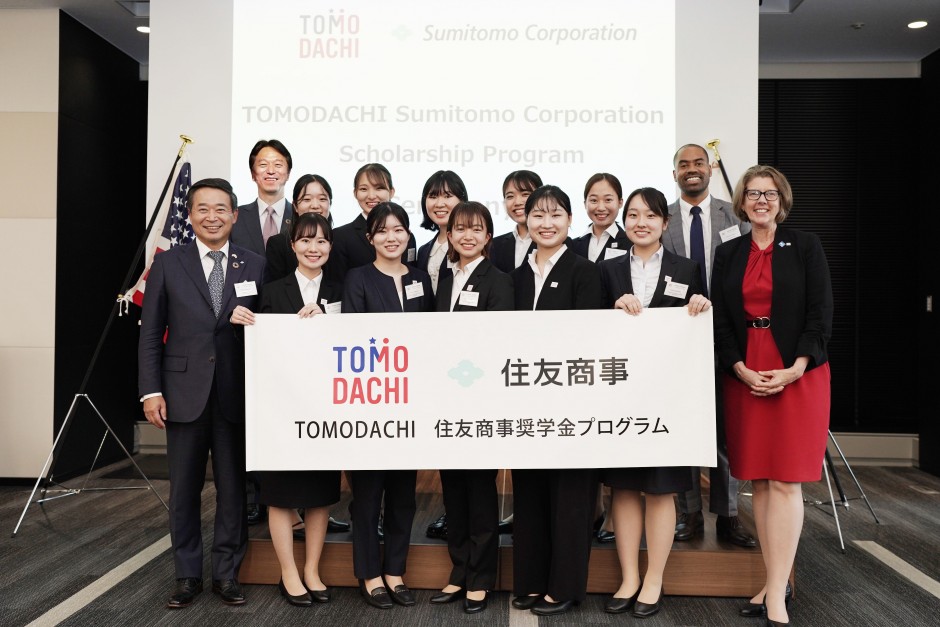 On June 29th, 2023, the TOMODACHI Sumitomo Corporation Scholarship Program post study abroad presentation and award ceremony were held, with scholarship recipients and relevant parties in attendance.
At the student presentation session, nine students from the 9th cohort who began their study abroad in the autumn of 2022 and returned in the summer of 2023 expounded in English about their experiences during their study abroad and their roles in the U.S.-Japan relationship. Moeko Yamada, a student from the Faculty of Education at Nagoya University who studied Educational Studies at Southern Illinois University, expressed her thoughts on the future as follows. "I want to contribute to the Japan and the U.S. relationship as an educator. I want to make my class comfortable for students to speak up freely like U.S. Education can be the first step to change our society. I should adopt the US education style so that students can share their feelings and experiences in classroom."
After the students' presentations, Mr. Joshua Gonzalez, Assistant Cultural Affairs Officer of the Public Affairs Section at the U.S, Embassy Tokyo, and Mr. Hirokazu Higashino, Representative Director, Senior Managing Executive Officer and Chief Strategy Officer at Sumitomo Corporation, provided feedback on each presentation.
During the subsequent award ceremony, Mr. Masayuki Hyodo, Representative Director and President and Chief Executive Officer at Sumitomo Corporation, and Ms. Suzanne Basalla, President and Chief Executive Officer at the U.S.-Japan Council, delivered words of encouragement to the students. After receiving the certificates from Mr. Hyodo, the 10 students from the 10th cohort, who will begin their study abroad this autumn, each presented their goals in English. Eriko Shigetsugu, a student from Hokkaido University who will be studying Computer Science at Washington University, exclaimed, "I would like to experience the culture of Seattle, the cutting-edge IT city, as well as to gain an objective view of myself through interactions with other international students."
On the following day, June 30th, the 9th and 10th cohort of students participated in a joint training session. Through activities that involved physical movement and interactive ice-breakers, the participants deepened their connections with one another. Students from the 9th cohort shared their study abroad experiences, both enjoyable and challenging. Students from the 10th cohort took the opportunity to ask various questions about classes, daily life, and extracurricular activities at their respective study abroad destinations. Following in the footsteps of previous program participants, they are expected to become bridges between Japan and the United States through their program experiences.