TOMODACHI Initiative Intern: Akari Hama's experience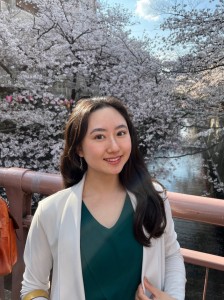 Akari Hama started her internship with TOMODACHI in August 2022. She says it's a wonderful opportunity to meet and connect with people from TOMODACHI program alumni to business leaders of different fields. She feels valuable to support an organization that is an important bridge between the U.S. and Japan. She is a third-year student at Sophia University, and her internship experience made her alter her major to international business and economics. We asked what was her life-changing experience doing an internship with TOMODACHI.
How did you know about us, and why did you want to intern with us?
I found this from my friend who used to intern with TOMODACHI for about 4 or 5 months before leaving for a study abroad. I studied in a Japanese elementary school until the 5th grade and transferred to an international school in Japan. In Japanese public school, I learned a lot about Japanese history and culture but never studied the history and culture of other countries in detail, so when I transferred to International School in Japan, I learned about the history and culture of other countries, especially the U.S. 
I became more curious about the relationship between the U.S. and Japan, and my interest in U.S.-Japan relations was sparked when I enrolled in University and was looking for an internship that would allow me to be involved in international relations. I was just amazed by how the U.S.-Japan Council and TOMODACHI programs are building a strong bridge between the U.S. and Japan from the grassroots level to the national level from the political side and educational field, so I decided to apply as an intern program at the U.S.-Japan Council.
What kind of work do you do?
I support a lot of programs by translating documents, writing manuals, organizing and managing data, and writing and making final reports. I am having an amazing time meeting with TOMODACHI alumni and interacting with business leaders from various countries who supported the U.S.-Japan councils. I definitely learned project management skills and how the cultural exchange programs are designed. I also had a chance to speak with TOMODACHI alumni about how the participating program changed their values and perspective in their life, and hearing these words made me realize and learn the importance of experiencing different cultures. 
How about your future career? 
I am interested in pursuing a career as a business analyst, consultant, or in a similar field, specifically for foreign companies operating in Japan. My goal is to acquire valuable business skills and gain insights that drive strategic business decisions. As I progress in my career and gain hands-on experience, I also aspire to support organizations such as the U.S.-Japan Council. With my business background, I believe I will be able to provide meaningful assistance to such organizations.
I was majoring in a different subject at the University, but I thought maybe an international business and economics major would be more practical, and it would help me explore and have a better perspective, so I changed my major to that.
Do you have a goal for your internship?
Through this internship, I hope to achieve that more people, especially Japanese public school students, to participate in the TOMODACHI programs and learn about the U.S.-Japan Council so that they can broaden their horizons, expand their own possibilities, see the world outside of Japan, which I believe will lead to increasing the number of young leaders in the next generation, leading to a brighter future for Japan, and for brighter friendship between the U.S. and Japan. So I want more young generations to be involved in the U.S.-Japan Council and the TOMODACHI programs either through an internship or by participating. At the U.S.-Japan Council's Business Advisory Board meeting, I have been meeting with someone that you cannot just meet at normal times and learn about the other world you never actually experience. I think It's a wonderful opportunity.